Backstage Pass to North Dakota History
This blog takes you behind the scenes of the State Historical Society of North Dakota. Get a glimpse at a day-in-the-life of the staff, volunteers, and partners who make it all possible. Discover what it takes to preserve North Dakota's natural and cultural history. We encourage dialogue, questions, and comments!
Writing History for Eighth Graders
Writing History for Eighth Graders
The new 8th grade curriculum for North Dakota Studies will soon be published as a website at ndstudies.org. North Dakota: People Living on the Land is organized by topics (not chapters) in chronological order. Because it is web-based (no worries about the cost of printing), it includes more than 90 essays and hundreds of primary source documents, photographs, and maps. Students who have no reason to trust the team of 60+ year old teachers who developed the curriculum will be able to study the primary sources from which the history is written and learn to trust their own knowledge.
As researcher and writer for the curriculum, I faced several challenges. One was locating the appropriate documents for the topics. Sometimes, I was frustrated to find no single document of appropriate length for an 8th grade reader was available in the state archive.
Another problem, perhaps more fundamental to the entire project, was to determine the best way to transfer knowledge from dozens of books and archival documents to the minds of 8th graders. The traditional model of writing history from the official and unofficial papers of governors, senators, and generals is probably the main reason why so many people say, "I hate history!" I decided to write North Dakota's story from the views of young people as much as possible. By "possible," I mean finding the rare documents – letters, newspaper articles, photographs, diaries – written by or about young people that have been preserved in the archives. When that was not possible, I chose documents created by ordinary people.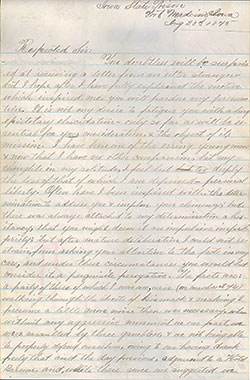 The first page of James Black's letter to Governor Pennington describes the circumstances that led to his arrest and conviction.
Happily, I found a few documents that reflect the events of history through a young person's experience. My favorite piece is a letter written by James Black to territorial Governor John L. Pennington on August 23, 1875. At the time he wrote the letter, Black was a prisoner in the Iowa penitentiary. He had been convicted of participating in a brawl on 4th Street ("we were assaulted by three gamblers") in the saloon district of Bismarck. Black asked Pennington for a pardon assuring the governor that he will no longer drink ("liquor has been the cause of my trouble") and that the governor will not regret issuing the pardon. Along with Black's letter, students can read a letter from the warden of the Iowa penitentiary who agreed that Black should be pardoned and Governor Pennington's formal pardon.
In addition to the letter from young James Black, I chose a letter (July 9, 1873) from Lewis Gibbs to Governor John Burbank. Gibbs wrote that a neighbor had shot at him, wounding him in the arm, back, and head. Gibbs lived in a county which had not yet been organized and there was no sheriff to arrest his attacker. "I want to know if there is no protection for me," he asked Burbank.
Reading this set of documents, students will learn how territorial government developed and functioned. Rather than listing all the duties of the appointed territorial governor, students can learn about the governor's role through the experience of young, rowdy James Black and the sad situation of Lewis Gibbs. With these letters in mind, students can better understand that the territory advanced very slowly towards the goal of civil society because the necessary resources were scarce and not all of the citizens were dedicated to law and order. Students can engage in a debate about whether the rough communities of Dakota Territory would have appealed to families and businesses.
These letters tell exciting stories about the early years of Dakota Territory. Will 8th graders find this approach more interesting than traditional histories? Will they learn not only about the territory, but about the role of documents in writing history? We won't know the answer to those questions until the curriculum is released in mid-October, but I hope so.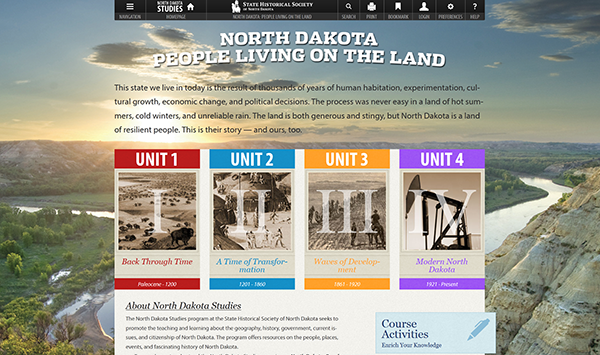 The homepage of "North Dakota: People Living on the Land". Readers choose the Unit they want to study or click on Navigation to find a complete outline of the curriculum. The homepage is the gateway to curriculum supplementary materials such as Activities, Bibliography, and Educational standards.
---
Guest Blogger: Barbara Handy-Marchello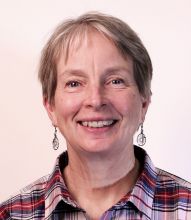 Barbara Handy-Marchello, Ph.D., is a historian and writer for North Dakota Studies.