Backstage Pass to North Dakota History
This blog takes you behind the scenes of the State Historical Society of North Dakota. Get a glimpse at a day-in-the-life of the staff, volunteers, and partners who make it all possible. Discover what it takes to preserve North Dakota's natural and cultural history. We encourage dialogue, questions, and comments!
Becky Barnes
Primary tabs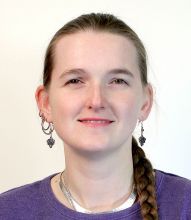 Becky Barnes is a Paleontologist with the North Dakota Geological Survey. She manages the fossil preparation lab, assists in summer public digs, and collects and restores fossil specimens. She also uses her background in art for technical illustrations, coloring book drawings, molding, casting, taxidermy, and sculpting.