Backstage Pass to North Dakota History
This blog takes you behind the scenes of the State Historical Society of North Dakota. Get a glimpse at a day-in-the-life of the staff, volunteers, and partners who make it all possible. Discover what it takes to preserve North Dakota's natural and cultural history. We encourage dialogue, questions, and comments!
Danielle Stuckle
Primary tabs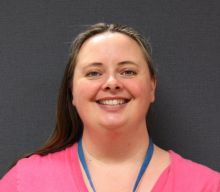 Danielle "Dani" Stuckle is the Education Programs and Outreach Coordinator in the Communications and Education Division of the SHSND. She works with schools, educators, and students throughout the state, providing professional development opportunities and project-based learning programs. She also manages the North Dakota Studies trunk program, which puts objects in people's hands. As Outreach Coordinator, she serves as a field service contact to museums and historical societies providing professional and technical training to museum staff and volunteers throughout the state.  She has gone to embarrassing lengths and down long dirt roads to find the places where history is alleged to have occurred.