Backstage Pass to North Dakota History
This blog takes you behind the scenes of the State Historical Society of North Dakota. Get a glimpse at a day-in-the-life of the staff, volunteers, and partners who make it all possible. Discover what it takes to preserve North Dakota's natural and cultural history. We encourage dialogue, questions, and comments!
Diane Rogness
Primary tabs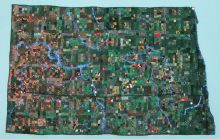 Diane works closely with staff at SHSND's historic sites around the state, providing them with the tools and training necessary to share the history of these sites with visitors. Diane provides training to the historic sites' staff in SHSND's policies and procedures, finds time and money for them to attend historic preservation, interpretive, and leadership-related trainings, helps them develop and implement interpretive programs and events at their sites, and coordinates physical improvements to buildings and grounds.  She also works with local community groups in projects related to historic sites.