Backstage Pass to North Dakota History
This blog takes you behind the scenes of the State Historical Society of North Dakota. Get a glimpse at a day-in-the-life of the staff, volunteers, and partners who make it all possible. Discover what it takes to preserve North Dakota's natural and cultural history. We encourage dialogue, questions, and comments!
Lindsay Meidinger
Primary tabs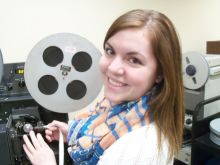 Lindsay Meidinger is the Electronic Records Archivist for the State Historical Society of North Dakota. She assists state agencies in maintaining, preserving, and transferring their permanent electronic records to the State Archives. Once the electronic records have been transferred, Lindsay actively oversees their management, ensuring long-term viability and creating accessibility to the records for the creators and the public.