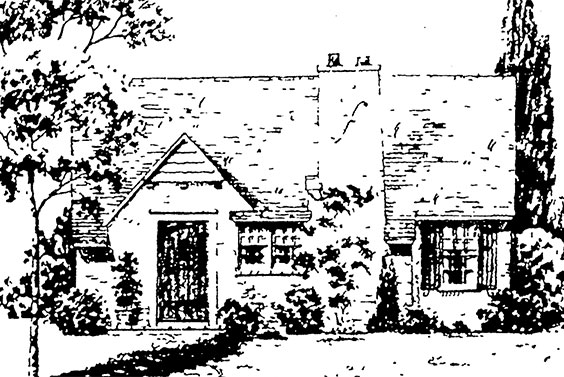 This is a 1935 sketch of 903 North 9th Street, a model home that helped introduce FHA loan programs to Bismarck. The house still exists and looks much like this, with the interior features much the same. From The Bismarck Tribune, March 10, 1935, 6.
It was a real surprise to find out so much about my neighbor's house while researching the Federal Relief Programs started by the Roosevelt Administration. This house still embodies many modern features for energy efficiency and convenience that inspired and thrilled our grandparents. It was built as part of a nation-wide competition to promulgate the new Federal Housing Administration (FHA) and showcase the latest in modern home comforts.
In the early 1930s Bismarck and the rest of the country was in the depth of the Great Depression, and President Franklin D. Roosevelt had rolled out numerous federal agencies designed to get wageworkers re-employed. One of the industries hardest hit was construction. In 1930 Bismarck had 57 new home starts, but in 1934 there were only seven.1 Most local construction workers were under or unemployed.
These grim conditions were everywhere, so one of the best-known federal agencies specifically organized to get construction revitalized was the FHA, founded in 1934. The Better Housing Program, under the FHA, encouraged homeowners to improve their house's function and resale value through small but complex projects that would require cabinetry or the hiring of an electrician, plumber, or other trade specialist. It also funded new homes and promoted major repairs to improve neglected housing stock through low-interest loans.2 In North Dakota, homeowners spent $1,250,000 in 1934 – 1935 on home improvements, which facilitated getting tradespeople back to work.3
The Better Housing Program publicized a competition for a new modern home to be drawn by an architect and completed by a local builder in each city. Nationally 1,500 designs were submitted. Bismarck's 1935 home is still standing today at 903 North 9th Street. It was designed by architect H. M. Leonard and built by Robert G. Aune.
Here are some of the conveniences packaged in this Picturesque-style home. The basement floor has an insulating concrete type (new in the 1930s), according to the architect, and balsam wool batt insulation in the attic.4 The living room is in rustic design with a beamed ceiling, oak flooring on the first floor, and birch trimmings. It contains a fireplace of native rock. Other lovely characteristics of the first floor are its rustic iron stairway to the second floor, a telephone niche, and a built-in buffet.5
The builder Robert Aune was a multi-talented cabinet-maker who later headed the FHA's office for Bismarck. In the mid-1930s there was a serious housing crunch in Bismarck fueled mostly by refugees from dust bowl conditions in the surrounding area and natural population increase.6 The FHA's support and pent-up demand for housing led him to build his model home on the corner and the house next to it at 905 North 9th Street. He also specialized in stonework as well as being a general contractor. I'm looking for other examples of houses and buildings that he built. If you know of any, please contact me at squinnell@nd.gov!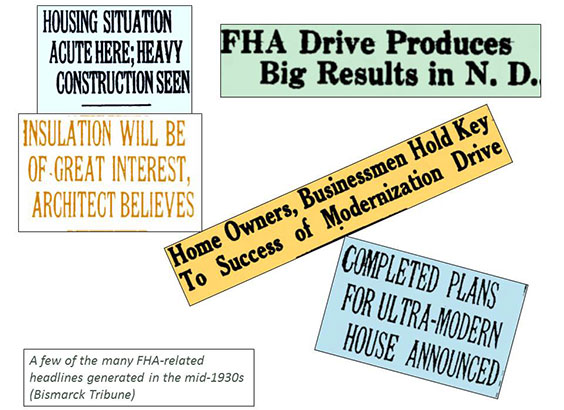 ---
1 Bismarck Assessing Division, Construction Analysis, 1930 – 1950, October 5, 2005, compiled from assessors records.
2https://www.youtube.com/watch?v=xSce7l0SlkI Better Housing News Flashes by Pathé Films, 1934.
3The Bismarck Tribune (Bismarck, North Dakota), Tue, Apr 30, 1935, 3.
4The Bismarck Tribune Jul 8, 1935, 7. http://www.ncwhomeinspections.com/Balsam+Wool+Insulation
5The Bismarck Tribune June 10, 1935 page 6.
6 Bismarck Census Figures from: http://www.bismarcknd.gov/DocumentCenter/View/4382