On July 1, the state of North Dakota acquired a new historic site, the Welk Farmstead. Much has been written about the pros and cons of such an acquisition, but now it is one of ours, meaning the people of North Dakota.
The Welk Farmstead was part of the Ludwig and Christina Welk homestead. They traveled halfway around the world to come here to start a better life. They came with other family and friends from Russia and built a community on the North Dakota prairie. One of their nine children, Lawrence Welk, left the homestead and became quite famous as a musician and TV personality.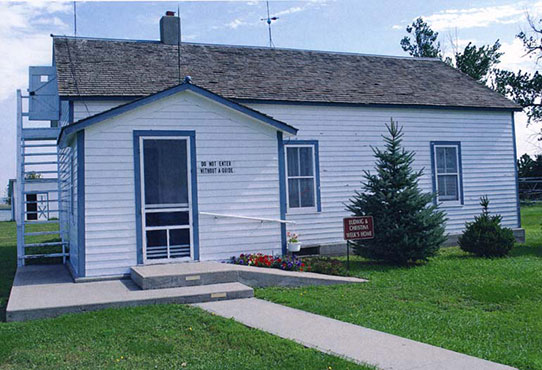 Ludwig and Christina Welk home, built of mud brick in 1898. Photo by Thomas C. Linn
So what opportunities does this site provide?
The site gives us a unique opportunity to talk about homesteading on the northern plains, agriculture (the state's number one economic engine), Germans from Russia (the largest ethnic group in North Dakota), as well as a famous North Dakota son, Lawrence Welk. The State Historical Society has conducted Community Conversations in conjunction with Tri-County Tourism Alliance meetings in Strasburg, Napoleon, and Ashley to get feedback from the local community on what they would like to see at the site for programming. The SHSND also presented a session at the recent Germans From Russia national convention held in Bismarck in July to gather similar information. The results of these meetings will help us form programs, events, and activities at the site in the coming years.
This year at the site will be a time of transition. We will finish out the 2015 tourism season with the same hours and days of operation as those already put in place by Pioneer Heritage, Inc. (the site's former management group). We have added an information page for the Welk Farmstead to our website, history.nd.gov/historicsites/welk.
From the Community Conversations we have received a lot of great ideas about what can be done at the site. Look for fun things to happen next summer at the Welk Farmstead!