If you could go into the archaeology collections storage, what would you find? Mostly a lot of boxes. If you could peek into those boxes, what would you see? Mostly a lot of bags! If you could look inside one of those bags, what would you see? You would finally find an object! Since it isn't possible for everyone to visit all the collections (and even if you could, there would not be much that you could easily see), this is the perfect opportunity for an online collections tour! This week's tour will take us through some of the collection from Fort Rice (32MO102), a state historic site in Morton County, North Dakota (http://history.nd.gov/historicsites/rice/index.html).
Why Fort Rice? Quite a few projects I have worked on recently have involved this site, so there happen to be a lot of fun photos available. Dr. Barbara Handy-Marchello recently gave a talk at the fall North Dakota Archaeological Association (NDAA) meeting about the lives of officers' wives who lived at this fort, and she needed me to photograph specific objects for her presentation. In the meantime, I cataloged about 678 additional objects from the site.
The first Fort Rice was established in 1864 as part of a chain of military forts built to protect transportation routes in the region. In 1868 Fort Rice was expanded and used as a military post until it was finally abandoned in 1878. Most of the objects in our collection date to the time of the fort, though some of the objects are more recent. Others pre-date the presence of non-native peoples in the area.
What kinds of questions come to your mind when you look at these objects? I wonder what their stories would be if they could talk (or write their own blog)!
Dentalium shell beads, like these, come from the ocean. Who wore these beads?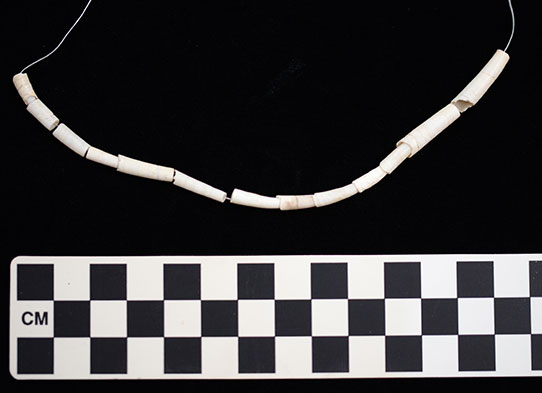 (2010.99.7312)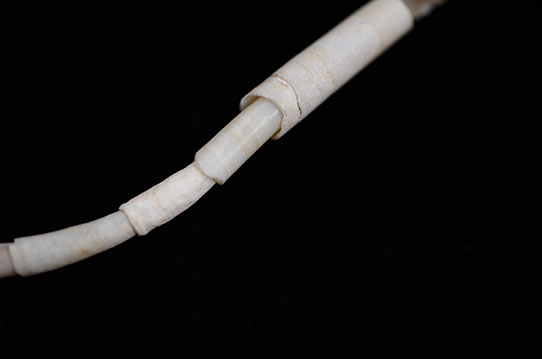 (2010.99.7312)
These are stone end scrapers for preparing animal hides. What was made out of the hides that these helped prepare?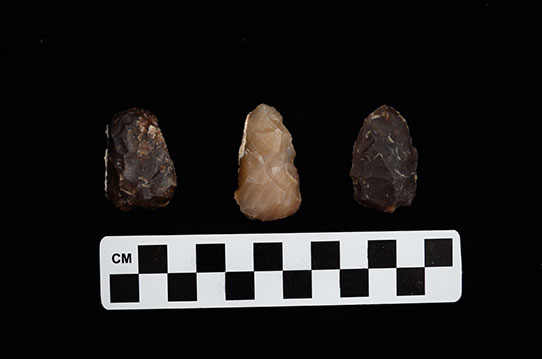 (2010.99.6885, .6881, and .6884)
There are a lot of beautiful glass beads from Fort Rice. Which color would you pick to wear and why?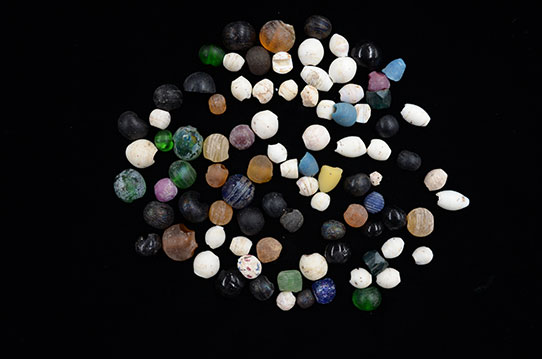 (2010.99.7198)
I would pick the green beads. I like green!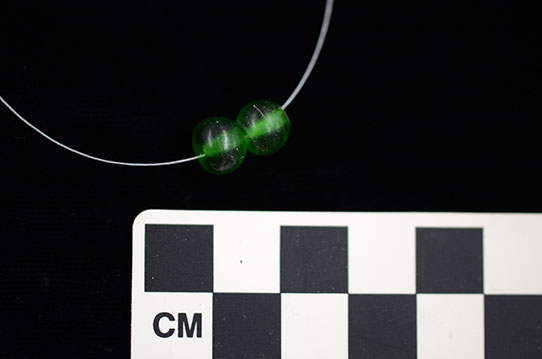 (2010.99.7242)
Or maybe I would choose the blue glass beads–I also like blue!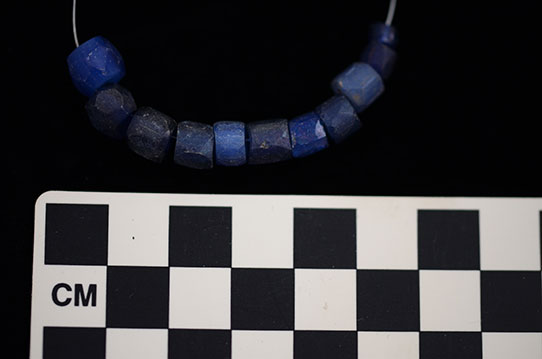 (2010.99.7228)
Or there is a bead with spots! Maybe I will just have to do a future post all about beads.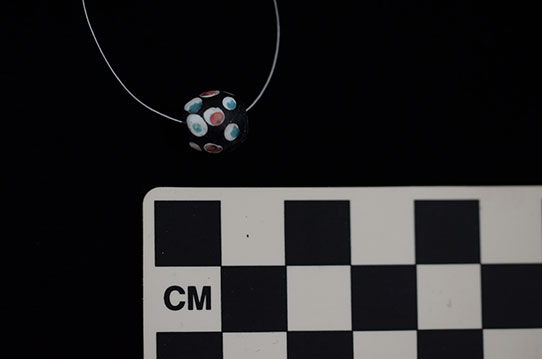 (2010.99.7307)
This boot was made for walking! Who wore this boot and where did they walk in it?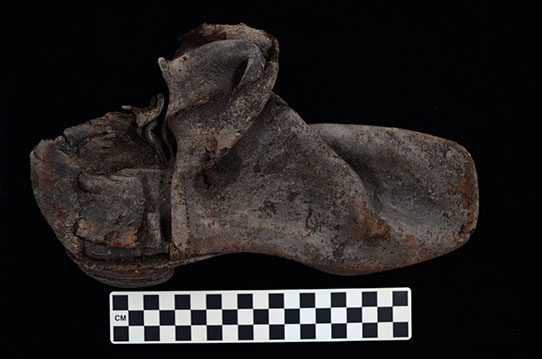 (2010.99.7444)
A metal spur. Did the person who wore this like riding fast? What was the horse's name?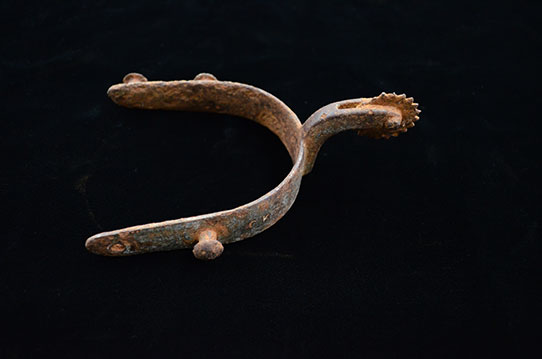 (2010.99.3214)
A fragment of a ceramic plate or saucer. This would probably have been part of a fancy place setting. What dinner party conversations did it witness?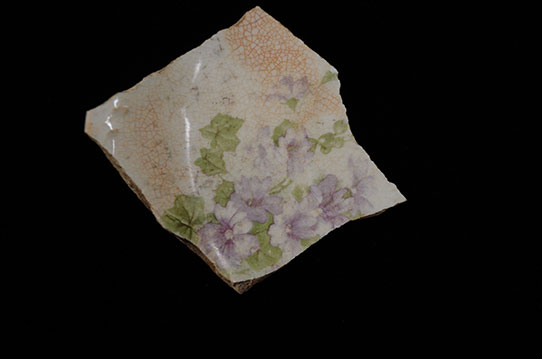 (2010.99.1206)
These are fragments of a doll's tea set. Was this someone's favorite toy?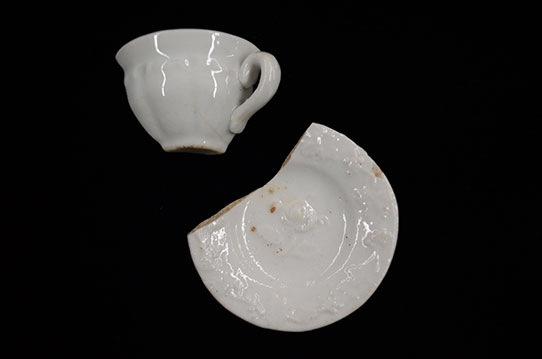 (2010.99.6296 and .6295)
There are a lot of glass bottles in the Fort Rice collection. This is a close-up of a medicine bottle. The letters on the bottle read: USA HOSP DEPT. Who needed this medicine and why?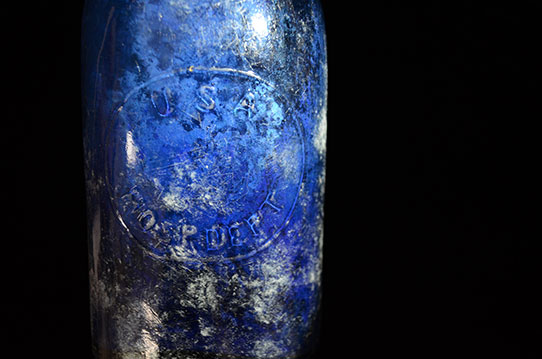 (2010.99.2213)
Metal handcuffs. These look rather unpleasant. I wonder who had to wear these and for how long?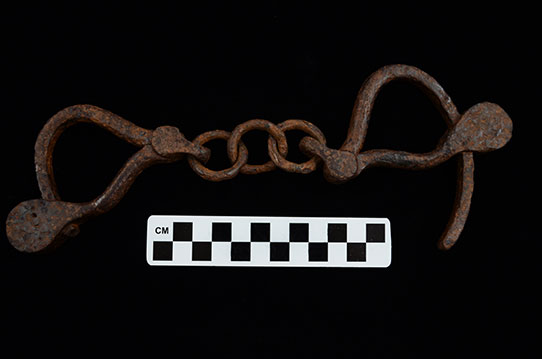 (2010.99.6159)
Where should we go next on our archaeology collections tour? Please let me know what kinds of artifacts or collections you would like to see in my next post!