We are currently* working on rehousing and photographing artifacts from On-A-Slant Village (32MO26) with the volunteers in the archaeology lab. On-A-Slant was a Mandan earthlodge village. It was lived in for more than two hundred years, until the late 1700s. If you visit Fort Abraham Lincoln State Park near Mandan, you can still see the village site.
Here are just a few of the artifacts from On-A-Slant that the volunteers have helped photograph and repack so far.
The bone tools really inspired this project—there is a wide variety of types of artifacts—fishhooks, beads, gaming pieces, fleshers and grainers for working hides, awls for leather work, hoes for gardening, and much more. A researcher visited last year to examine this collection. It is always exciting when a researcher visits, because it gives us a chance to explore our collections in depth. So when the researcher was done, Division Director Fern Swenson suggested we start photographing the artifacts from On-A-Slant and repack them in archival materials.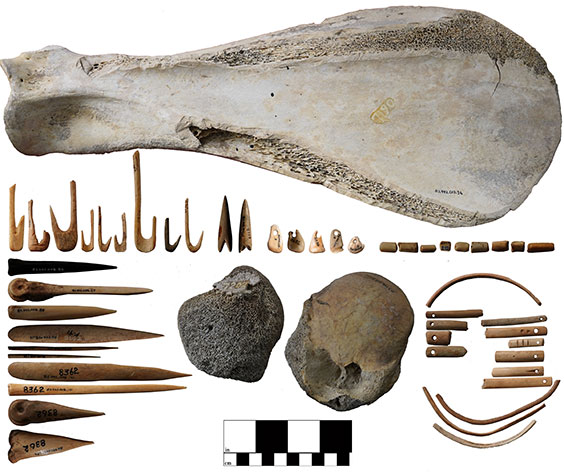 Just a small selection of the many different bone artifacts from On-A-Slant Village. Top Row: bison scapula hoe; Middle Row, left to right: fishhooks, antler projectile points, elk tooth pendants, tube beads; Bottom Row, left to right: awls, hide grainers, bracelet fragments (SHSND AHP 83.442.13.36; 83.442.21.2, 5-6, 11-13, 16, 32, 35; 83.442.42.5, 13; 83.442.19.1-2; 83.442.41.23-25, 41-45, 53-55, 72-73, 143; photos by David Nix)
There is large quantity of pottery from On-A-Slant, and the sherds also show a lot of diversity—from solid thick pieces to thin delicate sherds. This medium-sized example is just one of many beautiful rim sherds.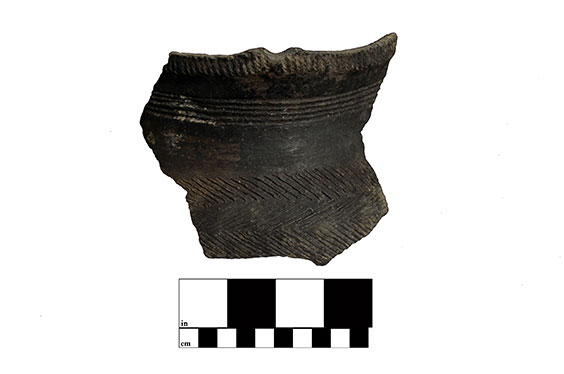 Volunteer David C. repacked this sherd from On-A-Slant (SHSND AHP 83.442.4.1272)
There are cord impressions along the top edge and around the neck. The lower part of the sherd (the shoulder) has incised zigzags. The pattern work on this vessel is amazingly straight and even—the potter had a very skilled and steady hand.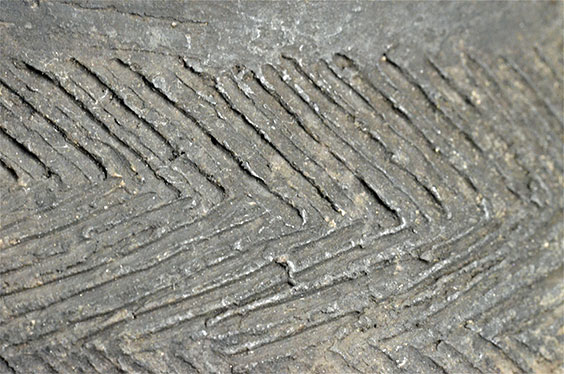 Here is a close-up of the evenly made lines on the same sherd as above (SHSND AHP 83.442.4.1272)
Like many other village sites in North Dakota, there are also a lot of chipped stone tools. Scrapers don't always get a lot of attention—they are a very common kind of tool. Scrapers were used for processing hides and skins for clothing, blankets, shelter, and more. However, the sheer number of scrapers from On-A-Slant demonstrates the importance of hide processing—there are thousands of scrapers from On-A-Slant. These represent a lot of hard work. Can you imagine scraping off an entire bison hide using these?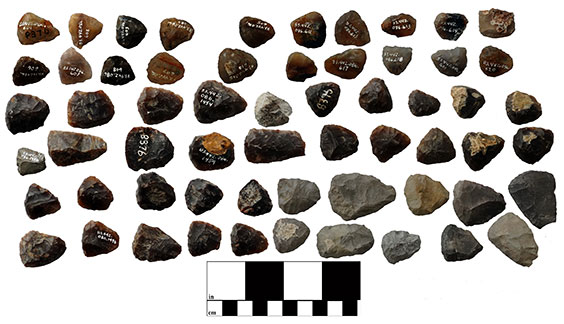 These are just a few of the thousands of scrapers that David Nix has generously photographed for us (SHSND AHP 83.442.86.601-620, 1451-1460, 1481-1500, 2011-2020; photos by David Nix)
We have not handled very many metal artifacts from On-A-Slant so far. This small bell is one of the few metal items we have repackaged. If you look closely, you can see a piece of leather still carefully tied around the bell's suspension loop.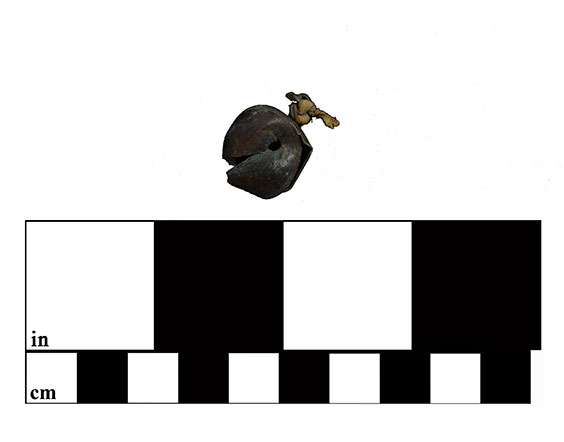 Volunteer Steve found this bell--complete with a leather strap tied around the loop. Both Steve and I think this is an interesting artifact because leather doesn't survive very well in North Dakota, so we don't see it very often in our archaeology collections (SHSND AHP 83.442.92.90)
Many (many!) thanks to all the volunteers who have dedicated so many hours to working on this project so far: Diane, David C., David N., Janet, Marshall, Mary, Michelle, Mikayla and Mikaylah, Sandra, Susan, Steve, and Wendy.
---
*Due to the current Covid-19 situation, volunteering is temporarily on hold. However, if you are interested in joining us when we resume, please let us know! Contact Visitor Service Coordinator Beth Campbell (bcampbell@nd.gov), a copy of the volunteer application form can be found at https://www.history.nd.gov/pdf/volunteerformonline.pdf.