For years I've talked and written about the importance of saving moving images. Whether moving images are television news stories, athletic events, a family event, a picnic, parade, or simply people in their daily lives, they should be preserved for present and future generations. Moving image brings an event to life. Seeing an event is so much more powerful than just hearing or reading about it.
The State Archives has a large collection of moving images that originate from a number of sources including local newscasts, sportscasts, government agencies, filmmakers, and home movie enthusiasts. These collections show real people and provide a viewing window into people and events of the past.

Preserving moving image is a challenge as the equipment to play the media becomes more difficult to find and maintain. Through the years, transferring an older format to another, more usable format has been the standard practice. Thirty years ago, 16mm film would be transferred to a VHS or U-matic ¾" tape. As that practice became dated, a transfer to a DVD was more convenient to users and preservation. Today, using the original format if possible, we convert moving image to a digital format that can be saved on a server. A digital file is convenient because we can easily edit it and share it with patrons in a timely manner.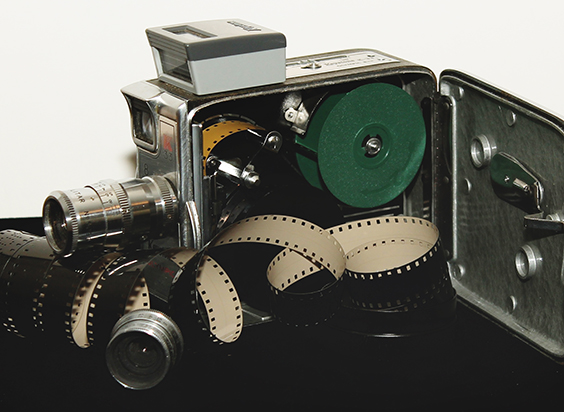 As a frequent user and preservationist of the State Historical Society's moving image collection, I also promote the importance and methods of saving these keepsakes. That is why we have partnered with the Al Larvick Conservation Fund to host Home Movie Day.
Home Movie Day is a worldwide opportunity for organizers to help the local community access their old films and videotapes while sharing their memories and family lore handed down through generations. Beginning Oct. 19, 2019, the first official Home Movie Day will take place in North Dakota at the ND Heritage Center & State Museum. Additional programs will follow Oct. 20 in Valley City and Oct. 22 in Grand Forks.
The idea of bringing your analog mementos into the modern digital age can be daunting for a number of reasons. Digitization can be expensive and can also be a confusing process. Visitors who bring their family movies to a Home Movie Day are able to observe as their film reel or videotape is shown and saved for future generations. These one-afternoon digitizing events can jump-start a genealogy project and give a glimpse into the treasures that may have been hiding at the bottom of a closet for years, if not decades.
Click here for more information and to sign up for an event.
For those who would like to get some of their analog media digitized in Bismarck or Valley City, we recommend reserving a digitization spot in advance by contacting Shane Molander at 701.328.3570 or smolander@nd.gov.