April is an exciting time in the State Archives. The month includes two weeks that are relevant to archival collections. National Library Week (April 7–13), promoted by the American Library Association, raises awareness of the importance of libraries and their staff to our communities. National Library Preservation Week (April 22–28) raises awareness of preserving items held in library collections across the country.
This year's theme for National Library Week is "Libraries = Strong Communities." With this in mind, a couple of unique examples from our library collection stand out.
First, the oldest cataloged item in our library collection is a 1749 published report related to the Hudson's Bay Company. This is a beautiful example of mid-18th century publishing. Entitled Report from the Committee Appointed to Enquire into the State and Condition of the Countries Adjoining to Hudson's Bay and of the Trade Carried on There, the report deals with the land granted to the Hudson's Bay Company, which included parts of present-day North Dakota that fell within the bay's drainage basin. The trade in furs and skins is noted, as well as other aspects of trade with Native Americans in the region.
It is fascinating to consider that when the report was published, Great Britain and France still vied for control of North America. George Washington was a teenager, and many of our nation's Founding Fathers were still children — some not even born yet.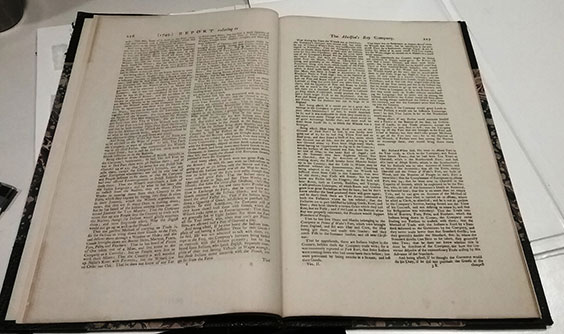 Pages 216-217 of Report from the Committee Appointed to Enquire into the State and Condition of the Countries Adjoining to Hudson's Bay and of the Trade Carried on There (1749). Photo by Daniel Sauerwein
Another unique book in our library holdings is The Kindergarten Book (1906). At first glance, one might think this book deals with educating youngsters, but its subject matter is not as innocent as the title implies. It was a publication of the Kindergarten Club, a group of powerful political figures in early North Dakota history. Signatures in the front of the book include Judson LaMoure, one of the first legislators in North Dakota. The Club also included North Dakota politicians Alexander McKenzie and Jerry Bacon, as well as Govs. Louis B. Hanna and Elmore Sarles.
The book is full of poetry and boisterous drinking songs set to popular melodies of the day. The contents of the book denote a group of men who engaged in raucous partying, drinking, and gambling, and perhaps some behind-the-scenes power politics.1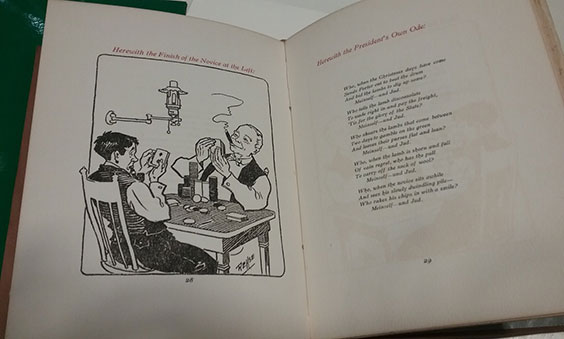 Pages 28-29 of the The Kindergarten Book (1906). Photo by Daniel Sauerwein.
While we actively engage in preservation of items every day in the Archives, one special activity that some staff engage in is book repair. Sarah Walker, head of reference in the Archives, wrote an earlier blog post on what goes on when the repair group gets together. She noted that it is not a service provided to patrons, but is something the staff does to keep heavily used materials in our collections accessible for future generations as long as possible.
Repairs usually involve gluing loose pages back in place, or shoring up binding, but some are more involved and require the rebinding of the book with special tape. Books deemed too fragile for such repairs are instead housed in phase boxes to protect them from as much wear and tear as possible. The repair efforts do not restore the book completely, but are important to keeping the documented information around for future generations.
As you can see, the State Archives is more than individual pieces of paper or photographs. We also have books that illustrate the changing political history of North Dakota. When those books show signs of frequent use by researchers and need some love and attention, our staff does what it can to keep them around and available for years to come. Each spring, a season of growth and rebirth, we look forward to new additions to our State Archives collection and to repairing items in need.
---
11 "Kindergarten Club Records, 1906, 1971 Collection Overview," Elwyn B. Robinson Department of Special Collections, Chester Fritz Library, accessed April 1, 2019, https://apps.library.und.edu/archon/index.php?p=collections/findingaid&id=858&q=Kindergarten+Club.