Summer is here, and there have been several changes of late. The biggest change has been the COVID-19 pandemic and adjusting to working from home for two months. As a reference specialist, I assist researchers in accessing the materials they need to answer their diverse questions. Being unable to access our physical materials because of the closure limited me in how quickly I could respond to requests, but our amazing patrons have been very understanding. That said, this situation presented me with opportunities as well. I entered data on a couple record groups when not handling the requests that could be answered with our online resources.
The first group of records I worked with were marriage records from Oliver County dating from 1896 to 1925. Marriage records are a popular request among our patrons, as genealogical research represents a sizable amount of our research requests. Most such requests revolve around naturalization records, marriage records, and obituaries.
You can learn much about an area from a group of marriage licenses. Seeing several licenses of the same last name for the groom or bride indicates a fairly large family lived in that area, and the children were settling down. Since these licenses spanned 1896-1925 with most being in the 1905-1920 time frame, which coincided with a sizable wave of immigration into North Dakota, several folks applying for licenses were possibly either new immigrants themselves, or the children of immigrants to the area. One interesting pattern appeared in that men with the same last name, who are assumed to be brothers, seemed to marry sisters of a family. This likely relates to immigration patterns, where several families from a community overseas will migrate to a specific location in the United States.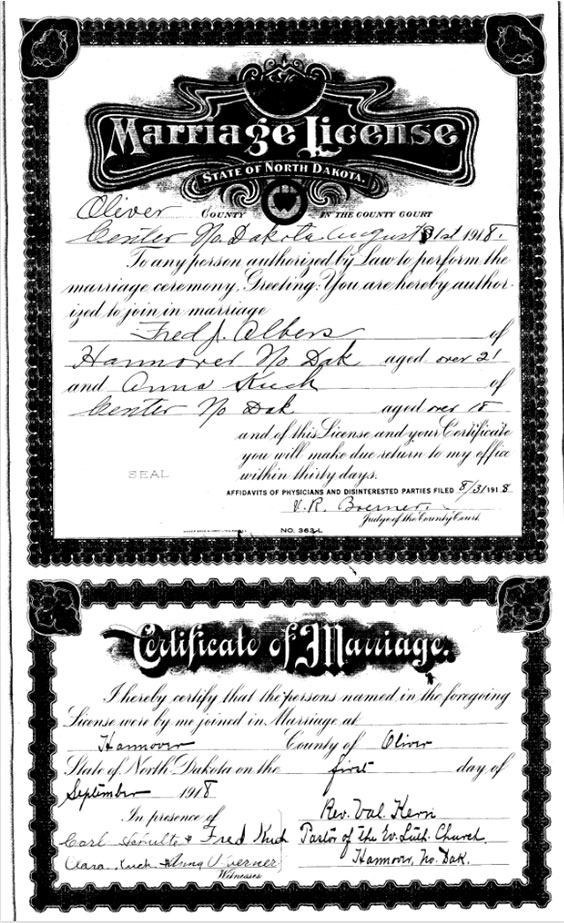 Marriage licenses from this time also note locations that are now memories in a county. Several unique locations were noted on the licenses for the place of marriage, with many being, according to Doug Wick's book North Dakota Place Names, rural post offices in the various townships. In addition, they clue us into the differences in society at that time, especially the fragility of life, as there were a few licenses that have the same man marrying more than once. While divorce is a possibility for why the first marriage ended, life expectancy was much shorter at that time. With events like the Spanish Flu pandemic, other diseases, and the risks of death in childbirth, an untimely death for the spouse is also a possibility. Seeing these licenses made me wonder about the situation that caused the groom to remarry so soon after seeing an initial license bearing his name. Did he leave his wife, did she leave him, or did she die in an unfortunate situation? As the data entry was paramount on the group of licenses, this question could only be pondered for a moment.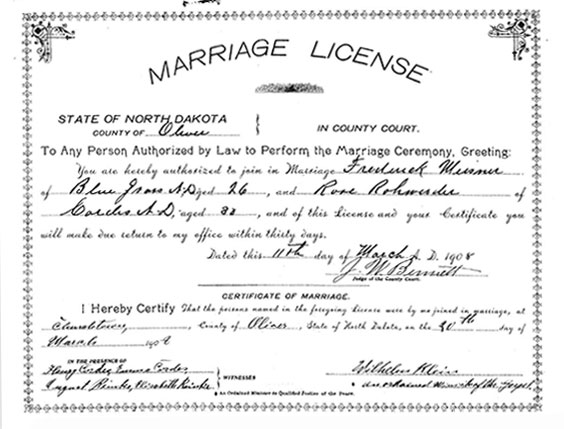 One unique challenge to these licenses is those filling them out had handwriting that left much to be desired. This is one of the challenges when transcribing older documents and records for data entry, or to just understand the document better. Several times during the data entry for these licenses, consulting Census records via Ancestry was necessary to try to decipher a name, especially in circumstances where initials were used (usually the husband's) instead of the full first name. This was a minor issue, but one that is worth noting. Overall, the addition of the data on these licenses will enhance ease of access to these records for our patrons in the future, as such records are quite popular.
The other group of records I am working with during this time away from the office is the facsimile files. These binders contain photocopies that allowed patrons to look at our photograph holdings before we began the digitization process. Information about the photo, including collection number, item number, a description of the photo, and, if known, the donor is noted. I am working with photos of schools arranged by county. Most are of rural schools and are roughly 100 years old.
There are some cool photos in these binders. The most unique was a photo from Valley City High School in 1905 described as "Boys Toilet Room." Yes, someone took a photo of the interior of the boys restroom in Valley City High School in 1905. Fortunately, it appears it may be either related to the construction of the school or done at a time when nobody was in the building. It made me chuckle though and think of the popular rock song "Smokin' in the Boys Room."
While working from home has been an adjustment during these unique times, data entry on both the marriage records and facsimile files will provide greater access to our materials in the future. It will be nice to return to the North Dakota Heritage Center more often to catch up on requests and to help the public with their research questions. Someday, archivists will preserve and process material related to this time and helping researchers to answer questions about 2020, and there will be many. Have a safe and happy summer.