I know I'm biased but working in the State Archives is super cool.
Every day I get to learn about the happenings of the past and the stories of people in this state—not just the famous ones like Peggy Lee and Lawrence Welk but people like you and me who lived, worked, and played here through good and bad times. I get to see how our history connects to the rest of the country and world. On a daily basis, I am privileged to view the past through newspapers, documents from state agencies, manuscript collections from private donors, books, yearbooks, and oral histories.
Now we get to share a little bit of what life is like in the Archives with you.
In October 2020, during American Archives Month, we launched an online program of videos to take you into our world. If you pay attention on our social media platforms, you've probably already seen these. The "Archives in Action" video series gives you a taste of the ins and outs of working in the Archives, highlights our collections, and shows some of our processes in around 5 minutes or less.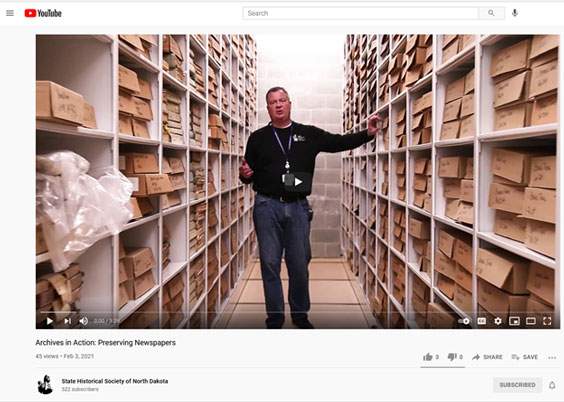 State Archivist Shane Molander shared a video on preserving newspapers in the State Archives.
You can watch these videos when they premiere on our agency Facebook page, but they are also easily viewable on our YouTube playlist. You'll be able to "visit" our stacks area, learn about digitizing newspapers and donating to the Archives, see how state agency records are transferred to us, and more. We add new content all the time—so check it out. We love to share our passion for what we do and the history of this state!

Our YouTube playlist is your go-to source for "Archives in Action" videos.