I love stories about the Depression-era gangsters, bootleggers, and crime bosses of Chicago and New York City, but they are rarely something I get to research at the State Historical Society of North Dakota.
Imagine my surprise when I was shown this photo below of James Vincenzo Capone, eldest brother of infamous gangsters Al, Frank, and Ralph Capone, in our Frank Fiske photograph collection. Taken at Fort Yates, North Dakota, it shows James Capone, who by then was known as Richard James "Two Gun" Hart, surrounded by confiscated liquor stills. Immediately I had questions: How did a Capone brother end up in North Dakota as a Prohibition agent? And how did this photo come to be taken by the early 20th-century photographer Frank Fiske? I began searching through our newspaper holdings as well as the vital records available on Ancestry.com to learn more.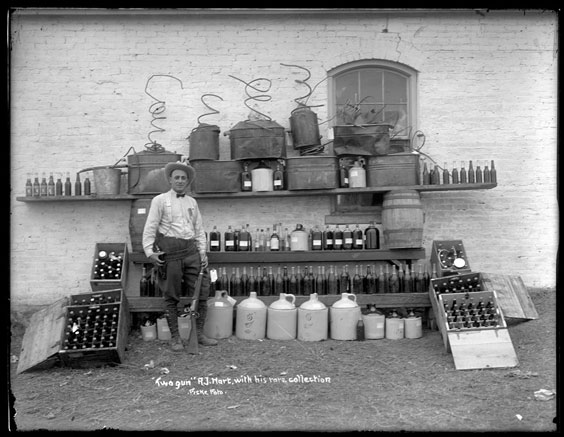 Richard James "Two Gun" Hart (born James Vincenzo Capone) with his collection of confiscated stills, 1926. SHSND SA 1952-00088
I soon found out that this Capone had immigrated in 1893 with his parents to the United States where the rest of his eight siblings were born. At age 16 James left New York to make his life out West, choosing to distance himself from his Italian heritage by eventually changing his name to Richard James Hart. He married Kathleen Winch in 1919 and worked as a Prohibition agent in the western Plains states.
Meanwhile, Frank Fiske was born in 1883 at Fort Bennett, Dakota Territory, and grew up around Fort Yates. He learned photography from S.T. Fansler at Fort Yates and though still a teenager took over the studio after Fansler left town in 1900. Fiske would continue to work out of Fort Yates, save for a few brief periods, until his death in 1952. While Fiske was best known for his portraits of Native Americans, the true relevance of his photographs comes from his documentation of everyday life at Fort Yates and the Standing Rock Indian Reservation.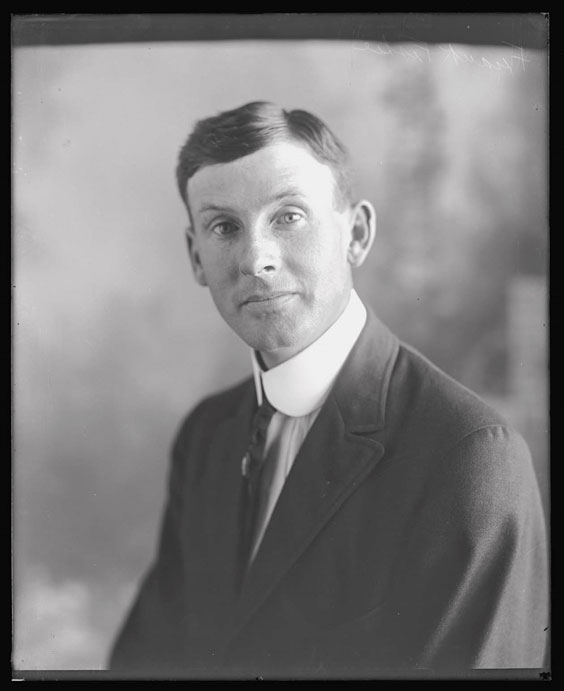 Photographer Frank Fiske in 1910. SHSND SA 1952-00111
As former Photo Archivist Sharon Silengo has noted of his legacy: "Fiske produced pictures of the life that the Sioux of the Standing Rock Reservation really lived—they were involved in celebrations when allowed by the government agent, they competed in rodeos with other cowboys, they performed in bands on instruments that they were taught to play in their boarding schools, and they married in the white way including wearing the garb of a fancy wedding dress and dress suit, not their traditional dress that would have been worn in the past. These are photographs of the reality of life for Indians."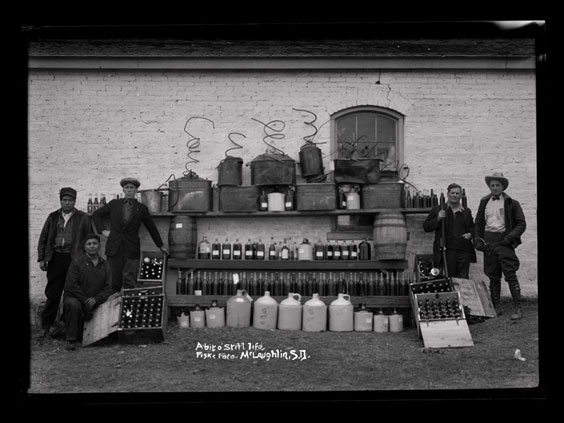 From left, John Brought Plenty, Jersey Grey Bear, Francis Mossman, Eugene D. Mossman, and Richard Hart with confiscated stills and liquor, 1926. SHSND SA 1952-01623
While we don't know much about their relationship, Fiske and Hart's paths crossed when Hart was a special agent for the Bureau of Indian Affairs, working alongside Fort Yates Superintendent Eugene D. Mossman to confiscate illegal stills and liquor in the Standing Rock Indian Reservation and surrounding areas. In January 1926, the Sioux County Pioneer reported that a series of raids on the reservation conducted by Mossman netted "many victims besides a lot of evidence and other paraphernalia." Hart and officer Jersey Grey Bear picked up farmer Frank Slawa and "confiscated a five gallon jug of moonshine." One of these raids was reported to have resulted in the removal of 25 gallons of alcohol from the reservation. Due to his skills, Hart was described by the paper as "a most crafty enforcement officer." Fiske's photographs make it clear just how much was confiscated in such a short period of time.
The photographs taken of the raid spoils and officers also shed light on one facet of the reservation life that Fiske would spend his life documenting. The photos preserved these events and speak to the impact Prohibition had on the Standing Rock Indian Reservation. Interestingly, according to records in Fiske's business ledger, Hart purchased 12 postcards of these photographs of him for a total of $5.00.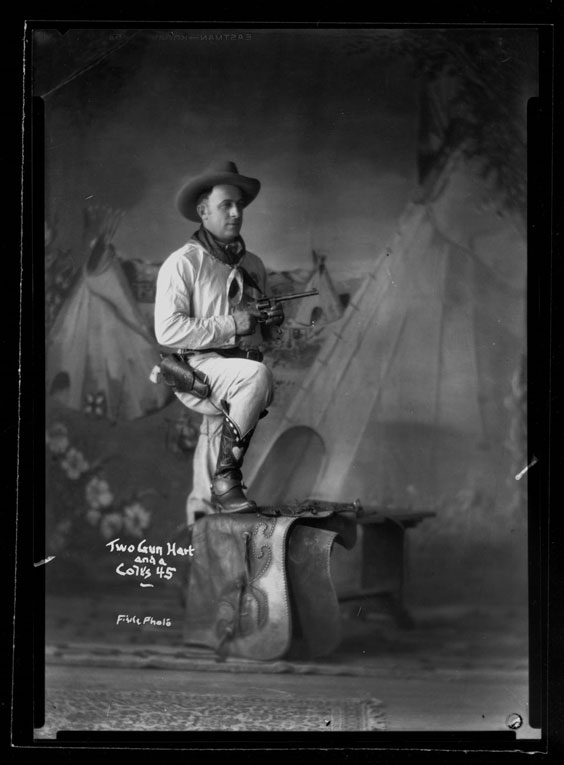 Hart poses with a Colt .45-caliber revolver. SHSND SA 1952-06187
As for Hart's efforts to keep his identity under wraps, a year before his death in 1952 his secret as a Capone was revealed to the nation when he was subpoenaed to appear before a jury in his brother Ralph's tax evasion case. Fiske also passed away in 1952, and one can't help but wonder what he might have thought about the revelation or if he already knew?