Dakota the Dinomummy is returning! One of our most popular artifacts has been having a well-deserved rest and a bit of spa time. But in fall 2021 a thoroughly refreshed Dakota will return to the halls of the North Dakota Heritage Center & State Museum in Bismarck.
Dakota is a significant part of the region's fossil record. Discovered in 1999 on a ranch near Marmarth in the extreme southwestern corner of the state, Dakota is an adolescent Edmontosaurus, one genus in a larger group of duck-billed dinosaurs called hadrosaurs. Dakota died in the swampy environment that was ancient North Dakota during the Late Cretaceous epoch, which lasted from about 100 to 66 million years ago. The carcass remained exposed long enough for the skin to dry, then the remains were buried in sedimentary material allowing for the preservation of some of the soft organs and skin. They have since become stone, but their distinctive mass and textures remain. The muscles and tendons are particularly recognizable in the tail section.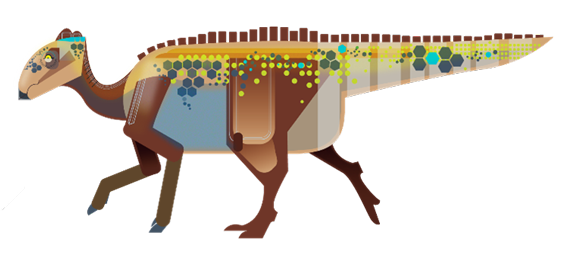 Stylized illustration of an Edmontosaurus.
Dakota's former exhibit case in the main corridor of the State Museum was disassembled just prior to Thanksgiving 2019. I remember thinking at that time the massive ribcage looked like something that would have appeared on the Flintstones' holiday table.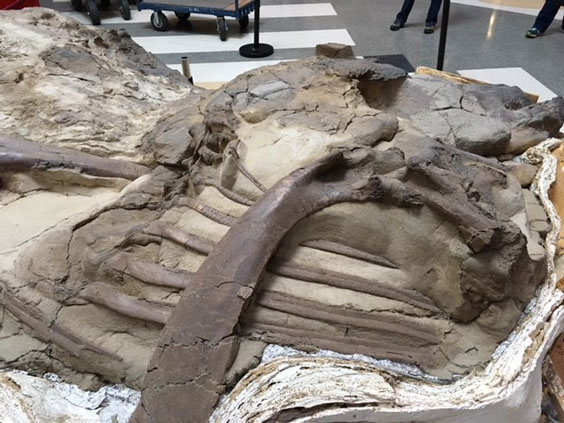 Dakota's ribcage prior to returning to the paleontology lab.
After the wall components were removed, the fossil's two huge stone sections were relocated to the paleontology lab in the basement, where the paleo staff began months of work to expose a larger portion of the fossil for scientific research. However, before the sections could be moved, their wooden frames had to be raised and blocked, and heavy-duty casters added to their undersides. That involved several hardy individuals shimmying under the suspended masses to attach the wheels. Then, once the wheels were in place, moving four tons of fossilized hadrosaur required both a forklift and staff member muscle.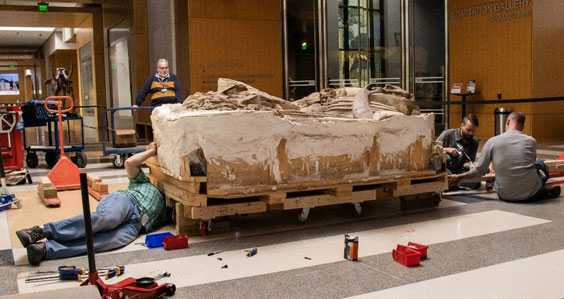 As we moved the second section down the corridor, a little boy observed the action from his perch on a bench. He was wide-eyed. As we rumbled by him, I said, "It's not every day a dinosaur passes by."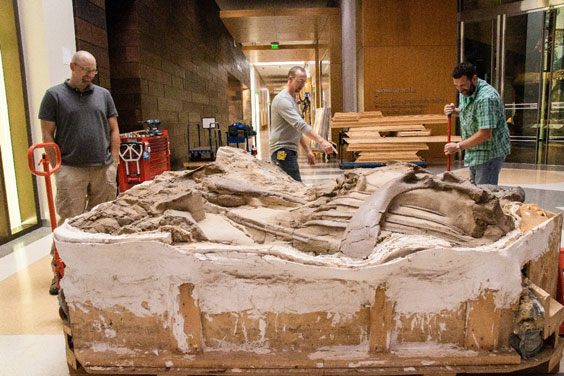 North Dakota Geological Survey paleontologists Clint Boyd and Jeff Person, along with Chief Preparator Bryan Turnbow, get Dakota ready for its move.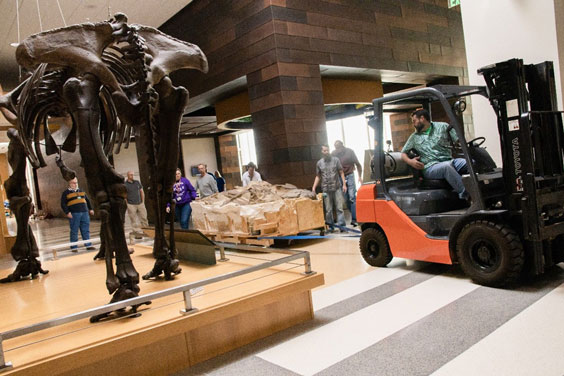 On the move past the front entrance and mastodon skeleton.
While Dakota has been missed, its time away has been very productive. It was thoroughly scanned and a 3D model created. It has also undergone extensive preparation with the removal of more than 2,000 pounds of stone and plaster. Both the preparation and survey processes revealed many insights, especially regarding Dakota's demise. Those new details remain proprietary pending peer review and publication. But stay tuned: More will be revealed in time.
Dakota's return will include a new display case and interpretive content. Chief Preparator Bryan Turnbow along with a team of State Historical Society staff and paleontologists from the North Dakota Geological Survey worked closely with Taylor Studios in Illinois to fabricate Dakota's new environment and update the interpretive text. The full fossil will not be on exhibit. However, extensive work on one of the arms will be showcased on a raised mount, and custom lighting will illuminate special features. New interpretive signage will accompany the display, with references and fresh discoveries that will help make Dakota more relevant and understandable to museum visitors.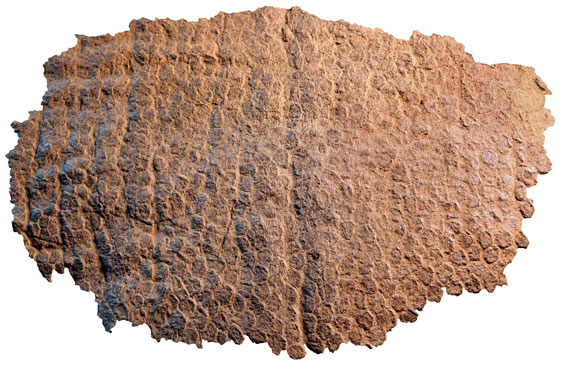 A 3D model of Dakota's skin will be included as part of the new installation.
One especially cool feature of the new installation will be a tactile component allowing visitors to touch a 3D model of Dakota's skin. And much like the young visitor watching the huge dinosaur fossil rumbling down the hallway, for most of us, this will probably be the closest we come to encountering a "real" dinosaur.