About a year ago, blogger Sarah Walker wrote a piece on how wonderful the web portal Chronicling America is for searching newspapers. And it certainly is wonderful! By next summer there will be more than 400,000 pages of North Dakota newspapers from about 50 titles of various lengths available online. This is significant! However, Chronicling America includes only select newspapers prior to 1964. With millions of pages of newspapers on microfilm here in the State Archives and uncertainty about the availability of continuous grant funding to digitize them, it is time to put together a sustained newspaper digitization plan that provides easy searchability and is free to all users.
Many states participating in the National Digital Newspaper Project, or Chronicling America, have had additional newspapers beyond this project digitized. One vendor that caught our interest while researching our own such project is Advantage Preservation in Cedar Rapids, Iowa. They contracted with the Divide County Public Library to digitize the area newspapers from microfilm created by the North Dakota State Archives. Being a Divide County native, it certainly captured my interest as I was able to search for relatives — and even myself!
The Divide County newspaper site is simple and easy to search. It is not as accurate or powerful as Chronicling America, but the papers can be digitized at a fraction of the cost, making it easier for us to accommodate the real demand for word-searchable, digital newspapers.
With the blessing of the North Dakota Newspaper Association, we are partnering with local groups and newspaper publishers interested in having their newspaper online and searchable. With the financial support of the Traill County Historical Society, we recently sent some of our master negative microfilm of the Hillsboro Banner to Advantage for digitization. When completed, it will be on a website like the Divide County newspapers. There are several other communities across North Dakota interested in doing the same. Eventually we will have all the digitized newspapers accessible through our State Archives website, with the capability of doing one search across all of them. To get an idea of what it may look like, you can view the Iowa digital newspapers.
If you or your organization is interested in having your local newspapers digitized, I would happy to discuss the possibilities and cost in more detail. I can be reached by email at smolander@nd.gov or phone at 701.328.3570.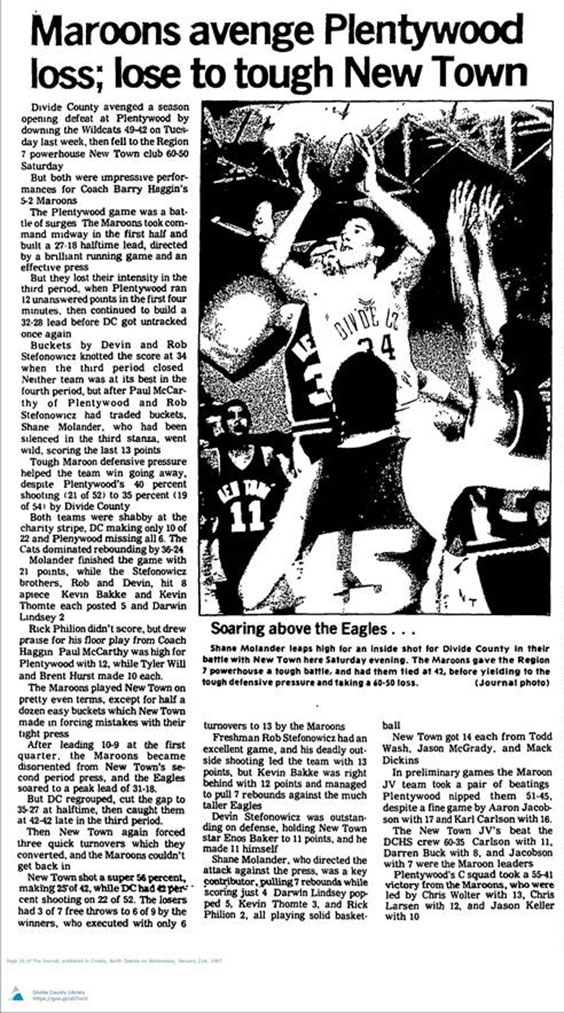 Number 45 with his back to the camera is Todd Wash, current defensive coordinator for the Jacksonville Jaguars of the National Football League. How cool is that!