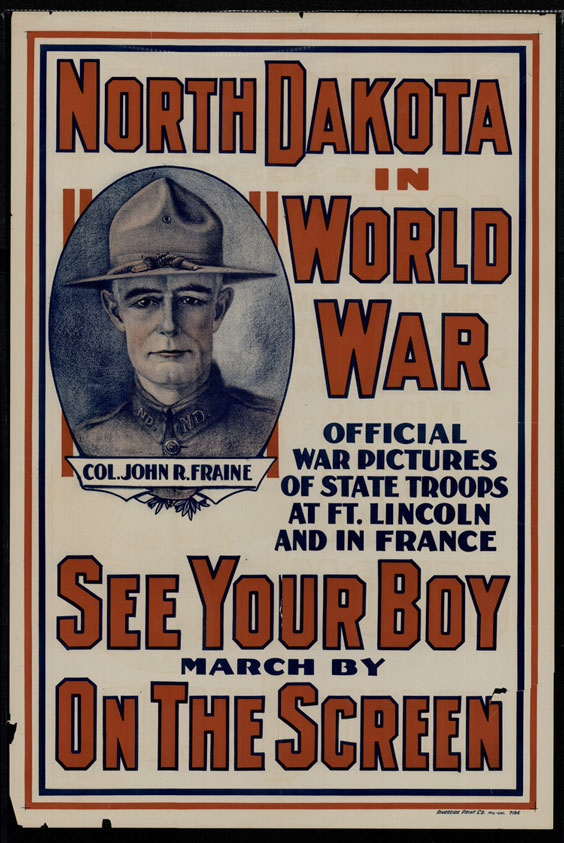 This undated North Dakota Council of Defense poster advertised "official war pictures of state troops at Ft. Lincoln and in France." SHSND SA 10935-P0217
This April marks the 104th anniversary of the United States' 1917 entry into World War I. While the commemoration of that conflict's centenary is already part of history, it does not mean that interest in World War I has ceased, as researchers still request materials on the conflict or attempt to find out about ancestors who served in the war.
One of the State Archives' unique collections features hundreds of WWI posters. This collection contains 921 posters, including some from overseas, which were collected during the final two years of the war by Melvin Gilmore, curator of the State Historical Society of North Dakota from 1916–1923. The posters fall into a number of distinct thematic categories, including recruiting efforts, Liberty Loan campaigns, wartime propaganda, supply drives, and patriotic appeals. The poster styles vary from simple textual or artistic designs to poignant illustrative works of art. Given that print media was the dominant form of information dissemination at that time, these posters represent an important link to the past. Many of these posters are digitized and viewable on our Photobook site.
Each branch of the U.S. armed forces during the war created posters to entice young men and women into service. While women's opportunities to serve were limited compared to today, efforts were made to reach them as well. Nursing was one avenue by which women were recruited into the war effort. In addition, imagery of women was used in some recruiting posters, portraying them often in the role of helpless victim or appealing to the perceived protective impulses of young men.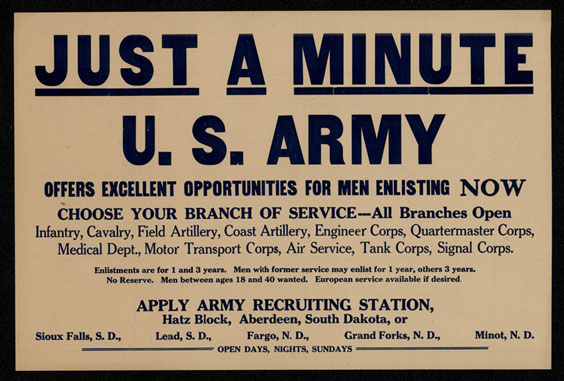 A U.S. Army poster listing service opportunities and recruiting stations in North and South Dakota. SHSND SA 10935-P0064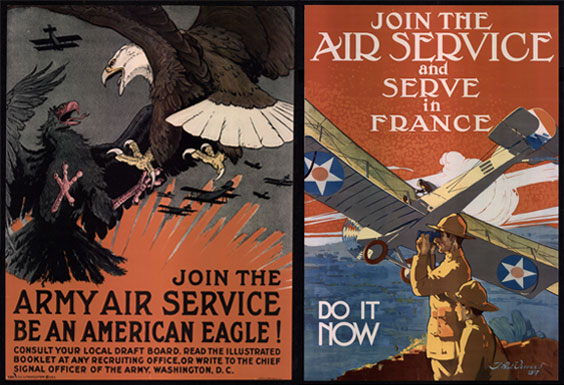 This U.S. Army Air Service recruiting poster, left, drew on visceral imagery of an American bald eagle attacking a "German" eagle to promote enlistment. At right, a poster aimed at bolstering the U.S. presence in France. SHSND SA 10935-P0189, SHSND SA 10935-P0305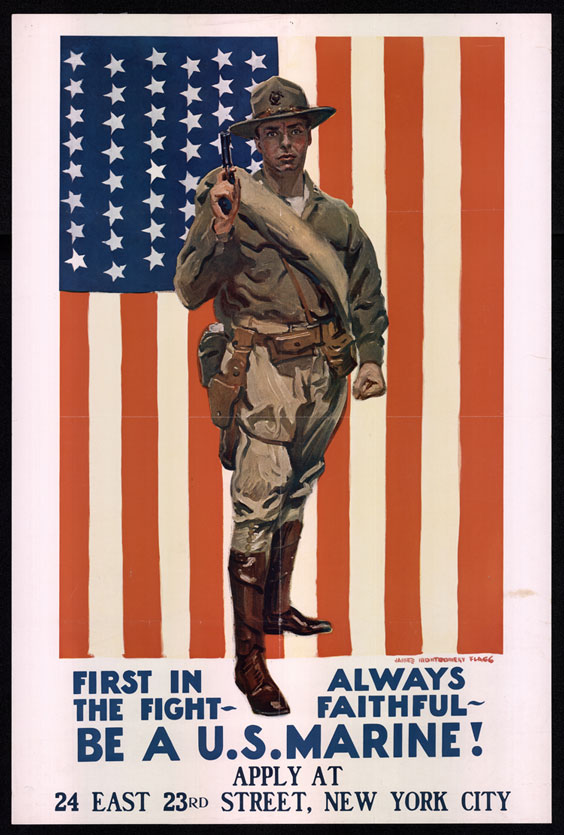 The heroic U.S. Marine was front and center in this poster designed by James Montgomery Flagg, creator of the iconic "I want YOU" recruiting poster. SHSND SA 10935-P0346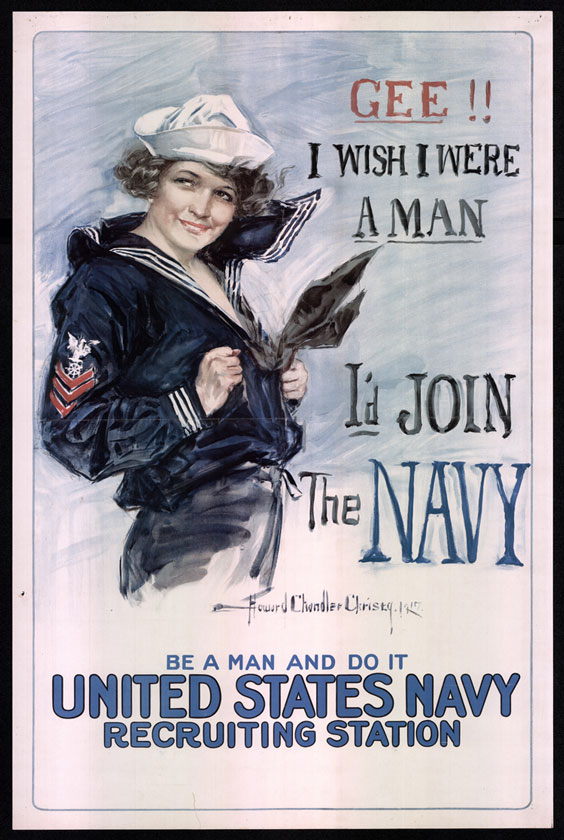 One of the most famous images from the era, this Navy recruiting poster played on traditional notions of masculinity, using an image of an attractive young woman in a sailor's uniform to goad men to join up. SHSND SA 10935-P0277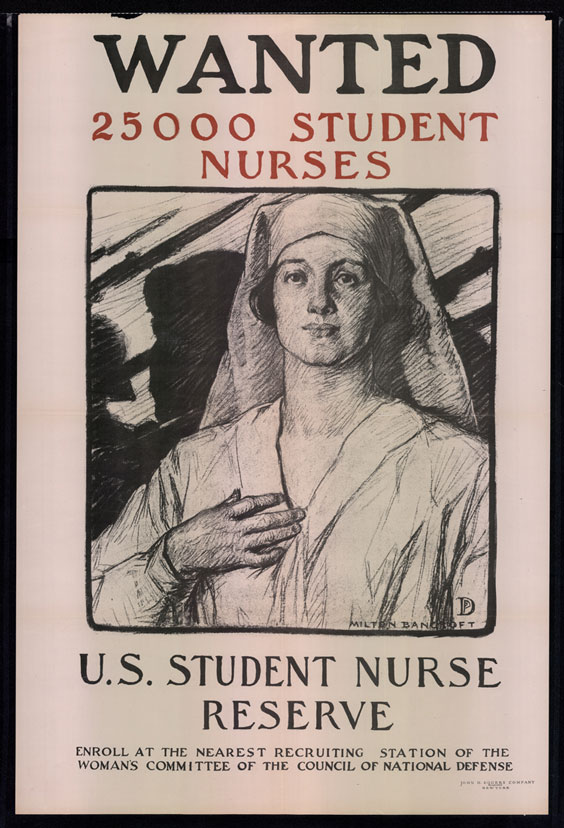 It wasn't just soldiers who were in demand—the nation also needed nurses to tend to the wounded as evidenced by this U.S. Student Nurse Reserve recruiting poster targeted at women. SHSND SA 10935-P0028
In addition to the armed forces, service organizations actively tried to acquire new members to aid in their war-related efforts. These groups included such organizations as the American Red Cross, the Salvation Army, and the U.S. Boys' Working Reserve, which aimed to offset war-related labor shortages and provide farm labor to help increase agricultural production. Many of these organizations' campaigns appealed to the patriotism of Americans, as evidenced in this pair of posters below.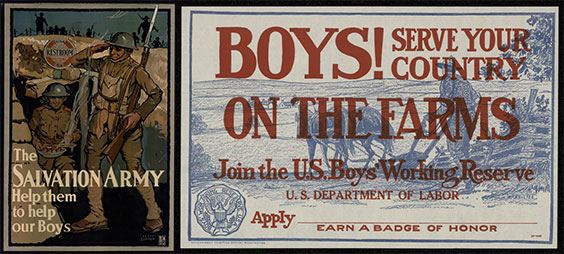 Left: SHSND SA 10935-P0554
Right: SHSND SA 10935-P0071
Several posters in the collection also urged the purchase of Liberty Loans and Victory Loans. These programs were bond issues by the Treasury Department meant to encourage those Americans not off fighting in the war to invest in the country's success by buying government bonds, which funded the war effort. Such posters featured explicit visual appeals to Americans' sense of patriotism and justice, drawing on imagery of suffering women and children to pull at the heart strings. Most were quite artistic, though some were simple in style.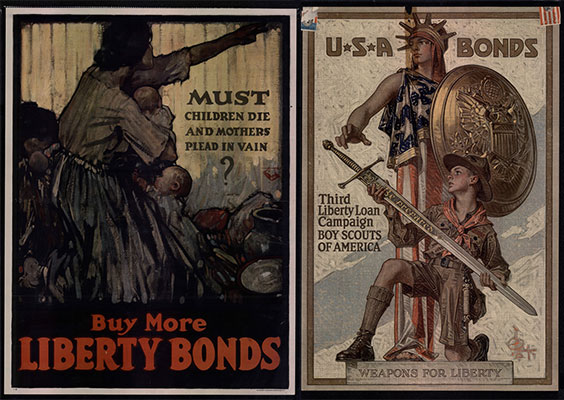 Left: SHSND SA 10935-P0001
Right: SHSND SA 10935-P0022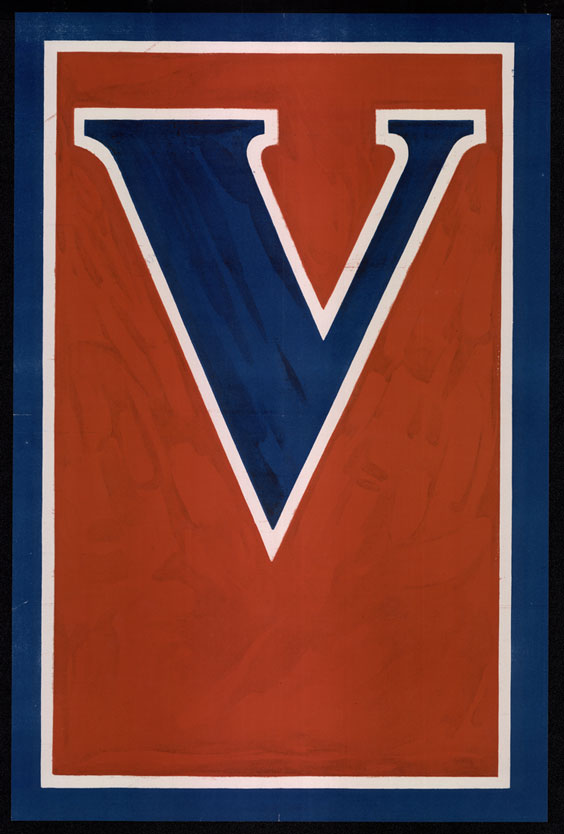 The visuals may have been simple but there was no missing the overarching message of this striking 1919 poster advertising Victory Liberty Loans, the final bond drive of the war. SHSND SA 10935-P0209
In addition to the loan drive posters, several in the collection speak to the prevalence of wartime propaganda intended to mobilize support for the Allied cause or stoke fear of the enemy. Germans were portrayed in starkly negative ways, with some posters warning of the dangers of loose lips. Our collection also comprises foreign language posters including some in Czech and French.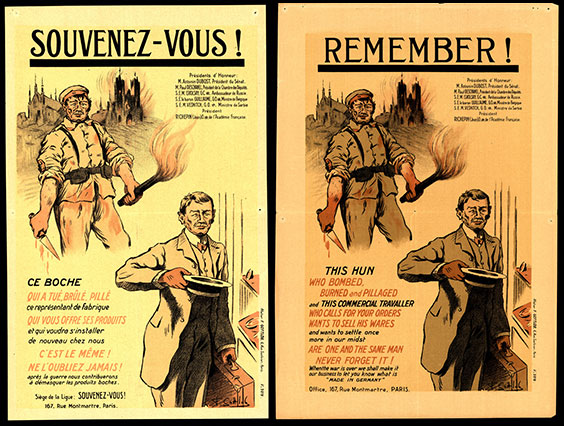 French and English versions of this poster played on stereotypes of German barbarism to discourage consumers from buying German-made products after the war. SHSND SA 10935-P0773
As the war neared its end, the world was gripped by the Spanish flu pandemic so some of the posters in the collection also relate to the global health crisis and government efforts to deal with it. This event exacerbated the suffering of many nations, which had already lost so much in people, property, and goods during the Great War.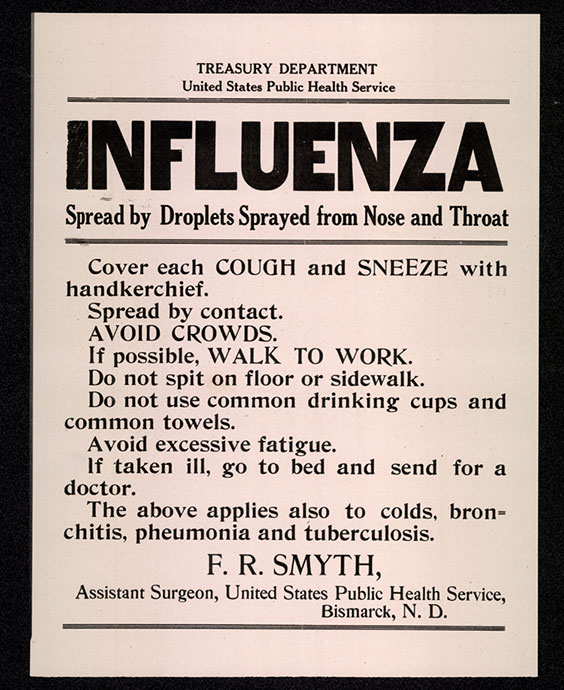 This U.S. Public Health Service poster urged Americans to take precautions in the fight against the Spanish flu pandemic. SHSND SA 10935-P0200
As you can see, the World War I poster collection is a fascinating set of print media from a bygone era, offering a glimpse into the artistry and messaging surrounding a historic world event. You can browse the digitized images of these items on our Photobook site from home, or when you are researching in the reading room during our open hours.