In preparing for our upcoming Fashion and Function exhibit at the State Museum, I was reminded of some interesting objects in our museum collection. They appear to be run-of-the-mill objects: a quilt, and a couple of dresses, pillowcases, Native American leggings, and a homemade sheet. These everyday objects have a very interesting connection—they are all made from flour or feeds sacks. People tend to say any items made with the small cotton prints in colors typical of the 1930s are made with flour sacks, but I find very few items that really are made from these. People also seem to forget that women went to stores and bought yardage, sometimes in the same design and colors used in the sacks. There are two ways that I know of proving that an item is made of flour or feed sacks. Firstly, are they printed with a label? A home-made sheet displays this well.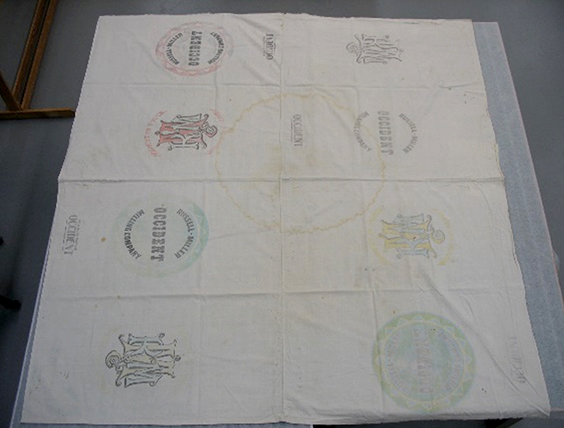 SHSND 1975.23.245
Leggings made by Anne Good Eagle, Lakota, sometime in the 1920s, show traditional materials of leather and dyed porcupine quills on the lower half —the part that was visible below a dress. On the upper part that is hidden by the dress, she used flour sacks from Rex Flour.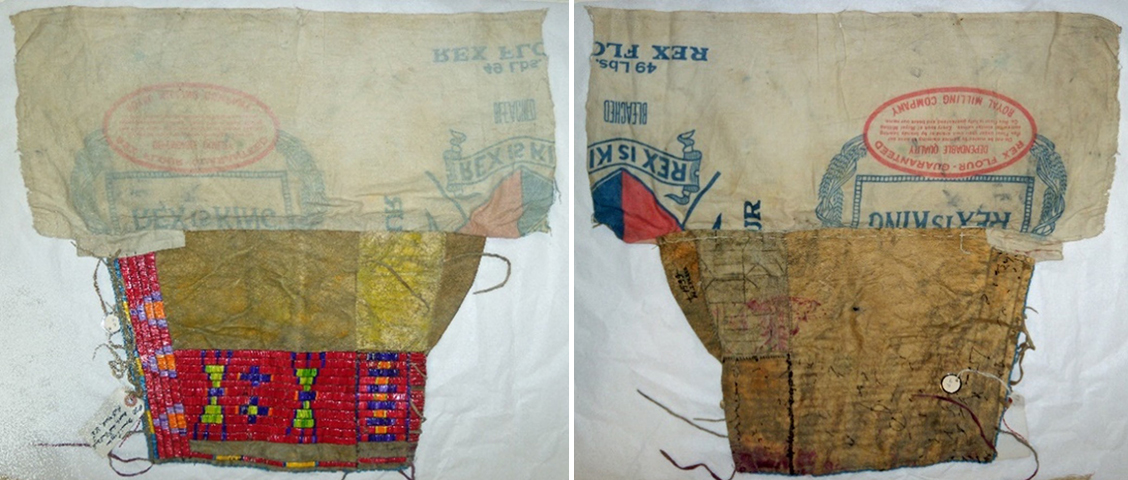 Front and back of leggings. SHSND 1986.234.222v
While having a flour sack logo where no one could see it was fine, women would try to bleach away the printing when the fabric would be more visible to others, usually with mixed results. A Dresden Plate quilt, made by Anna Johnson of Coteau sometime between 1925 and 1934, used flour sacks for the white background. If you look carefully around the plates, you can see the black printing of the Russell-Miller Inc., North Dakota Milling Company, Occident Flour logo.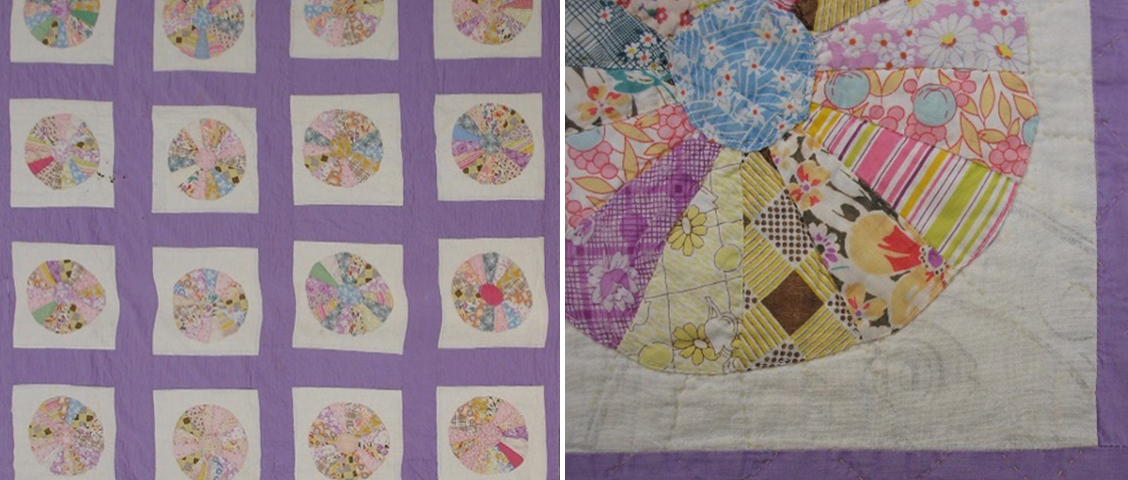 Dresden Plate Quilt and close-up of flour sack printing. SHSND 1981.1.5
As we can see on the quilt, bleaching didn't always work. Of course, women complained about the ink not coming out, so the mills started to use paper labels. Those could be soaked off, leaving a nice piece of fabric.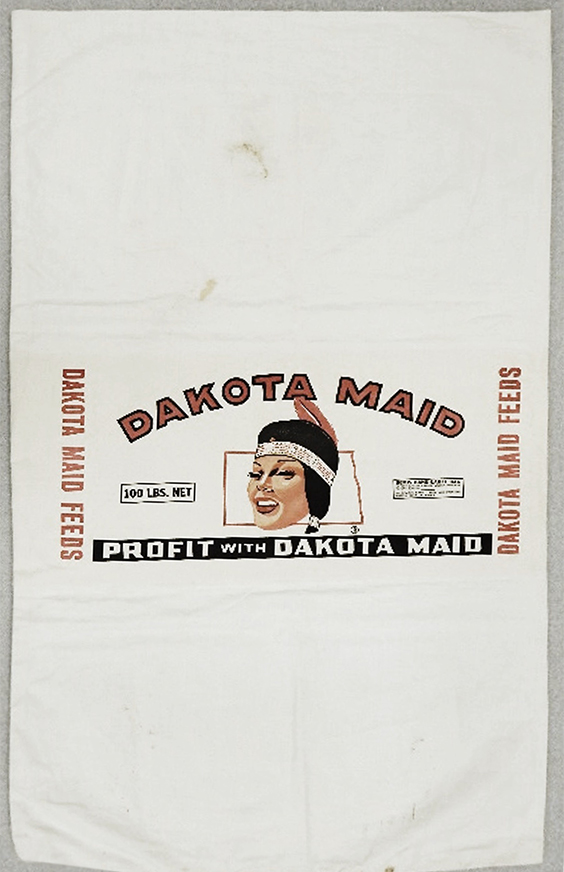 Dakota Maid Feed sack with paper label, SHSND 1982.197.11
From the 1920s to 1950s many flour and feed mills, including the North Dakota Mill and Elevator, used pretty printed cloth for the sacks to encourage reuse.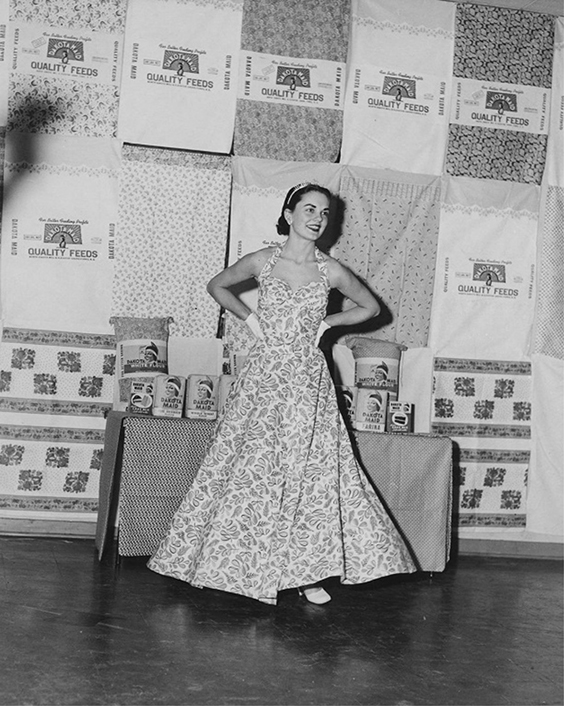 Woman wearing an evening dress made from feed sacks standing in front of a Dakota Maid promotional display. SHSND SA 2019-P-134-00046
With the printed labels gone, I rely on the second way of identifying flour sacks. I look for the stitch holes in the fabric. Sacks were sewn together with a large needle using string for thread. When the sack was taken apart, a series of small holes were left behind from where the needle broke threads in the fabric. Note the row of small holes along the edges of this pillowcase.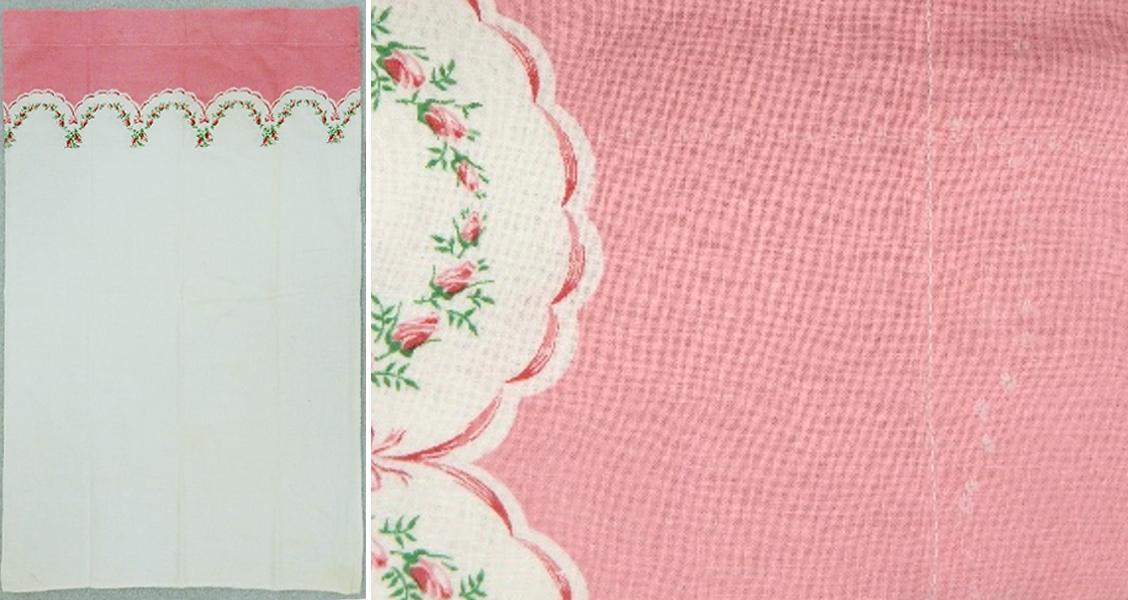 A pillowcase and close-up of sack stitch holes. SHSND 1976.00160.00093A
A pillowcase is the obvious item to make from a sack, and some sacks were made with a pretty border across the top for just that purpose. Looking carefully at the dress image above, you can see the same print used for the pillowcase. Other sacks having an overall design were more like yardage, perfect for creating clothing items. Wives would send their husbands to the feed store with strict orders to get bags all with the same design and color. Dresses could require five or more bags. Occasionally patterns would even indicate not only yardage but how many bags it would take to make the dress. A dress made by Carol Eklund in the 1950s as a 4-H project was said to be made from feed sacks given to her by a neighbor. Carol was diligent to avoid or hide most of the holes, but near the hem at the back a tell-tale row of holes is visible, confirming the story.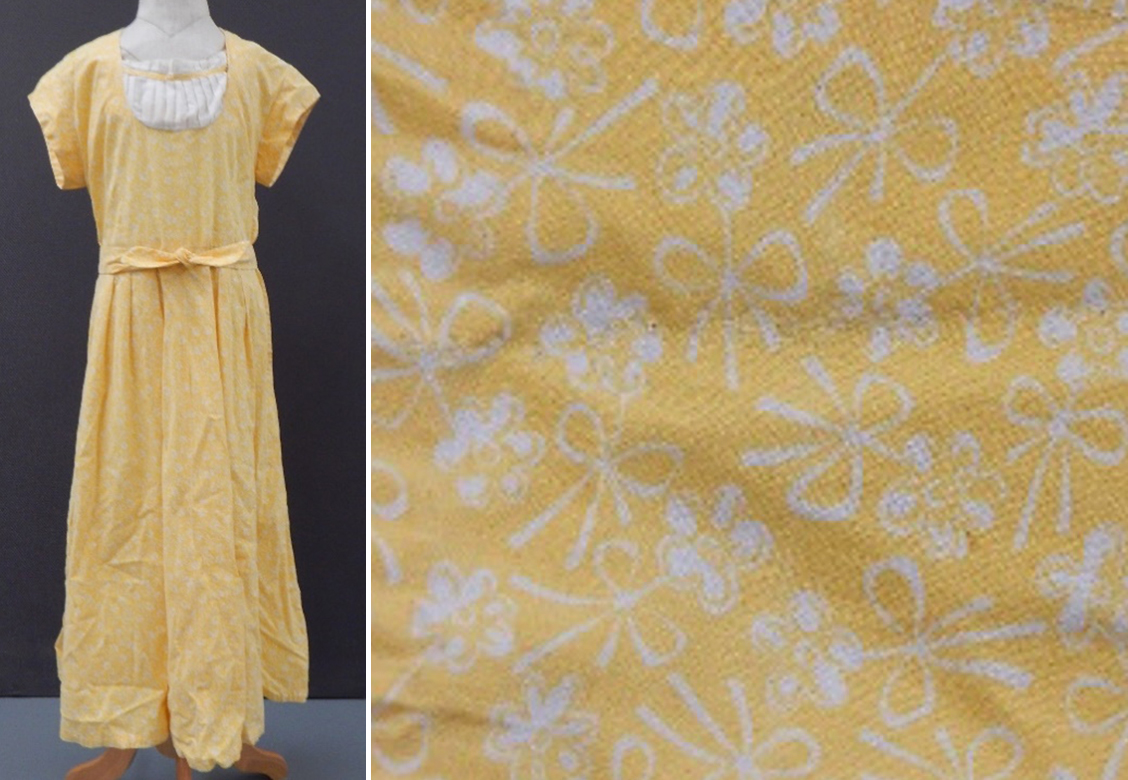 Dress made from flour sacks and close-up showing the holes. SHSND 2018.72.5
Many items might be legitimately made from sacks, yet we can never know for sure because the maker managed to bleach out the printing, or hide the holes, or used such small pieces they avoided the holes all together. Also, most of the items made from feed sacks were utilitarian. The items were used until they were no longer usable, so they were rarely passed down in families. Even so, we can't discount our grandparents' stories about using feed sacks for all kinds of things from dish towels to shirts and dresses. I have had more than one person who grew up in the 1930s tell me about having underwear with "Russell-Miller" across their bottoms. Unfortunately, we don't have any in the collections for me to share with you. A few of these stories might be like the stories they told us of walking to school uphill both ways through 6-foot-high snow drifts. You'll be able to view some of the pieces referenced in this blog in our Fashion & Function exhibit opening in 2021.