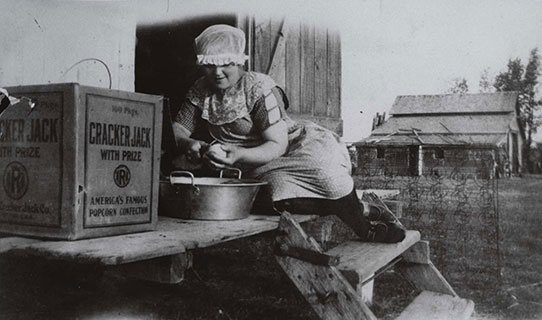 SHSND 2009-P-012-012. The State Archives has multiple images of different cooking scenes throughout our collections. Here, Signa Hermanson Larsen, Burke County, peels potatoes in 1923.
Recently, the State Archives took in a large number of North-Dakota related cookbooks from the collection of Charlotte Hansen. Charlotte was born in Jamestown in 1922, and had a longtime interest in culinary delights. She even belonged to a potluck group in high school called "The Harpies." She and her husband Gordon Hansen owned the Jamestown Sun for a number of years. Gordon served as publisher and Charlotte was Food and Travel editor. She often travelled with a group of other food editors, and she wrote travel-themed food articles that won a variety of state and national awards from the National Food Writers Association and the National Press Women. She also published four cookbooks of her own. Eventually she wrote a food column for "The Splash" in Arizona, where they lived during the winters.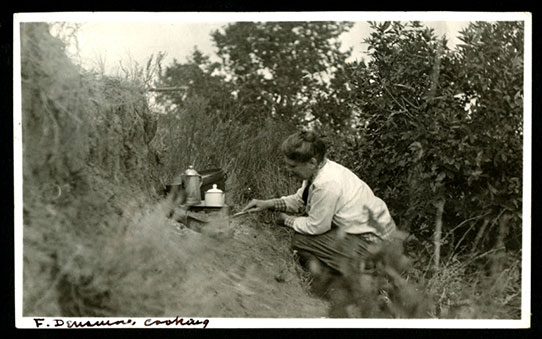 SHSND 0270 Album p19-46. Frances Densmore is cooking at a camp.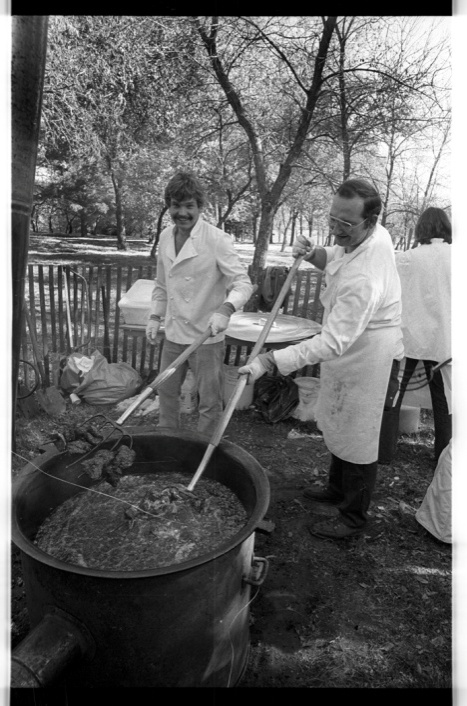 SHSND 2009-P-026-box6-file10-Roll3-08. These two men are shown cooking pitchfork fondue during the groundbreaking ceremony for the State Historical Society on October 9, 1976, in Bismarck.
Although Charlotte had cookbooks from many locations, only those related directly to the state of North Dakota have come to the State Archives. These selections of her cookbooks encompass churches and communities around the state from the 1950s to the 2000s.
These cookbooks add a unique new dimension to research. Many of our researchers come in looking to find specific hard facts about people or events, such as when an event happened, and where it was located, or how it came to pass, if possible. Books like these add color to the picture that these historians and genealogists are interested in. What people could and did eat during different times and in different places throughout history can highlight prosperity or poverty, describe populations of settlers, show advancements in cooking technology and changes in cooking techniques, and more.
Plus, the recipes are still viable for use. So, that's a win-win.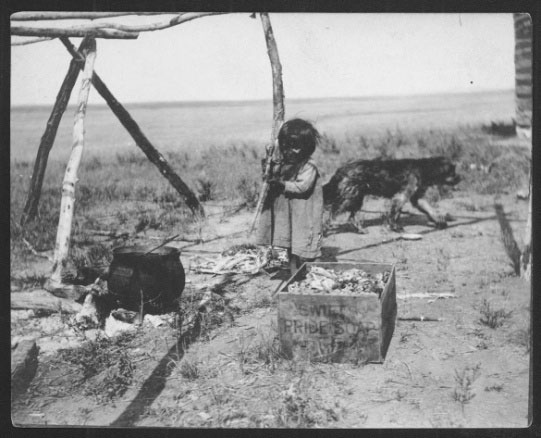 SHSND 0086-0378. A child is alone with a dog and cooking pot in this image.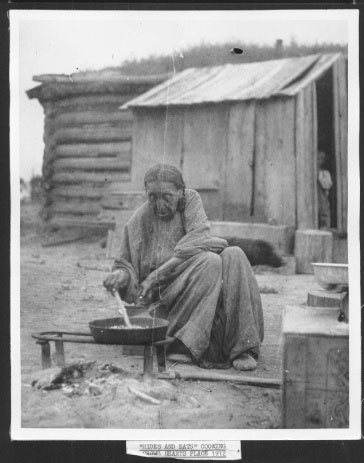 SHSND 0086-0442. Hides and Eats is cooking outside at Crows Heart's place in 1912.
You can't page through the books from Charlotte Hansen's collection without locating rhubarb, pickles, desserts, hot dishes, jell-o, and salads…and don't forget the lefse and sauerkraut! An increase in microwaveable recipes or various types of "healthy recipes" show different perceptions and technologies here in North Dakota.
For example, one of our new acquisitions from Hanson is a Community Cookbook out of Wimbledon from 1977. Compiled by the United Methodist Women, even the categories of foods that it is separated into are telling: Quick and Yeast Breads; Bars and Doughnuts; Cakes and Frostings; Cookies; Casseroles, Meats and Poultry; Desserts; Pies; Salads and Dressings; Pickles, Jams, and Relishes; and Miscellaneous, which includes a ten-page section on candy, and a section marked Lo Calorie (sic), which in turn is about 4 pages in length. This book includes some recipes that were in an older cookbook that had been compiled some years before.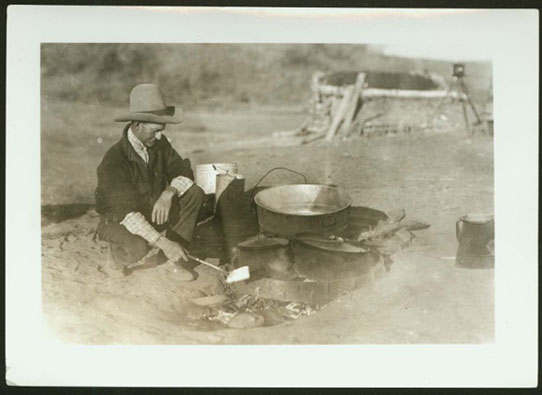 SHSND 0075-0625. A cowboy is cooking outdoors. Photo by Leo Harris.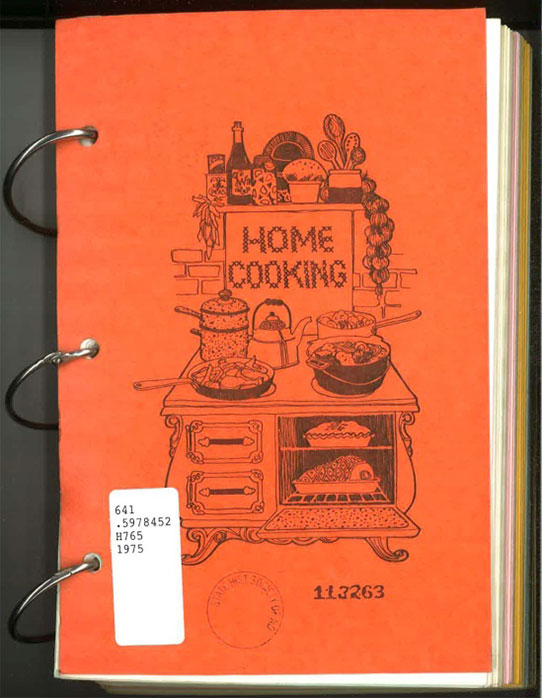 The cookbooks range from three-ring binders to paper clipped together to book format. This one is from 1975.
One of our oldest cookbooks in State Archives is the Butterick Pattern Cook Book from 1890; interested culinary historians may view this book through the Library of Congress: http://hdl.loc.gov/loc.gdc/scd0001.00144805045.
For your enjoyment, for your culinary delights, and for a historic flair, feel free to try one of these recipes. Copies can be made from any of these books and added to your own home cooking enjoyment. You can't take the cookbooks home, but you can always take home a copy of a recipe—or try one of these salads as listed below!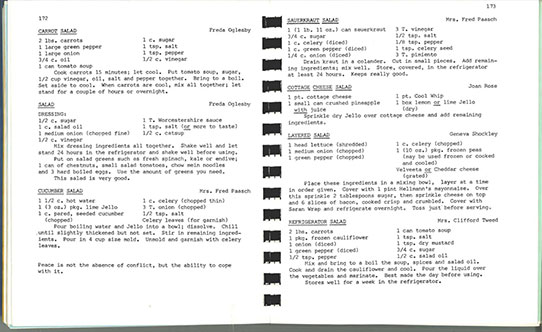 From the Community Cookbook of Wimbledon.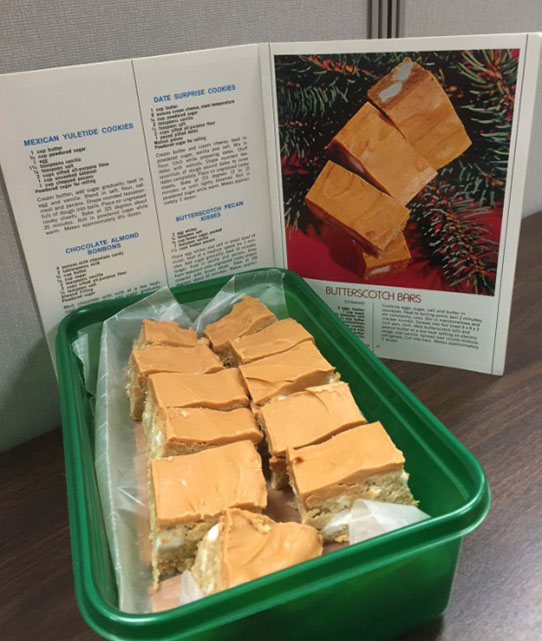 Our cataloguer couldn't help herself; she copied and made this butterscotch bar recipe from the Otter Tail Power Company Christmas Cooky Book (sic) Cookbook.