The Midwest takes its mammoth roadside attractions seriously, and North Dakota is no exception. The Peace Garden State boasts supersized sculptures such as the world's largest Holstein cow, sandhill crane, and buffalo—and those are just the ones along Interstate 94.
I hail from Idaho where our artificial megaflora and fauna include a giant traveling potato sculpture and Sweet Willy, the world's biggest beagle. Little did I know when I first started working at the Lewis and Clark Interpretive Center in Washburn that another delightful giant (who I once had the honor of playing in my fourth-grade class's Lewis and Clark musical) would be lurking nearby. That giant is local artist Tom Neary's adorable statue of Seaman, the faithful Fido of none other than explorer Meriwether Lewis. The bronze Dog of Discovery was installed along the Missouri River near the Fort Mandan replica and visitor center in 2006. He obediently sits greeting visitors and looks as if he might be awaiting a juicy bison treat from Capt. Lewis himself.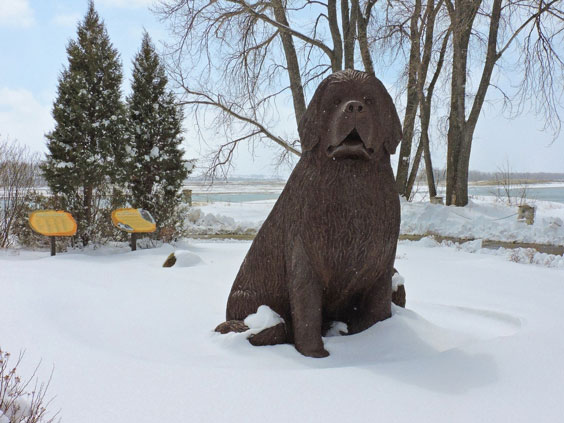 Fort Mandan State Historic Site's Seaman after April's blizzard. Rain or shine, North Dakota artist Tom Neary's bronze dog sculpture is a hit with visitors of all ages and their furry friends. In warmer months, visitors enjoy walking along the nearby river and nature trail.
Lewis never documented where or when he bought Seaman—many theorize he purchased the pooch in Pittsburgh during the summer of 1803 while equipping the expedition—but he does mention paying $20 of his own money for the dog. Seaman earned his keep as a hunter, retriever, sentry, and lifeguard. Other expedition members came to refer to him as "our dog."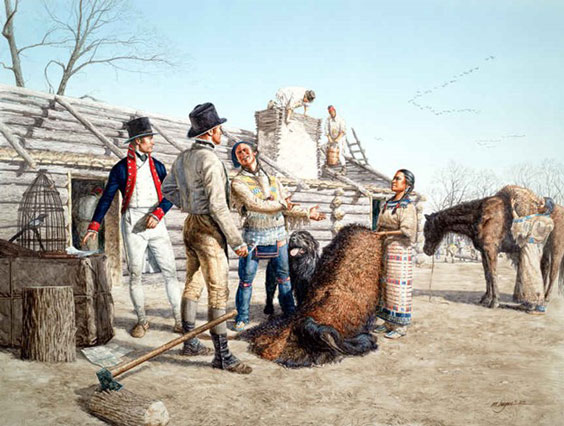 In the illustration "Sacagawea's First Gift" by artist Michael Haynes, Seaman is pictured with expedition member Toussaint Charbonneau and his wife, Sacagawea, during their first visit to Fort Mandan. SHSND
Seaman will probably forever be represented as a modern-day black, chunky Newfoundland, but the breed in his era was almost universally black and white, what is known today as the Landseer Newfoundland after English painter Edwin Landseer. (Landseer famously captured the breed's distinctive coat pattern on canvas during the 1800s.) Contemporaneous artwork and descriptions of the breed also indicate a sportier build than today's Newfoundlands. No records remain of Seaman's appearance beyond his impressive size.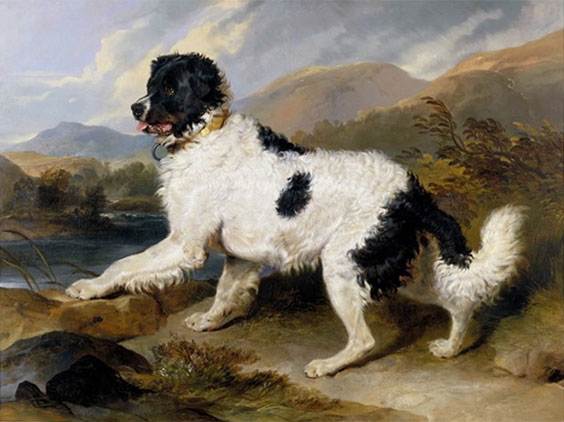 Seaman's coat likely resembled that of "Lion: A Newfoundland Dog" in this painting by English artist Edwin Henry Landseer. Wikimedia Commons
Lewis held his furry friend in such high regard he even named a creek in present-day Montana "Seaman's Creek" in July 1806. Interestingly, a Masonic museum in Virginia at one time apparently housed a dog collar that may have been donated by William Clark in 1812, although the original is now lost. The inscription on the collar stated: "The greatest traveler of my species. My name is SEAMAN, the dog of captain Meriwether Lewis, whom I accompanied to the Pacifick (sic) ocean through the interior of the continent of North America."
Besides the fact that this tail-wagging trailblazer was large, what does any of this have to do with giant roadside attractions? Recently it occurred to me that Fort Mandan State Historic Site just might have the world's biggest Newfoundland dog. I reviewed my own photographs and scoured the internet for Newfoundlands in public art. Seaman is the most oft-sculpted member of his breed and certainly the greatest traveler of his species. St. John's, Newfoundland and Labrador, in Canada only has a life-sized Newfoundland statue. Then there's the salmon-eating incarnation of Seaman (part of the "End of the Trail" statue) I encountered during a 2002 family spring break trip to Seaside, Oregon. But that was no competition either. The closest in stature to the State Historical Society's Seaman I could find is the one included on artist Pat Kennedy's Lewis and Clark monument, which has duplicate casts at the Sioux City Lewis and Clark Interpretive Center in Iowa and at the Lewis & Clark Boathouse and Museum in St. Charles, Missouri. I contacted staff at both sites and requested measurements of their statues. That Seaman is approximately 6 feet, 3/16 inch tall, with a head circumference of 7 feet.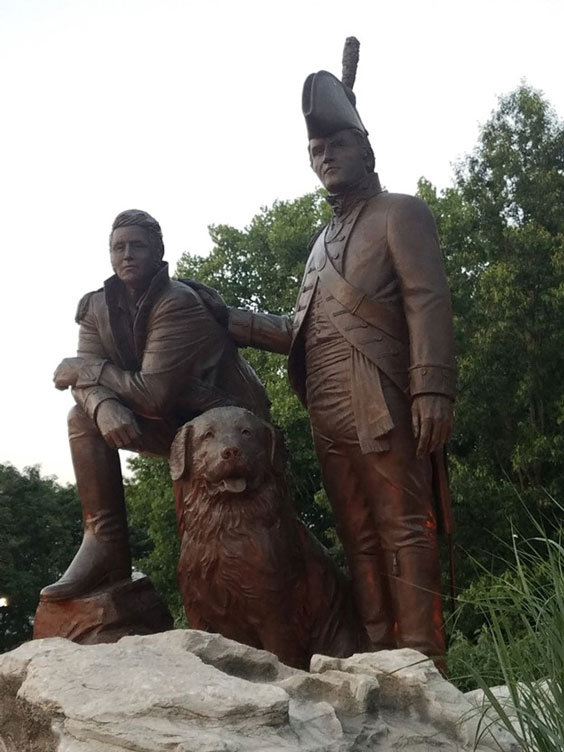 The apparent runner-up for "World's Biggest Newfoundland" is artist Pat Kennedy's Seaman in this Lewis and Clark monument, a cast of which stands in St. Charles, Missouri.
Armed with this knowledge, I drove from the Interpretive Center down to our own pup with a measuring tape and a step stool to determine dimensions. Our dog nosed ahead with a height of 7 feet and a head circumference of nearly 8 feet. I contacted the Newfoundland Club of America, which had been involved with the statue's 2006 installation and reinstallation following the 2011 flood. The representative who responded was delighted. Our Seaman is on the map in the Newfoundland world! So come see what all the fuss is about, and snap a selfie with the great Dog of Discovery himself. Woof! Woof!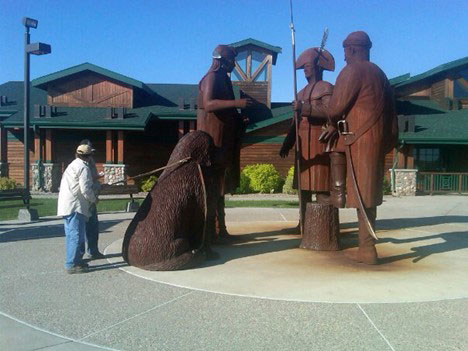 During North Dakota's 2011 spring floods, Seaman was forklifted onto a truck and brought up to the Lewis and Clark Interpretive Center for a few months of quality time with Sheheke-shote and the captains.