Everyone can benefit from being conscious of ways to attract and engage audiences. It doesn't matter who you are. In every aspect of your life, whether it be family, social, spiritual, work, play, or recreation, it is valuable to hold your audience in high regard. By recognizing your audience or audiences while striving to attract and engage them you will increase the impact of the services you provide. One approach to enticing a new audience is to reach them when they least expect it. Public art can have such an effect.
Two recently unveiled wall murals in the Heritage Art Tunnel that passes under State Street in Bismarck are good examples of public art in action. The tunnel connects Myron Atkinson Park located on the east side of State Street with the North Dakota State Capitol Complex, including the ND Heritage Center & State Museum.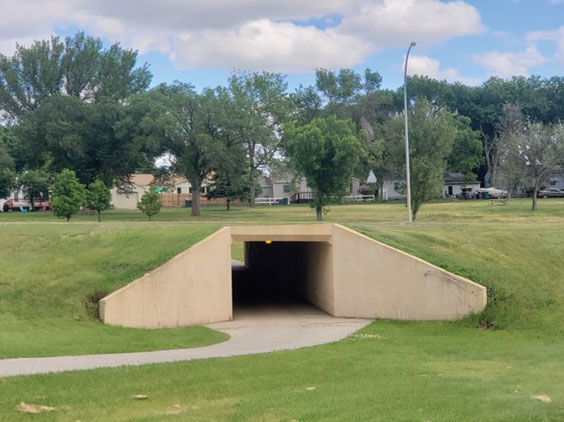 This unassuming tunnel at the edge of the state Capitol complex has been transformed into an outdoor art gallery. Photo by Melissa Gordon

Artist's rendition of the Heritage Art Tunnel murals. Photo by Melissa Gordon
The brainchild of the Bismarck-Mandan Chamber of Commerce's leadership program, the Heritage Art Tunnel took several years to complete. Because the tunnel not only connects Bismarck municipal property with the state Capitol grounds and goes under a city street also designated as a U.S. highway, multiple agencies needed to grant permissions before the public art project could move forward. Design concept development, funding, the involvement of a capable artist, and community support from organizations like Dakota West Arts Council, the North Dakota Council on the Arts, and the State Historical Society were all part of nurturing this project, finished in October 2021, to fruition.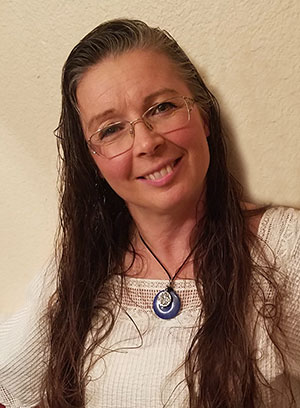 Tunnel artist Melissa Gordon. Courtesy mel-ink studio
Initially, a "timeline" was the only guidance given to Melissa Gordon, a Bismarck public artist, who both embraced the project and elevated it to the next level. Melissa merged her concept of "connections" with a graphic representation of "circuits" in a circuit board and developed a storyboard that had the potential to tell the history of North Dakota. As this merger took shape it became apparent the North Dakota Studies curriculum developed for fourth grade public school students could offer guidance on content, color palette, and other connections that could turn these murals into a visual learning venue. As the concepts coalesced and became more refined, exhibits in the State Museum helped inform Melissa's final designs, as you can see in the images below.

Artifacts from the State Museum such as this bison, left, served as inspiration for the art tunnel's murals. SHSND 4179.2
I encourage you to experience the art for yourself. The Heritage Art Tunnel's south side mural is organized around the concepts of geography and agriculture; while the north side illustrates energy. Spend a little time in the tunnel. Take guidance from the connections you see to make connections to your own heritage and history using ND Studies and the exhibits in the State Museum.
A connection I made recently was to a blog post from C3 Teachers, a collaborative effort of teachers helping students learn the academic content needed to become ready for the three Cs—college, career, and civic life. In that blog is a street art-related Inquiry Design Model (IDM), which includes concise "questions, tasks, and sources that define a curricular inquiry." This IDM asks the question: "Does public art make communities better?"
An approach using IDMs is also being implemented in ND Studies. This will allow teachers to experiment with their teaching practices while simultaneously supporting students as they question, analyze, and collaborate in authentic social studies experiences. This distinctive approach to creating instructional materials gives teachers flexibility to develop relevant lessons that provide creative questions, tasks, and sources for North Dakota students as they prepare for their futures. All this is to say that public art projects like the Heritage Art Tunnel can spark unique and transformative learning experiences. Each of us should look at our potential audiences and the connections we make both with them and everything around us, striving in creative ways to take informed action toward a better future for all.