We recently took down The Horse in North Dakota exhibit. Some colleagues and I have written about how we produce an exhibit (Part 1 and Part 2), getting the horse-drawn fire wagon into the building, trying to find artifacts for display, research about artifacts, and how we clean those artifacts. These blogs brought to your attention just a few of the artifacts we used in The Horse exhibit.
I thought I would share with you what happens to these pieces now that they are off exhibit.
For most artifacts, we check the condition report completed on the artifact prior to the exhibit. The condition report includes a description of the artifact describing all damage such as chips, dings, scraped paint, frayed edges, tears, fading of colors, insect activity, or whether something like a button on a garment is missing. When we see no changes to the item's condition after being on exhibit, the object goes back to its storage location. We note that movement in the database and then move on to the next item. But for a few artifacts, it is not so easy.
The horse-drawn fire wagon was probably the most complicated piece to move. Bryan Turnbow, in his Jan. 27, 2020, blog, talked about how we had to use a forklift and our platform loading dock lift to get our fire wagon into the building. We, of course, had to reverse the process to get it out of the museum. It is a bit nerve racking to see such an important artifact suspended over the edge of the platform lift being held only by the tines of the forklift. Both lifts were slowly lowered with staff members standing by as spotters to make sure nothing went wrong.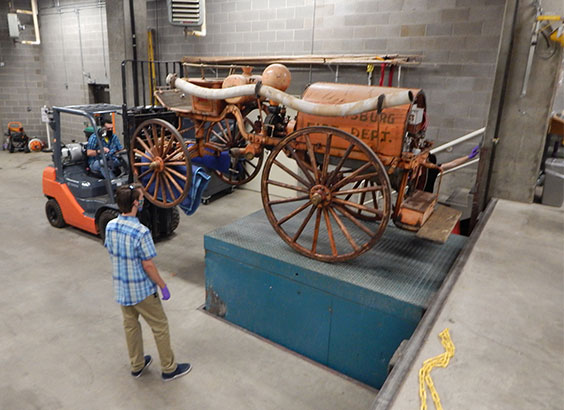 Fire wagon being lowered with platform lift and forklift (1988.178.11)
I would love to say we have a wonderful enclosed trailer to safely transport the wagon to our off-site storage, but we don't. Instead, we needed to wait for a nice day and use an open trailer. This also created moments of trepidation. An open trailer leaves the object open to many possible problems from a passing bird, to road debris kicked up from other vehicles, to the wind pulling on parts, or our worst nightmare, its falling off the trailer. All parts of the wagon were double-checked to make sure everything was secure. The tie downs were checked and double-checked to make certain they all were secure, and off they went . . . slowly. Bryan Turnbow said he "drove like I was driving Grandma around: drove slower, braked sooner and gradually, and took the smoothest roads."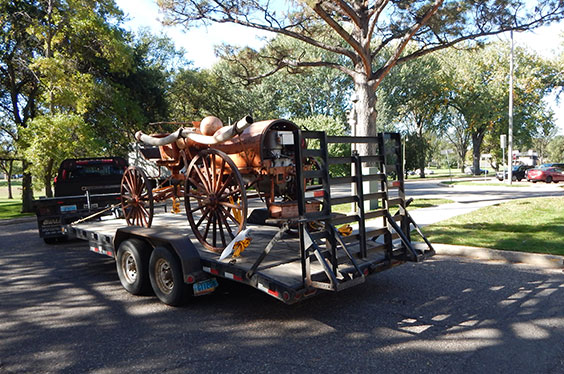 Fire wagon on trailer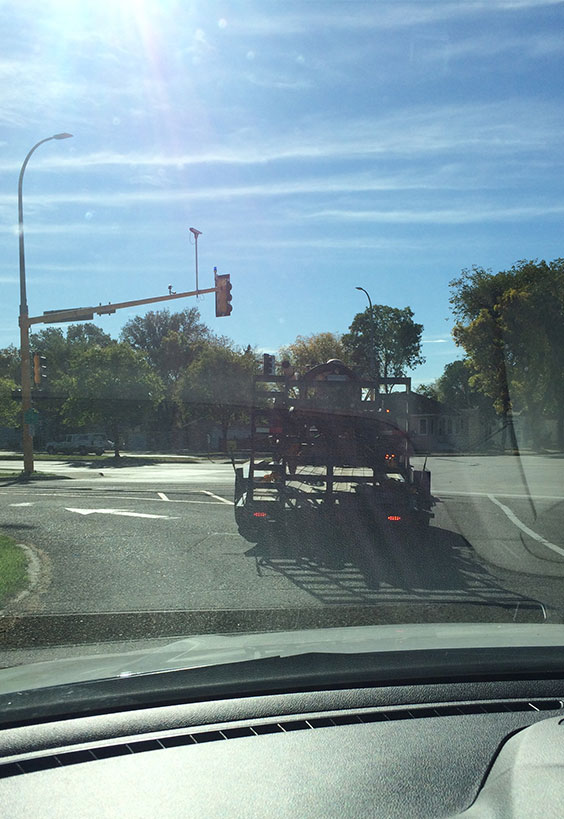 Fire wagon going down the road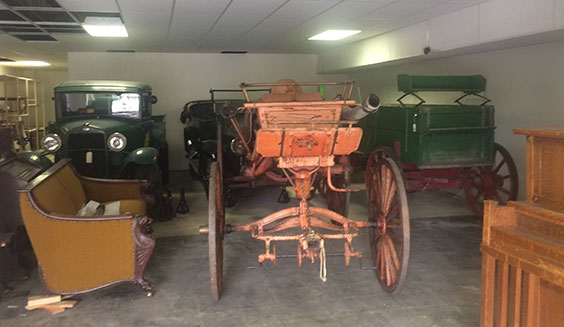 Fire wagon in its new home
With the skills and planning of our Audience Engagement & Museum team and just a little luck, the fire wagon reached the off-site storage, a 5.5-mile trip, safely. It now sits in preparation for the next exhibit or research opportunity.
When we checked the condition report on a few objects, the condition of some items had changed. Melissa Thompson, in her Aug. 6, 2018, blog titled "Primping and Prepping Artifacts for Exhibit," showed how she cleaned artifacts that had green corrosion product and spue (fatty acid blooms). Most of these items that had been cleaned beforehand were great when we pulled them off exhibit, but a few were not. Stock saddle 2007.89.1 was found with a fresh outbreak of spue. According to our records, a condition report was done on the saddle in March 2008 when the item was initially brought into the collection, and spue was removed at that time. In preparation for the exhibit, another condition report was done July 2018, and it was cleaned again. When we took it off exhibit a couple of weeks ago, I noticed more white spue and had to clean it for a third time before I put it back into storage. These condition reports indicate that the item seems to have frequent fatty acid blooms, so now I have this item flagged so I can check it at least yearly to see if more spue shows up and clean it if necessary. While the spue is not damaging, it is unsightly and could attract and hold on to dirt that could be damaging. Cleaning it regularly is important for long-term preservation.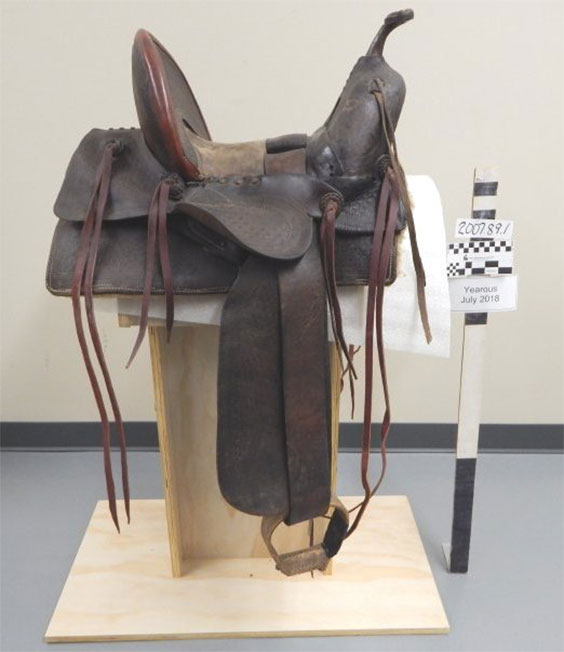 Stock saddle after second cleaning (2007.89.1)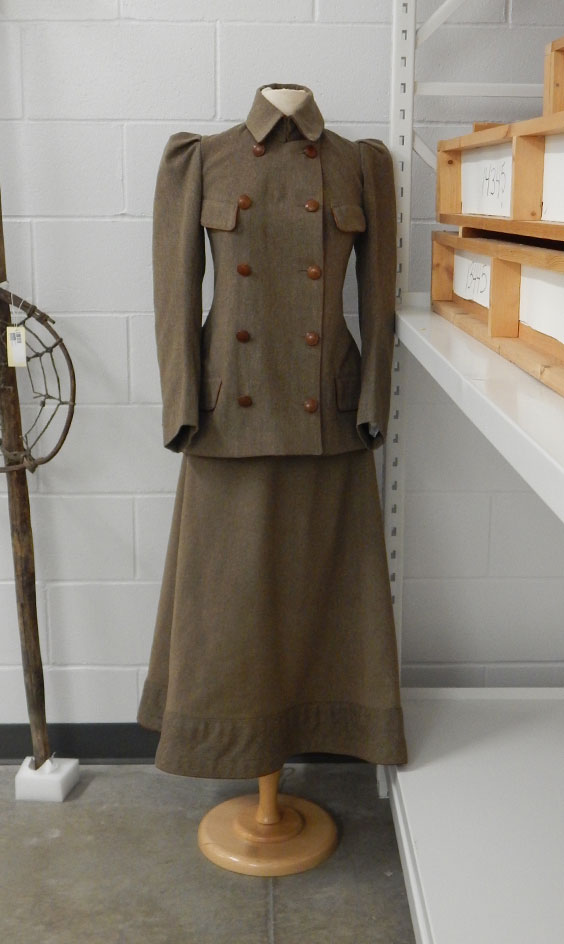 Medora's riding habit (1972.383.1-.2)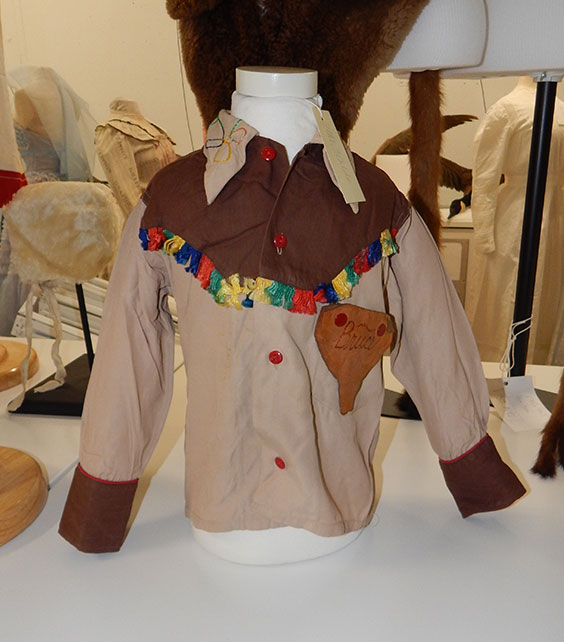 Child's cowboy shirt (2011.30.66)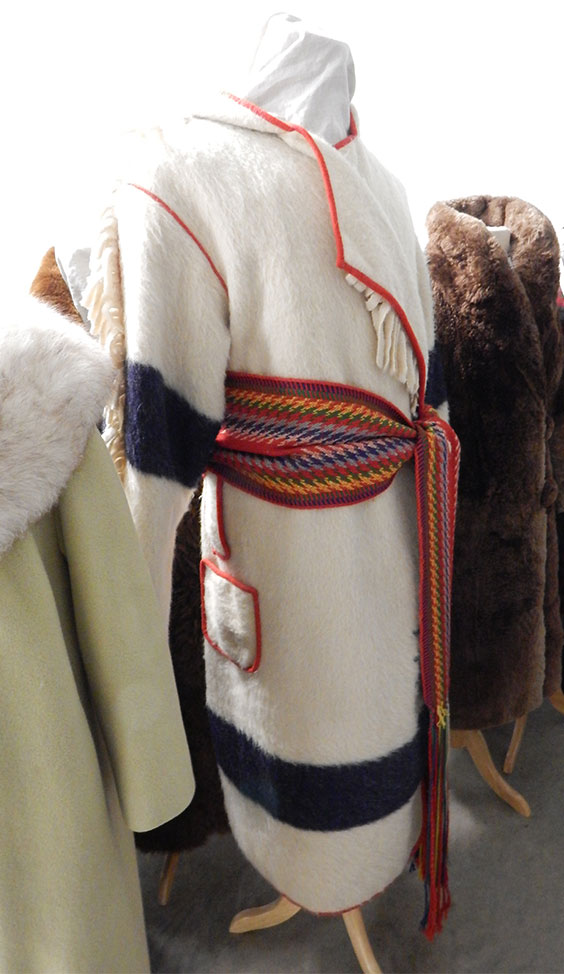 Métis sash (1986.234.62) on capote (5301)
For a few items the condition reports were fine, and putting them away would not have been a problem; BUT we didn't need to put them back into storage. They were going back on exhibit in the upcoming exhibit Fashion and Function: North Dakota Style. Visitors to The Horse in North Dakota exhibit will recognize Medora's riding habit, the child's cowboy shirt, spurs, leather cuffs and a few more. We see these as a bonus since we won't have to put them away, nor do we have to put them on a mannequin. Of course, we did double-check the condition report to make sure that things were still good. We did change how the Métis sash is going to be displayed—we put it onto a capote (5301) to complete the look.
Artifacts going on exhibit go through many steps to ensure they can be safely displayed. When they come off exhibit, they go through more to make sure they were exhibited safely. There are many behind-the-scenes steps that happen for each artifact for every exhibit. When you see the new exhibit Fashion and Function: North Dakota Style (opening in January 2021), you will have a better understanding of how we have planned, primped, moved, and built another exciting exhibit for you to enjoy.