Hello! My name is Anna, and I am a history major and theology minor at the University of Mary. I have been living in North Dakota for the past three years and am loving every second of it. Since March 2021 I have worked as a library processing intern at the State Archives. It's an amazing job. As a library processing intern, I have had the chance to take on a range of projects, such as processing journal articles and magazines as they come in, changing call numbers on books, barcoding, scanning, and reshelving map collections.
So far, the map collection project has taken up much of my time here. At first, I didn't think it would be that fun or interesting—just time consuming! Although certainly time consuming, once I got stuck into the project I realized it was also exciting and interesting. One of my favorite aspects of this project has been handling North Dakota and Dakota Territory maps from the 19th century onward, of which there are many. When I first started working with the map collection, I did not expect to handle maps that were over 100 years old. Each time I pick up one of those maps I wonder about its history, where it came from, where it has been, and what it saw. If only these maps could talk, the stories they would tell!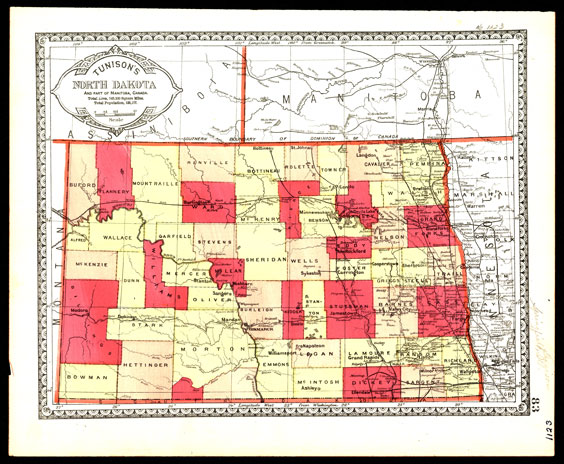 This map, which was detached from an unidentified atlas, is one of many I have scanned. It has a probable publication date of 1889, the year North and South Dakota became the 39th and 40th states. SHSND SA OCLC06545539
When working with the large map collection, we begin by bringing down a stack of maps that needs to be scanned and entered into the system, typically any maps older than the 1920s. After the maps have been scanned, I crop them in Photoshop, leaving a thin line of black space to frame each map. From there the scanned maps are uploaded into the system, making them digitally preserved for easy access in the future. Then the original maps are placed in large folders and barcoded according to the accession numbers on each of the maps. Once the barcodes are put on the folders, the folders are brought upstairs to be reshelved in their respective places.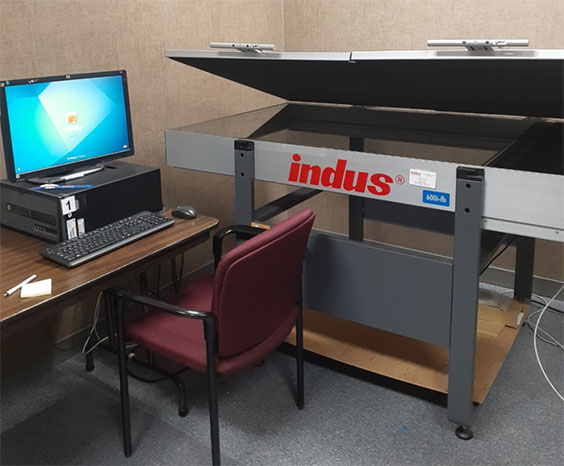 I spend a lot of quality time with this computer and scanner.
I may not be a North Dakota native, but I have loved learning more about the Peace Garden State through its maps, the names of current and former towns, and the changing boundaries of its counties. Each map tells a unique story depending on who made the map, when it was made, what materials were used, the purpose of the map, and so on. These various pieces help us to more fully understand the history of the map and the place it represents.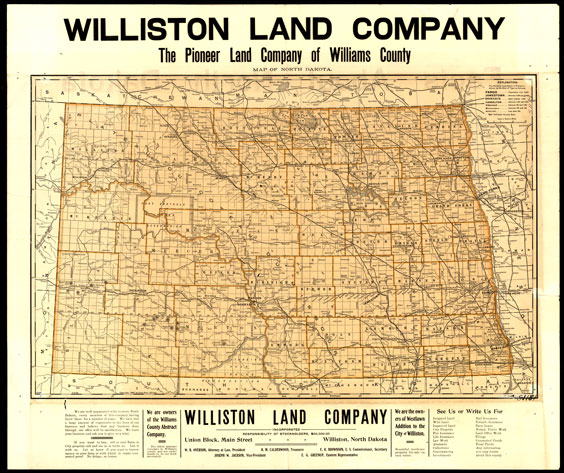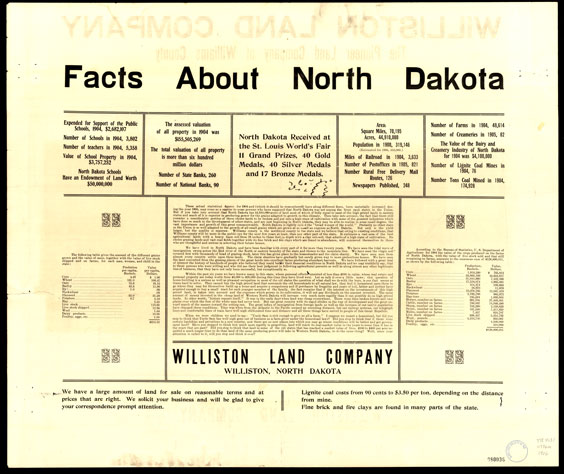 Front and back view of a 1906 map produced by the Williston Land Company. Intended to promote North Dakota to prospective buyers, it is one of a handful of maps this old in our collection with information on both sides. SHSND SA OCLC757386209
I am very lucky to be interning at the State Archives and am grateful to the University of Mary for giving me the tools necessary to take advantage of this opportunity, which has enriched my understanding of my chosen discipline and will no doubt help me in my future career. In addition to learning about maps, I have also become familiar with the system used by the Archives' library to organize and keep track of books, maps, journal articles, and other items. I was not sure at first what this internship would entail, but I have learned so much from everyone I have encountered at the Archives. When I leave, I will depart with knowledge I will use as I go forward in my life and career.