As a security officer, I have logged many miles patrolling the galleries at the North Dakota Heritage Center & State Museum. During these daily patrols, I challenge myself to focus on the depth of information selective items represent. Much like the title character of Lewis Carroll's Alice's Adventures in Wonderland, I believe it is only by journeying down historical rabbit holes and digging deeper into the past that I can comprehend its significance and contemporary reverberations.
Along the north wall of the State Museum's Inspiration Gallery: Yesterday and Today, you will find a small picture of a Hunkpapa Lakota gentleman who was born around 1830. His anglicized name is Iron Horn. The story of Iron Horn and his siblings reflects the tragic choices forced on northern Plains people in the mid-to-late 19th century. Iron Horn's family was divided over whether to accommodate Euro-American migratory pressure. Three of his brothers defied the U.S. government mandate that they retire to a reservation, joining up with Sitting Bull and fleeing to Canada after the Battle of the Greasy Grass. One of those brothers was Rain-in-the-Face; he would be mythologized in Henry Wadsworth Longfellow's poem "The Revenge of Rain-in-the Face." Iron Horn and two other brothers stayed on the Missouri River and became leaders in varying capacities on the Standing Rock Reservation. Ironically one of the Standing Rock brothers, Sgt. Charles Shavehead, was killed while on duty as a Bureau of Indian Affairs (BIA) policeman during the arrest of Sitting Bull. Theirs was a family torn apart by the untenable choices they were forced to make.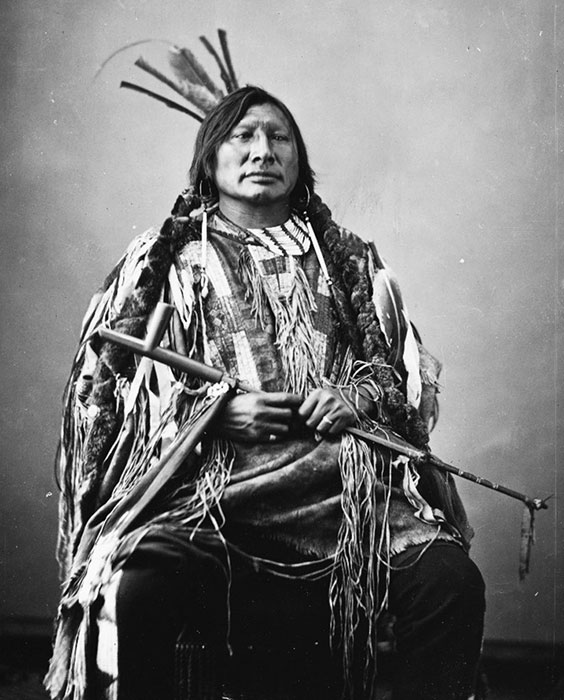 The story of Iron Horn, pictured in 1872, and his siblings reflects the tragic choices forced on northern Plains people. SHSND SA B0299
Associated with Iron Horn is an awl, used by his wife Ina. It is easy to pass by the small display featuring Iron Horn, his wife, and her awl; I am sure many visitors to the State Museum do so. But for the analytical observer willing to invest time and a systemic approach to understanding the relationship among Iron Horn, the loss of traditional and religious values, and his wife's awl, deeper revelations about our own existence and its impact on others may be discovered. This small exhibit kindled my interest and provided a conduit to further explore what might appear at first glance to be a negligible implement.
According to a journal article in Plains Anthropologist by Linea Sundstrom, the awl represented much more than a leather tool. As such, the transition from bone awls to using the metal type of awl housed in the Inspiration Gallery represented a significant shift in Lakota religious and ceremonial tradition. On the surface, this change was based on technological improvements. However, lost in the "technological advancement" was the cultural and religious significance tied to the bone awl.
For Lakota women, the bone awl was imperative to actualizing physical (womanhood), spiritual (visions), and pragmatic (production) aspirations. The act of sharpening bone awls created rock art, which was associated with female coming of age, played an important role in attaining visions, and ultimately created a useful tool for beadwork and other endeavors. The Iron Horn awl on exhibit in our museum was repurposed from "an old knife." The adoption of metal technology, in effect, diminished the awl's role as a transcendent cultural symbol for the Lakota and led to a significant loss of customs and religious heritage.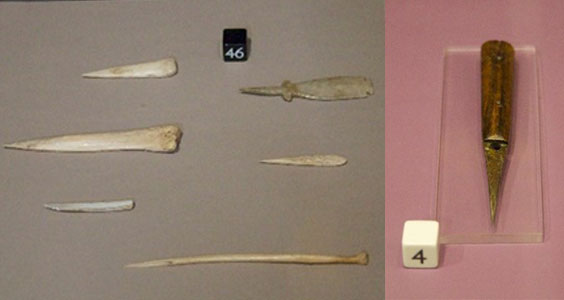 The transition from bone awls, left, to metal awls impacted the tool's significance in Lakota religious and cultural life. This metal awl, right, was made by Iron Horn and used by his wife, Ina. SHSND 86.226.13798, 92.2.22, .24, .21, .25, 15600.62, 1982.285.31
This historical shift has often been explained in an ethnocentric manner by Euro-Americans. But by re-examining the broader cultural context behind such shifts, I have acquired a better understanding of the dynamic and multifaceted nature of historical discovery, as well as an appreciation for the awl's importance to Native American women. Likewise, by understanding the fractured structure of Iron Horn's clan, I gained insight into contemporary issues which impact both Native American communities and the U.S. political landscape.
Ultimately, I have found investigating historical rabbit holes can help bring about an enlightened understanding of lives lived. Exploring different cultures and perspectives of the past contributes to a shared contemporary understanding of who we are and how our various identities, in turn, shape our communities.
---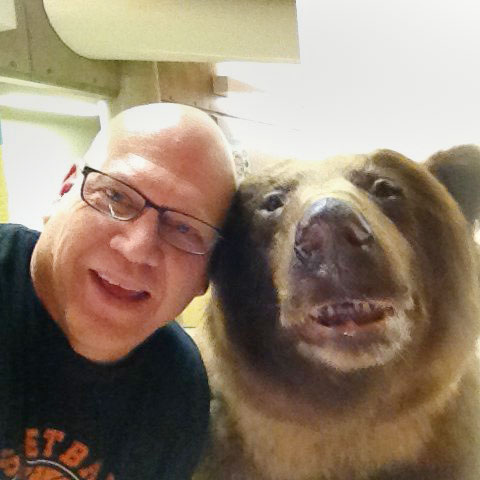 Guest Blogger: Keith Smith
Originally from Southern California, Keith Smith moved to Bismarck in 2017 to be closer to his grandkids, following significant stops in Phoenix, Arizona, and Logan, Utah. He became a security officer at the ND Heritage Center & State Museum in spring 2019 and is currently pursuing a master's in U.S. History from Fort Hays State University. He has been married for 40 years and graduated from the University of Wyoming with a bachelor's in social science.