January conjures up images of cold, snowy days, hockey season, and the excitement of a new year. It is also the time our nation pauses to remember an icon of civil rights and racial equality, Dr. Martin Luther King Jr. Born on January 15, 1929, King's birthday is observed as a federal holiday on the third Monday in January to recognize the contributions he made to American history. To honor the holiday, it seems fitting to examine State Archives collection items related to Dr. King.
The State Archives preserves the papers of North Dakota governors, and two former governors — George Sinner and Ed Schafer — have materials related to a commission appointed to coordinate MLK Day observances in the state. Sinner's papers also hold correspondence and materials related to the first observance of Martin Luther King Jr. Day in North Dakota in 1986, when it became a federal holiday.
One letter from Sinner to Pastor Dan Rothwell of Fargo's First Assembly of God Church commended the church for having gospel music artist Jessy Dixon appear at the church's MLK Day event. Murcie Poplar, president of the Children's Art Institute in Gary, Indiana, sent Gov. Sinner a gift of the Candle Prayer, a commemorative candle created for the holiday to be lit across the nation and world. The original gift was damaged in transport to North Dakota and a replacement was sent.1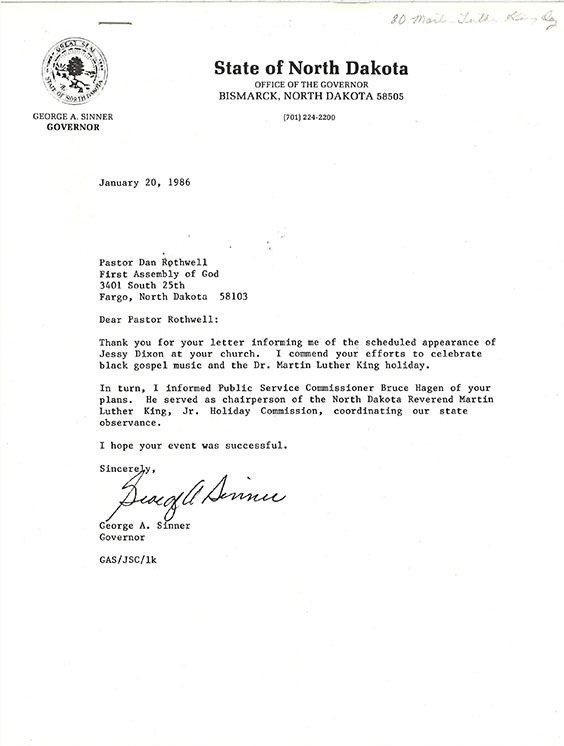 Our newspapers on microfilm provide insight into how local media covered King's life and influence, including his assassination on April 4, 1968. For example, the April 5 edition of the Grand Forks Herald provided a bold banner headline and pictures. The Jamestown Sun also provided prominent coverage of King's assassination. Interestingly, the Sun did not cover much of King's Aug. 28, 1963 "I Have a Dream" speech, though given that mining accidents in Utah and Montana occurred in late August 1963, and that King's civil rights movement activities were largely focused in the eastern part of the United States, this event did not garner the same level of attention in North Dakota.2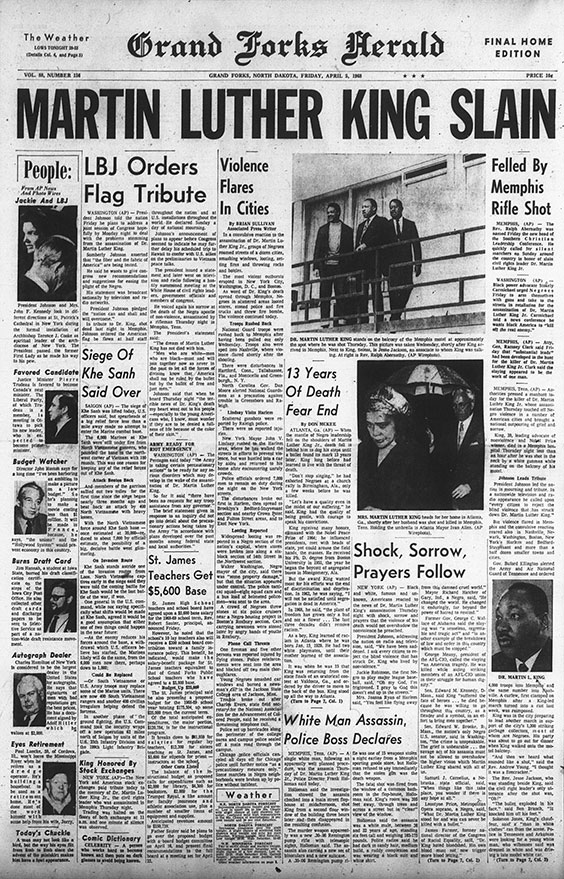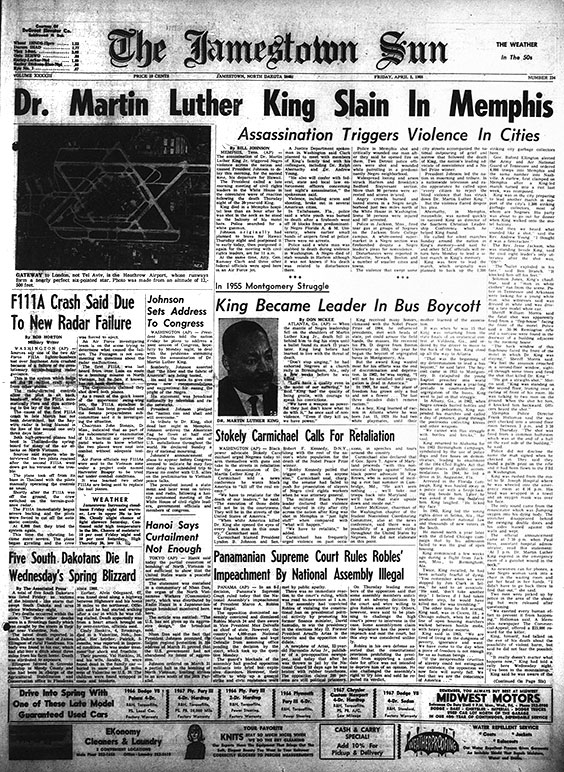 The well-known magazine Ebony published a biography of King shortly after his death with many poignant pictures. Ebony has a connection to North Dakota through one-time editor Era Bell Thompson, who grew up in Driscoll, graduated from Bismarck High School, attended the University of North Dakota, and received the governor's Rough Rider Award.3 Another book in our library stacks, House Divided: The Life and Legacy of Martin Luther King by Lionel Lokos (1968), represents an early analysis of King as a civil rights activist. Both titles are available in the reading room during our regular business hours.
In addition, our film collection contains an interesting segment where WDAY in Fargo interviews the Rev. Charles Hughes, a priest in the Fargo Diocese, about the King assassination and the legacy of King's work. Hughes marched with King in Washington in 1963 and noted that what King feared was "the spiritual death of America through racism," and that King felt that if his death could prevent that spiritual death, it would be worth it.4 This represented a fine example of how one North Dakotan reflected upon the tragic event.
While the State Archives does not have as much on Dr. King compared with other institutions in the nation, we do have an assortment of materials that inform how North Dakota reflected upon King's life and work, and how earlier generations commemorated his legacy. Despite being removed geographically from the major events of the civil rights movement, important figures like Era Bell Thompson and Judge Ronald Davies (who presided over the Little Rock Nine case) have strong connections to our state. If you visit the ND Heritage Center & State Museum, you can view additional struggles for civil rights, such as the 100th anniversary of women's suffrage, in our exhibits.
---
1 Governor George A. Sinner to Pastor Dan Rothwell, January 20, 1986; Murcie L. Poplar to Governor George A. Sinner, December 2, 1985; Governor George A. Sinner to Murcie L. Poplar, December 11, 1985, in George A. Sinner Records, Collection #31602, Box 147, Folder 5, State Archives, State Historical Society of North Dakota, Bismarck.
2 Grand Forks Herald, April 5, 1968; Jamestown Sun, April 5-6, 1968; Jamestown Sun, August 29, 1963.
3 Kathie Ryckman Anderson, "Era Bell Thompson: A North Dakota Daughter," North Dakota History: Journal of the Northern Plains 49, no. 4 (fall 1982): 11–18.
4Charles Hughes talks with WDAY, April 5, 1968, WDAY-TV, Collection #10351, Core #02446, Segment #00017, State Archives, State Historical Society of North Dakota, Bismarck.