Not everyone warmly embraces the study of history. Some people say they are not interested in history at all. Others see history as something that is nice, in theory, but not necessarily significant to their daily lives. Some of us are interested in books and movies about historical topics, or our own family history, but reject the boring, fact-memorization we remember from school. We often don't take time to think about the stories behind the objects we carry with us. We forget how technology has changed the scale of our world. This is something I like to call "historical blindness." We have become desensitized to the unique history inherently connected to each person, item, and idea that populates our daily lives. So how do the staff at the State Historical Society of North Dakota (SHSND) work together to change this perception, help people regain their vision, and help everyone see that history is, in fact, essential?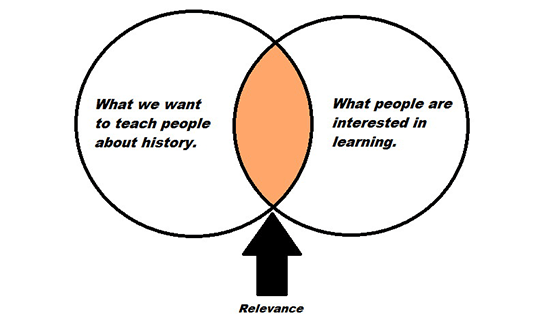 The field of science is miles ahead of historians on this issue. The careers of Neil DeGrasse Tyson and Bill Nye (the Science Guy) reflect the success that scientists have had in promoting an appreciation and respect for scientific understanding to a broad audience. Rather than simply providing "edutainment" for the masses, these professional scientists have legitimate academic backgrounds and are also stellar communicators. Science Communicators provide science-related outreach to non-experts and present topics in a fun and easy-to-understand format. They are storytellers, actors, marketers, and journalists. They are the link connecting the average layperson to the academic ivory tower. Science Communicators are equally at home demonstrating an experiment to kids or testifying in front of Congress. They rock, and the public loves them.
Historians need to embrace the concepts that Science Communicators have been demonstrating. The time has come to follow the advice of public historian Jason Steinhauer and embrace the title of History Communicator.[1] We already have public historians who generally work outside of the traditional college classroom. They are museum curators, archivists, educators, and all the people who work at the SHSND. Most of us already communicate with the general public on a regular basis. Steinhauer, who works for the Library of Congress, also supports the History Relevance Campaign. This loose network of history professionals have identified seven essential values of history as outlined in a values statement.[2] The values include establishing an identity through history; learning to apply critical thinking skills; creating strong communities; spurring economic development; engaging citizens; inspiring leaders; and establishing a legacy for the future.
Public historians are poised to become the History Communicators of the future. We are story tellers. We are museum whisperers. We are rock stars. The staff working at the SHSND—the History Communicators—in hand with the History Relevance Campaign, will help the general public finally understand that history is, in fact, essential.