Every day is a little different when it comes to work in the North Dakota State Archives. We might get requests on how to access marriage records, newspapers, manuscript collections, or state series. Someone may wish to find a publication from 1940, or a photo of their grandparents. We may or may not have these items, but we will see what we do have to help a researcher out!
Within these requests, however, there are some constants. One of these is the request for naturalization records.
The State Archives has early naturalization records, or citizenship papers, from pre-statehood up to around the 1950s. This covers a very important era in the state. These papers were important for immigrants who came to the area because they demonstrated their intention to become a citizen of the United States—something that they had to do in order to try to homestead a claim.
Naturalization records typically consist of two sets of papers, filed successively within a few years. Laws changed frequently, which could be confusing, so occasionally people thought they had fulfilled their responsibilities but had only filed one set of papers. Minors only had to file once. Women and children were typically naturalized under their husbands or fathers, so they did not file on their own with any kind of frequency until years later. Also, some were naturalized with just one set of papers around the time of statehood, and were thus grandfathered into citizenship.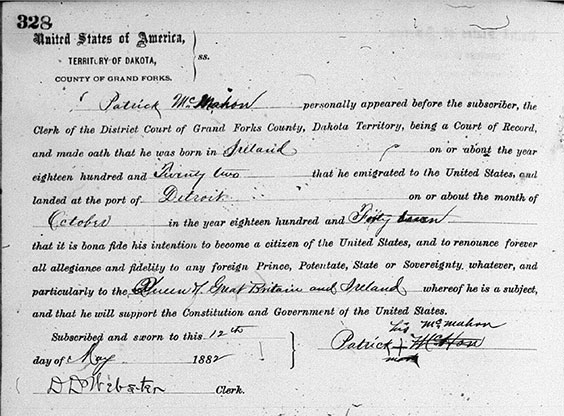 Example of an early naturalization record. The page number is 328, listed at the top left. Below is another similar naturalization record. Some records have more information than others.
Every county is represented in our collection, and we receive requests for documents from this collection almost daily. There is a good index listing here, so you can look for the record of your family member, but you won't be able to actually access it via the website here.
Type in the individual's information, and you will see a list of names: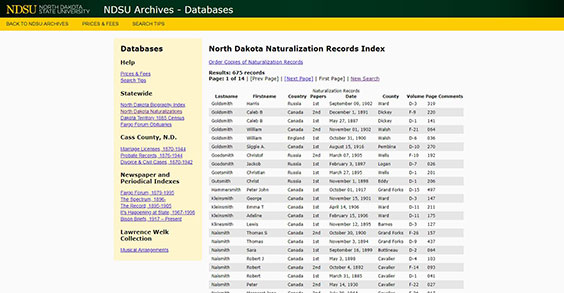 To look up the information, we need the name, county, volume, and page number.
After that, there are three ways that researchers can access local naturalization records.
Come to the ND State Archives during our open hours, 8 a.m.-4:30 p.m., Monday through Friday, or 10 a.m.-4:30 p.m. every second Saturday. (We are closed on state holidays.) We will help you look up the records, which we have on microfilm.
Send in a research request! We charge $5 per name, and we will send what we have for first or second papers. If both sets were completed and are in our collection, we will send them both under that fee.
Look for them at familysearch.org.
If there are any questions, reach out to us! Contact us at archives@nd.gov. We are more than happy to help!