For the past ten or more years, we have had increasing questions on when, how much, and what of our collections would be put online. While not all our collections are available to be viewed on our website, there are increasing numbers of databases and indexes that allow researchers access to more information from a distance. In this new age of living around COVID-19, online access to collections, databases, and resources is especially useful.
Below is a round-up of some useful sites that can assist your research from a distance. See what you can discover!
Photographs, maps, and other printed materials
(New!) Photobook. We do have some of our photos available to be viewed in various spots on our website and on social media, but up till now, only a small selection have been available to look at easily unless you were in the building. I wrote this and this blog post to aid with searching for and ordering photos in the past. However, this new site allows researchers to search and view a large selection of our images! Although not all our photos are scanned, any that ARE scanned will show here. This webpage is free to use and is keyword-searchable based off the information we have in our system. It is worth noting that not all our images are scanned and not all are identified. If you would like to order a higher resolution scan or reproduce and use the image publicly, you may need to provide a fee and get permissions, so please contact us. Search by keyword (Item Detail) or by collection number, if you know it (you can search through inventories here).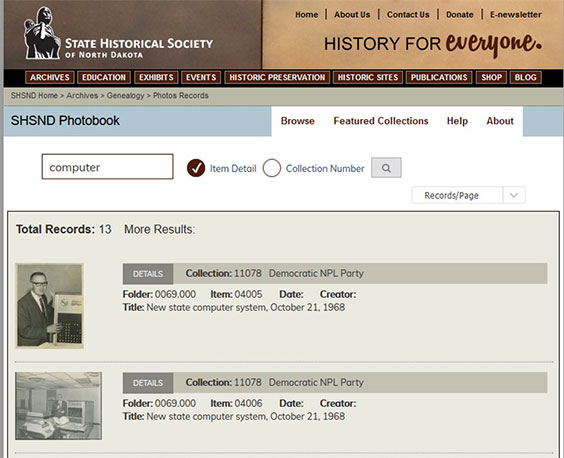 Digital Horizons. You can still use this to search out images from our collections and from other institutions in the state—but you may not realize that you can now use it to read some scanned County History books, thanks to the State Library, as well as the North Dakota Blue Book.
Vital Records
(New!) North Dakota Birth Record Index. Birth records are closed for 125 years by North Dakota state law. Birth records older than 125 years can be searched out on this index. You must contact Vital Records to obtain a copy of the record.
(New!) North Dakota Death Index. Use this index to search out deaths that occurred in North Dakota from about 1900 to present (not including the past year). You can search by last name and date. This index was put together with data from the Department of Health's Vital Records office. You must contact Vital Records to obtain a copy of the record.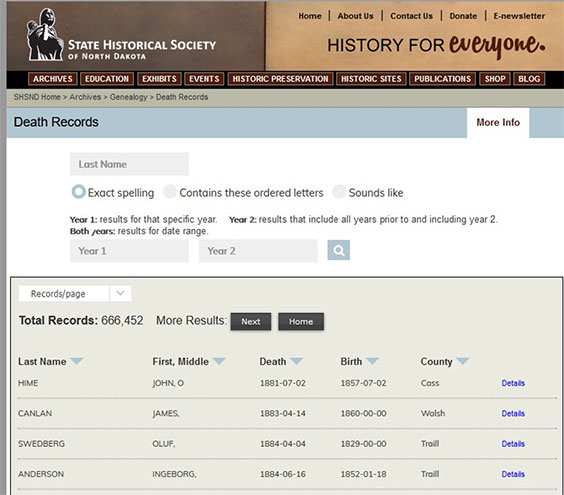 (New!) North Dakota Marriage Records Index. This index consists of pre-1925 marriage records indexes from our Archives as well as marriage record information (1925 to present) provided by the Vital Records office. Not all marriage records from all counties before 1925 are fully indexed and included in this index. We hold pre-1925 marriage records in our collections, but to obtain certified copies of marriage records, contact the county in which the marriage occurred.
(New!) North Dakota Divorce Records Index. This index searches for divorces in North Dakota from 1947 to present. Before 1947, divorces may be filed with the county or held in our collections. Check our online holdings available here.
Newspapers
Chronicling America. If you haven't yet learned about this site, you need to check it out! It is a free-to-use, word-searchable database of an increasing selection of newspapers from our Archives and from other archives and libraries across the country. We use and refer people to this very helpful site all the time. (Read more of my own experiences here!) And while most runs of the papers only go through about 1922 for North Dakota, the Bismarck Tribune is now available into the 1930s.
ND Archives Newspaper website. But wait! That's not all! For more newspapers in different areas, covering even more spans of time, check out this very useful website. Also free-to-use and word-searchable, this has increasing numbers of papers that cover early days up to present in various communities. If you are interested in learning more about how to get other local papers up on the site, please contact us.