Sometimes in the State Archives, we get phone calls or emails from individuals seeking advice who are trying to do genealogical research but are unable to come to Bismarck in person. Luckily due to the increased digitization of archival records, we can still help by suggesting the many digital resources available to anyone with a computer. The following are some Archives-recommended resources for the remote researcher.
Two websites that will get you a lot of bang for your search are Ancestry.com and FamilySearch.org. These websites provide access to census, naturalization, military, and vital records (e.g., birth, death, and marriage). A helpful aspect is their ability to filter the results to fit your search parameters. One can search for specific names, geographic locations, and dates, making large collections, such as the census, easier to navigate. That these sites contain records from the entire United States as well as foreign countries makes genealogy research so much more accessible, especially if your ancestor moved states or emigrated from elsewhere. While we use Ancestry.com for all our federal and state census searches at the State Archives, it's also available free of charge through the many local libraries that have subscriptions to Ancestry.com.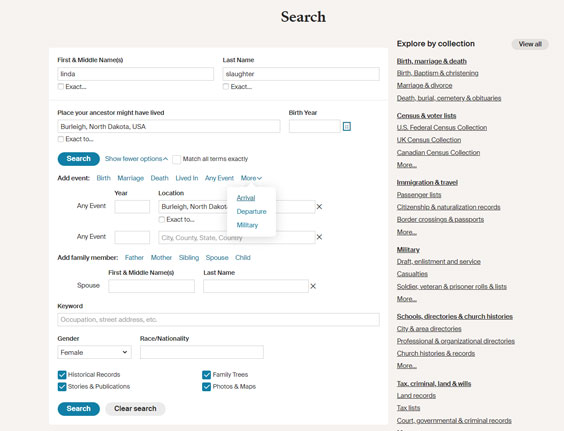 Sites like Ancestry.com provide users with a wide range of search field options.
Another site that we recommend for people conducting personal research is Digital Horizons. Digital Horizons contains digitized materials from archives across North Dakota. You can find so much information in the site's different collections, but for genealogy research we recommend the North Dakota Histories collection of digitized county and town centennial, jubilee, and other anniversary history books. There is also a selection of North Dakota atlases and plat maps that can be helpful when researching the land ownership of your ancestors. Additionally, Digital Horizons has a lot of digitized photographs from across the state, including from the State Historical Society of North Dakota, NDSU Institute for Regional Studies, and the Bismarck Public Library.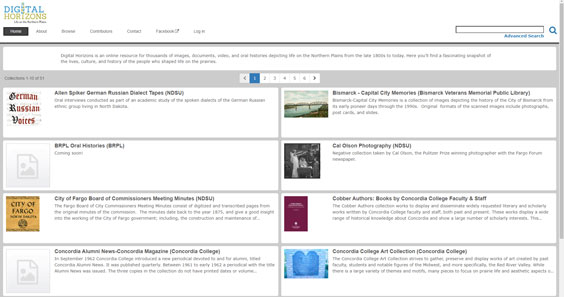 The Digital Horizons homepage offers numerous collections to explore.
In my opinion, the land patents from the Bureau of Land Management's General Land Office Records are a hidden gem among digitized records. These patents show the transfer of land ownership from the federal government to individuals, which is particularly helpful if your ancestor took advantage of the 1862 Homestead Act. Aside from the searchable database and digitized documents, this website has a lot of other cool features for researchers. There is an interactive map showing land descriptions on a contemporary map and also transcriptions of land patent contents. The information on this site as well as the State Archives' collection of county plat maps can resolve many genealogical questions related to land and land ownership.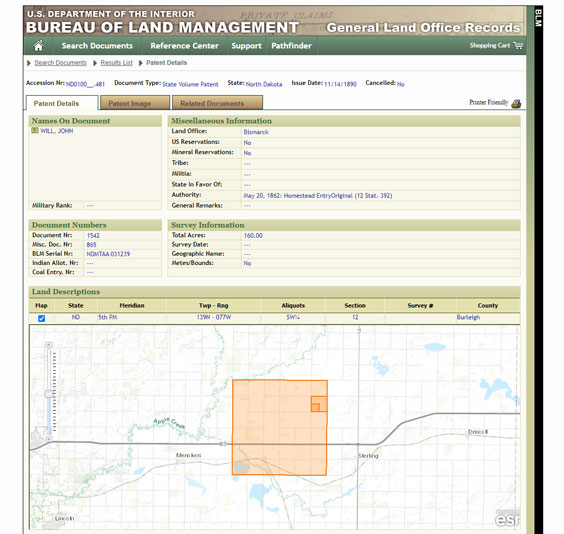 Land patent details from the Bureau of Land Management's digital records.
As more records are digitized, it becomes easier to do genealogical research without having to travel to the individual state or country to access those records. The growing number of historical newspapers online at sites such as Chronicling America and Advantage Archives is another great resource. (Check out this blog post for inspiration as to how Chronicling America can assist with researching your family history.)
Genealogy and archival research are more approachable for every type of researcher than ever before, making roadblocks and frustrations less common. But if you are not sure where to start or have questions, State Archives staff are always available to help. We can be reached at 701.328.2091 or archives@nd.gov.