Appearing in American cinema films from The Devil's Brigade to Bonnie & Clyde, a Thompson submachine gun with a drum magazine has joined the mythos of America. Sold primarily to the military and law enforcement, "Tommy guns" were also purchased by private citizens. With the fictionalized and serialized tales of the "mob vs. G-men," it became part of our collective conscience.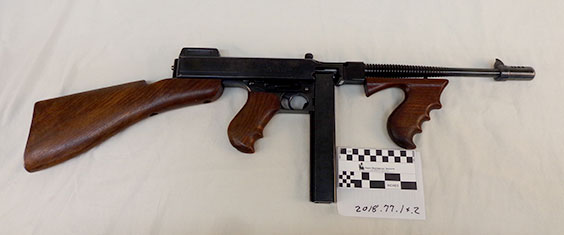 In the first part of March 1990, I joined the staff of the Museum Division of the State Historical Society of North Dakota. Within days, our senior curator, Norman C. Paulson, told me of a Thompson submachine gun at the North Dakota State Penitentiary that had been "promised" to the State Historical Society by the former and current warden when they decided to surplus or transfer the gun.
Paulson and James E. Sperry, State Historical Society superintendent, had been informed about the Thompson as early as 1968. Former prison guards had sporadically kept Paulson informed about the gun from 1973 into the 1980s. Since Norman was on the verge of retiring, it now fell to me to "keep my ears open" about that gun. The torch had been passed, and I continued to "keep my ears open" and wait. After 50 years, on Sept. 11, 2018, the submachine gun was transferred to the State Historical Society by the Penitentiary. Truly, good things had come to those who wait.
Timeline
1928–Purchased by the Barnes County Sheriff's Department, Valley City, North Dakota
Feb. 24, 1958–Transferred to North Dakota State Penitentiary by Theodore Hedstorm, sheriff of Barnes County, Valley City, North Dakota
Sept. 11, 2018–Transferred to State Historical Society by the Penitentiary
The "dope" on the gun
US Navy, Model 1928 Thompson submachine gun, .45 caliber, made by Colt's Patent Firearms Manufacturing Company for Auto-Ordnance Company. It was designed by John T. Thompson, a former US Army officer. This gun is fully automatic and uses either a 20-round stick magazine or a 50-round drum magazine.
This weapon uses .45 caliber, 230 grain, .45 ACP Ball ammunition (11.43 x 23 mm). The rate of fire is approximately 830 rounds per minute, with a muzzle velocity of 935 feet/second (285 meters/second).
Weight (empty): 10 pounds (4.5 kg)
Length: 33.7 (860 mm)
Barrel Length: 10.5"
It has three magazines: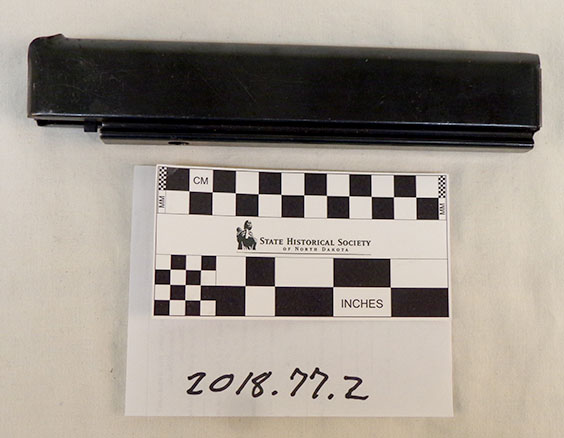 Two XX-Type 20-shot stick magazines. These were preferred by law enforcement because they do not jam.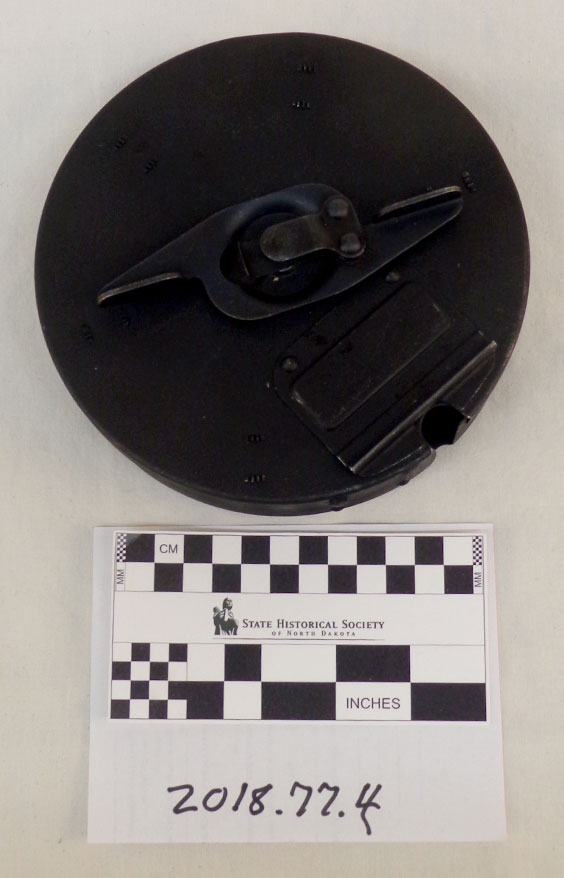 One L-Type 50-round Thompson drum magazine. Popular in American fiction, this magazine can jam the action, rendering the gun useless.
FAQs
Q: Was the gun used by criminals?
A: No, it was used by the Barnes County Sheriff's Department from 1928–1958 and by State Penitentiary staff from 1958–2018.
Q: Was anyone shot by this gun?
A: Not to our knowledge.
Q: Can I buy a gun like this?
A: Not likely. The National Firearms Act of 1934 required that owners of this type of weapon must register them with the Bureau of Alcohol, Tobacco, & Firearms and follow the law regarding possession, transfer, and transport of this weapon.