The first part of the year is generally a busy time at the North Dakota State Archives because we see an influx in photograph and manuscript donations to the collections. This year was no exception. An especially noteworthy collection of 69 photographs and postcards recently came in which were collected and used by the Turtle Mountain Star newspaper (Rolla, North Dakota).
The Turtle Mountain Star photograph collection (2016-P-007) dates from 1893-1988 and consists of images of businesses, fires, people, and buildings, primarily in Rolla and Rolette, North Dakota. There are several images in Cando, Dunseith, Butte Saint Paul, Bottineau County, the International Peace Garden, and Fish Lake (near St. John, Rolette County).
One of my favorite things about working with historic photographs is the ability to visually compare the past with the present. In this collection in particular, it is fascinating to see how businesses, technology, advertising, people, clothing and transportation have changed.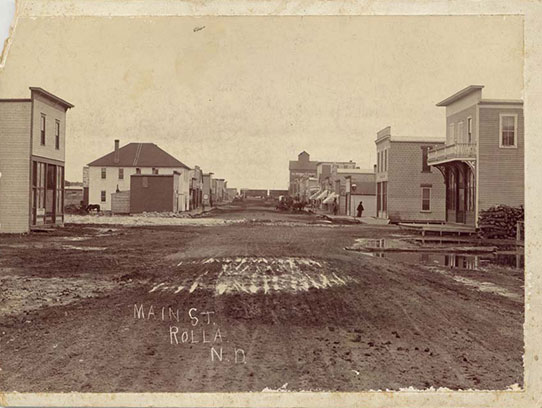 Photographs of Main Street facilitate comparison between early twentieth century Rolla and the present. This image dates from about 1900-1910 (2016-P-007-00050).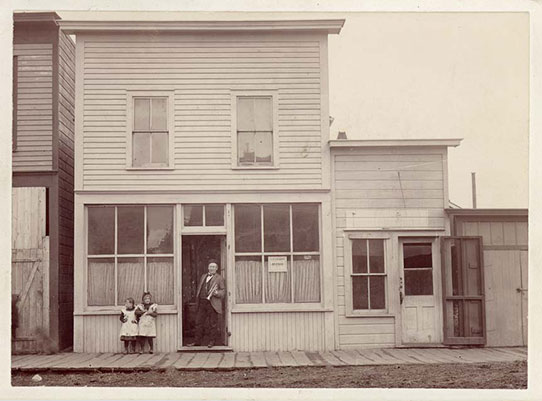 A great photographic example of an early Rolla business. A man with a trumpet stands in the doorway of the J. R. Ashman music store as two girls look on, circa 1900-1910 (2016-P-007-00046).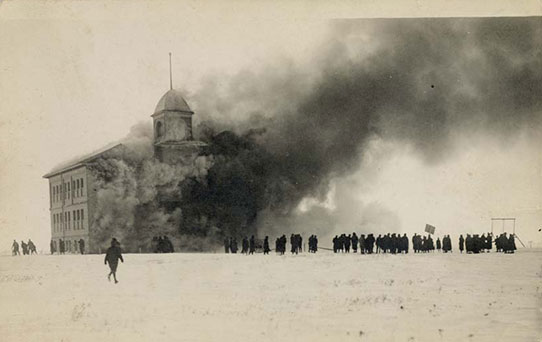 Students and teachers are gathered outside the Rolla public school during the fire of 1920 (2016-P-007-00026).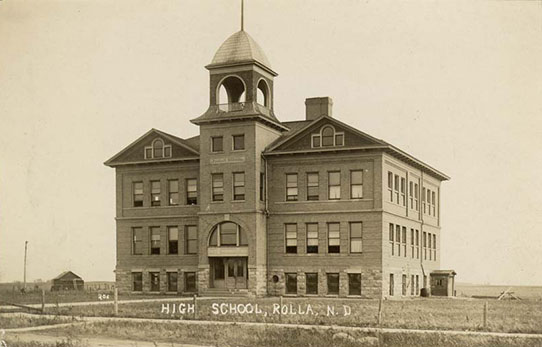 An exterior view of the Rolla public school (called the high school in this image) before the fire of 1920 (2016-P-007-00025).
The Turtle Mountain Star began in November 1888, published by Parsons and Fritz. In 1917, the Star merged with the Rolette County Herald to form the Turtle Mountain Star and Rolette County Herald. The collection contains several early photographs of the Star office and another of the office and its workers from about the 1980s.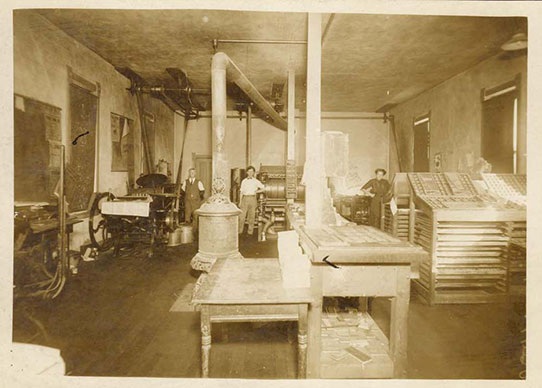 Back room of the Turtle Mountain Star printing office, between 1900-1910 (2016-P-007-00066).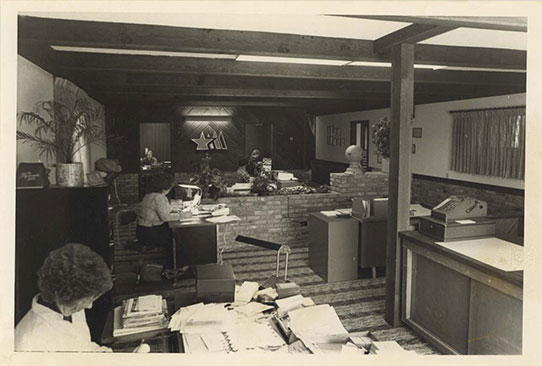 Staff at work in the Turtle Mountain Star and Rolette County Herald, circa 1980s (2016-P-007-00052).
In addition to historically significant photographs, the collection stands out because of the detailed descriptions of the persons, places, and often dates depicted in the photos. This information helps us as archivists describe the images and make them accessible to researchers and the public.
The collection can be accessed in the State Archives reading room. The finding aid for the collection is available here: http://www.history.nd.gov/archives/manuscripts/inventory/2016-P-007.html. Sixty-two items from the collection have been digitized.