Since this spring, I have been working as a collections processing intern here in the State Archives. A history major at the University of Mary, I have spent a fair amount of time researching and writing papers for my classes. Little did I know this skill would allow me to make great friends. For the past month I have been working on processing the Roy Johnson and Louis Pfaller Collection, which has involved organizing and putting materials in folders.
Johnson was an historical writer and journalist for the Fargo Forum and Daily Republican for roughly two decades. Most of his articles were written between the mid-1940s and the early 1960s, with his writing touching on such topics as early pioneers on the frontier and the military expeditions following the U.S.-Dakota War of 1862. He passed away in 1963. Part of my work with the collection involves reading his research correspondence and looking through the sources and manuscripts that formed the bulk of his writing. Although he is no longer alive, I feel as though he has become a friend and mentor.
My job is significantly easier because Johnson himself labeled, dated, and organized his own work. I find his attention to detail and diligent organization impressive. Additionally, this collection has introduced me to a whole host of other researchers and historians. Many of Johnson's correspondents were fellow North Dakota historians, including Dana Wright, Maj. Frank L. Anders, and Nelson A. Mason, with connections to other collections in the Archives.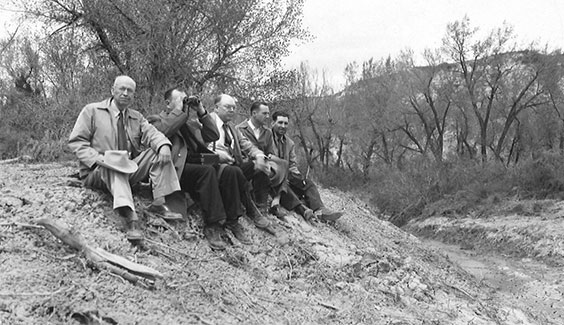 Here Roy Johnson is seen on an excursion with fellow historians and history enthusiasts following in the footsteps of Lt. Col. George Armstrong Custer. Pictured left to right are Nelson A. Mason, Johnson, C. R. Dalrymple, Jack Landblom, and E.O. Liessman. Photo by Frank L. Anders, Roy Johnson and Louis Pfaller Collection, State Archives.
My friendship with Roy Johnson is not all dry letters and primary sources; sometimes he sends me on wild goose chases as well. For instance, in one folder of research, I found letters in which Johnson had written to multiple correspondents, asking for information on Pierre Bottineau, the 19th-century frontiersman. (Bottineau County and town are named for him.) Johnson referenced an article he hoped to write, but this article was not included among his papers. I was determined to see if there was an article, so I hit our microfilm collection, focusing on a window of seven years of daily newspapers from the Fargo Forum and Daily Republican.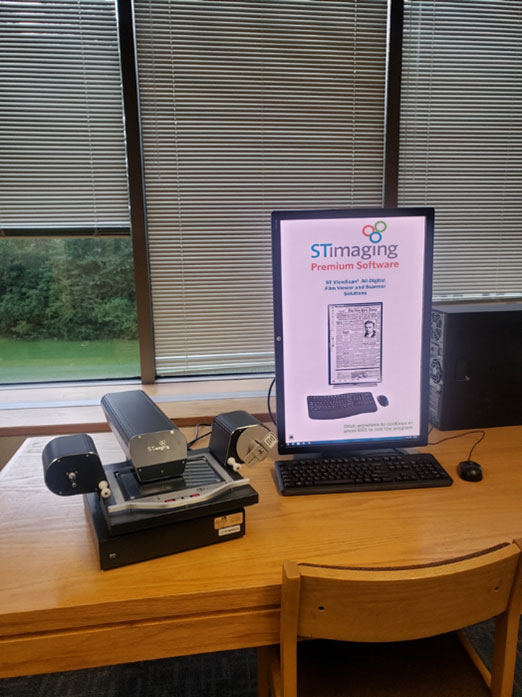 This was my view for a couple of days when I was searching for a newspaper article on microfilm.
After several days in the reading room, I decided to seek other means to locate this elusive article. A box of fan mail sent to Johnson contained the golden ticket. Typed on a yellow sheet of paper was a comprehensive list of articles Johnson had penned, which had been compiled by his friend who inherited the collection, Rev. Louis Pfaller. Father Pfaller then went on to add additional research to the collection and help reprint various article series that Johnson wrote. Each article he wrote had a publication date next to it, which confirmed my suspicions. The article on Bottineau had never come to fruition.
Contrary to what some may believe, working in the Archives is full of excitement. With many more boxes to go, I look forward to future adventures with my friend Roy Johnson as I explore the early North Dakota story he shared through his writing.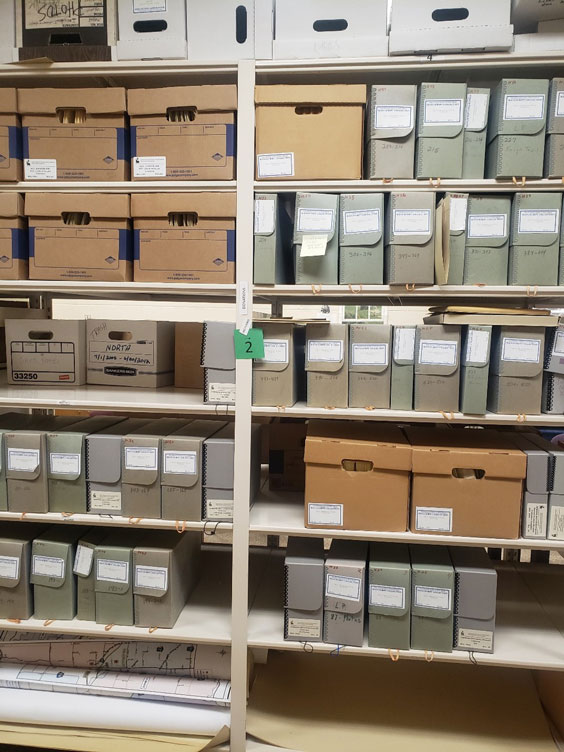 The collection includes both boxes that have been processed and those waiting to be explored.