Welcome to 2022! It's a time for new beginnings, new resolutions, and … new exhibits! That's right, the collections and exhibit crew at the State Historical Society of North Dakota recently installed a new exhibit at the ND Heritage Center & State Museum in Bismarck.
The exhibit title is Recent Donations. Five curators chose a selection of items that were donated to the museum collections within the last two years, and they are now on exhibit through November 2022. In this spirit, I'd like to share with you a few more items that we acquired at the tail end of 2021.
One of the last donations received by the museum collection in 2021 was an assortment of Tupperware. Tupperware is a great example of a modern item that is a huge part of North Dakota culture but doesn't always make it into museums. The donor sold Tupperware starting in the early 1990s, but her collection dates back even earlier. (I don't know about you, but I can all but see the potluck noodle salad in the green bowls in the image below.)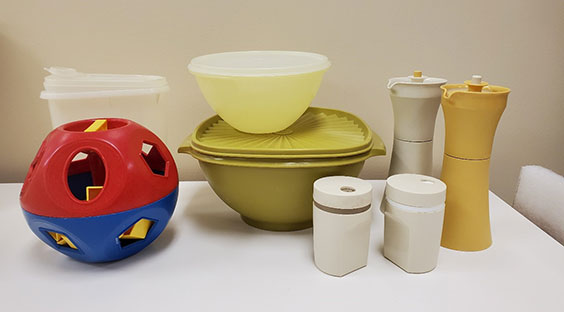 Nothing says North Dakota potluck like a fetching assortment of Tupperware. SHSND PAR-2021124
Meanwhile, this Melissa & Doug brand toy hammer has served a dual historical purpose that prompted its acceptance into the collection. It's one of the most contemporary toys that we have acquired. But in an ironic twist, it also served as a gavel during parliamentary proceedings by state Rep. Corey Mock at an online legislative meeting in the early days of the COVID-19 pandemic. Mock used this hammer to open a Legislative Information Technology Committee meeting, held remotely on June 4, 2020.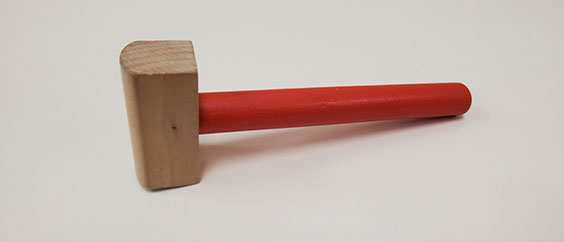 This children's toy pulled double duty at North Dakota Legislative Assembly committee meetings in 2020 and 2021. SHSND 2021.65
Committee chairmen or chairwomen are usually provided a gavel when using the committee meeting rooms at the state Capitol in Bismarck, but since Mock was attending this particular hybrid meeting from home, he drafted this toy hammer belonging to his then-3-year-old son into service. When he offered this item to the museum collection, Mock reflected, "With a few raps on my standing desk, this Melissa & Doug play hammer was transformed into a parliamentary magic wand." The hammer was subsequently used as a meeting gavel for several legislative meetings over the course of 2020 and 2021 before being donated to the State Historical Society.
Another contemporary artifact donated in late 2021 was this dress. The donor made it for her 8-year-old daughter in 2016-2017. Blue fabric was added to the skirt as the girl grew taller, allowing it to remain a favorite dress for a few years. This frock is a great example of a recent item whose story can be told not only by the person donating it but also by the physical changes made to the object itself.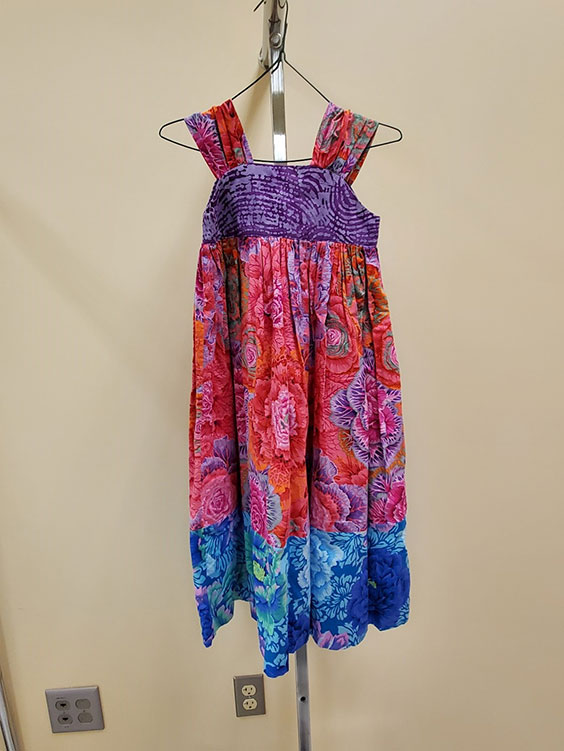 The skirt of this handmade dress was lengthened with blue fabric to accommodate a growing girl. SHSND 2021.60
We appreciate our North Dakota citizens who offer us interesting family or personal items to add to the state's museum collection. Items that are accepted by our staff into the collection help tell the state's ongoing story for future generations.
Currently the State Museum is looking for additional contemporary items to add to the museum collection. Check out our list of desired items and fill out a questionnaire to have your donation considered by the Museum Collections Committee.
We are so excited to see what is in store for the collection in 2022!