We are always fortunate when a new object enters the museum collection with a fantastic story attached. The recent donation of the S.D. Nelson Collection came with a whole series of stories attached—in fact, the contents of the collection revolve around the art of storytelling.
S.D. Nelson is a prolific, award-winning writer and illustrator. Since 1999 he has produced a series of 12 children's books and collaborated on an additional seven books focused on the cultural heritage of Native American communities.
A registered member of the Standing Rock Sioux Tribe and a descendant of the Hunkpapa Lakota, Nelson spent childhood summers visiting his grandmother at Fort Yates, where he learned about his family's cultural heritage. His mother, Christine Rose Gipp (Elk Tooth Woman), was a gifted storyteller who inspired him from a young age with tales and traditional lore of his tribe.
In a recent conversation I had with Nelson, he reflected on how the summer visits also exposed him to the shared community trauma that stemmed from reservation life and the disruptions inflicted by the American Indian boarding schools. He noted as an adult looking back on those painful childhood experiences that much of the trauma and many of the issues remain and have intensified, often with tragic results.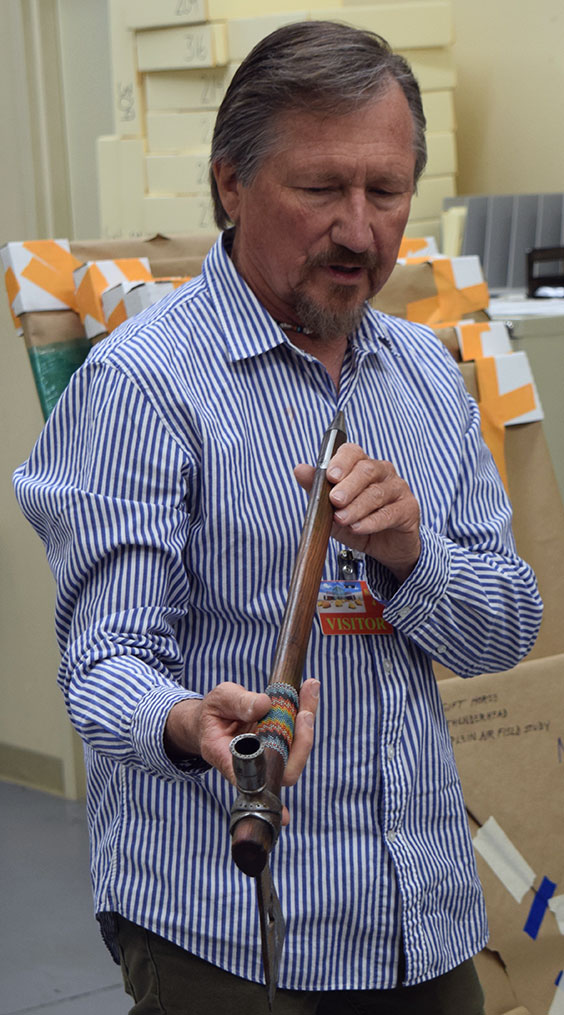 Writer and illustrator S.D. Nelson delivers his collection to the ND Heritage Center & State Museum in summer 2021.
Nelson's father, Thurston D. Nelson, was of Scandinavian descent and a career military officer. The family moved constantly following new postings, and S.D. and his three siblings were exposed to a broader world beyond the Standing Rock Reservation. Nelson would eventually graduate from high school in Fargo. His interest in art led him to complete the art education program at the University of Minnesota Moorhead. His professional career evolved as an art educator in Flagstaff, Arizona.
Nelson views his children's books as an extension of his advocacy for children's education. He is a cofounder of Read@Home, an organization promoting literary opportunities for preschoolers in Native American communities. He is a popular lecturer and was profiled on an episode produced by Prairie Public in 2010.
Last summer, Nelson visited the North Dakota Heritage Center & State Museum in Bismarck to deliver a selection of artwork, documentation, and objects relating to his publications. In all we received 135 objects, including original paintings, sketches, colored pencil drawings, printer's proofs, and handcrafted traditional objects made by the artist.
The collection arrived as we were developing the graphic design and interpretation for the Sitting Bull exhibition currently on view at the Missouri-Yellowstone Confluence Interpretive Center. As luck would have it, one of Nelson's children's books—which is well represented in the donation—is "Sitting Bull: Lakota Warrior and Defender of his People." We eagerly incorporated several of his illustrations into the interpretive layouts and included one of his original acrylic paintings in the section exploring Sitting Bull's contemporary legacy.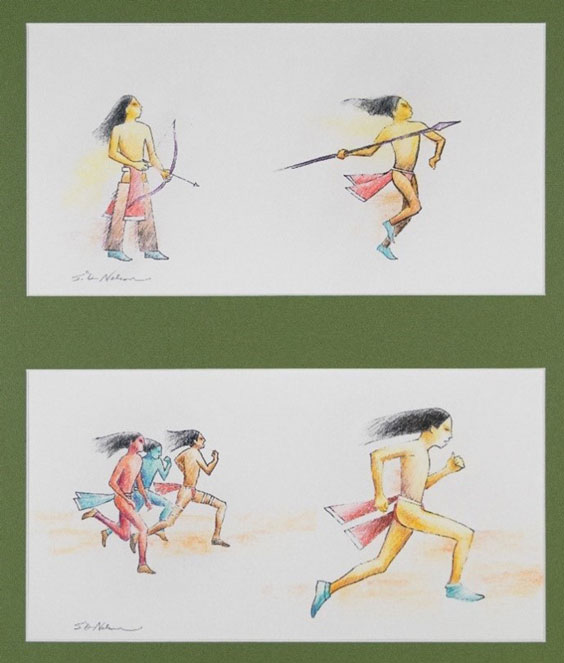 Two illustrations from S.D. Nelson's 2015 book "Sitting Bull: Lakota Warrior and Defender of his People." SHSND PAR-2020082.55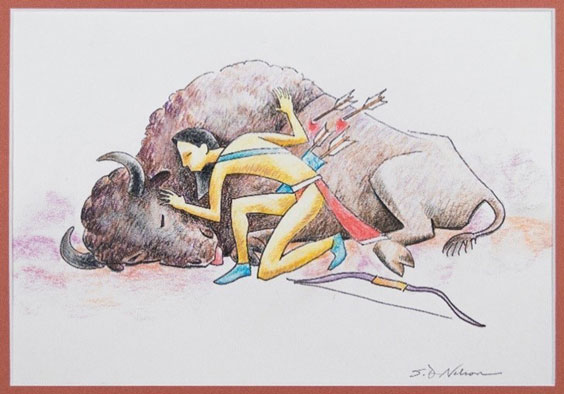 Sitting Bull killed his first bison at age 10. "Buffalo Brother" shows Sitting Bull thanking the bison for giving up his life. SHSND PAR-2020082.56 
The new donation also includes materials relating to Nelson's first publication "Gift Horse: A Lakota Story" and his 2012 book "Buffalo Bird Girl: A Hidatsa Story." "Buffalo Bird Girl" is a retelling of the landmark narrative provided by Buffalo Bird Woman (Waheenee, 1839-1932) to ethnographer Gilbert L. Wilson, and whose subsequent publication in 1921 provides much of the primary research documenting traditional Hidatsa lifestyles and agricultural practices. Nelson's book focuses on Buffalo Bird Woman's childhood, thus the age shift in the title.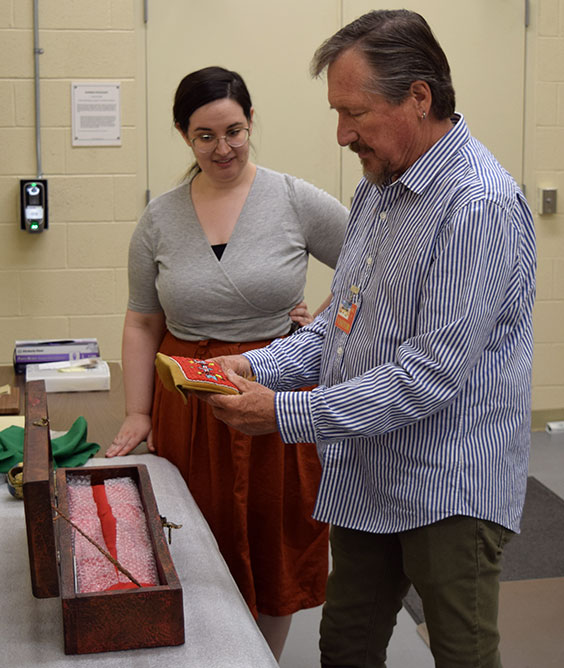 S.D. Nelson shows Assistant Registrar Elise Dukart the beadwork on a pipe bowl bag he made.
We are currently developing a new exhibition drawn from materials in the S.D. Nelson Collection to be installed in the North Dakota Artists Gallery in late March 2022. The installation will include vignettes from the production of "Gift Horse: A Lakota Story," "Sitting Bull: Lakota Warrior and Defender of his People," and "Buffalo Bird Girl: A Hidatsa Story." We will also show a selection of traditional objects fashioned and embellished by Nelson.
Nelson's artistic style incorporates multiple aesthetics, which run the gamut from realism to highly stylized representation. His proud Native American figures are often brilliantly colored, blending the tradition of full body paint and the symbolism of favored Lakota colors. His characters and narratives exist in multi-layered landscapes merging the natural world, the spiritual, and the fantastical as one.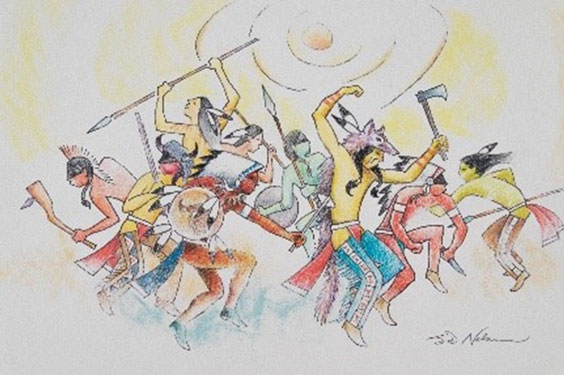 An illustration from "Sitting Bull: Lakota Warrior and Defender of His People" shows Lakota and Cheyenne warriors celebrating after the June 17, 1876, Battle of the Rosebud in the Montana Territory. SHSND PAR-2020.082.60
Nelson has illustrated book jackets, greeting cards, and CD covers, and his paintings are held in both private and public collections. His books have received the American Indian Library Association Honor Book Award in 2016; the Spur Award from Western Writers of America in 2004 and 2006; the Notable Children's Book Award from the American Library Association in 2001 and 2011; and he was included on the 2011 Texas Bluebonnet Award Master List from the Texas Library Association. He has lectured at the National Museum of the American Indian in Washington, D.C., and was the keynote speaker for Read North Dakota in 2010 (North Dakota Humanities Council).
We look forward to introducing you to the evocative world of S.D. Nelson when we premier All Is Grass and Clouds, Forever: The Art of S.D. Nelson this spring.