A road trip beckons in the not-too-distant future!
We are currently at work on a new exhibition about Sitting Bull for the Missouri-Yellowstone Confluence Interpretive Center (MYCIC). Located in the northwestern part of the state near Garrison and Williston, MYCIC is an ideal venue to showcase the life of this iconic Hunkpapa Lakota leader.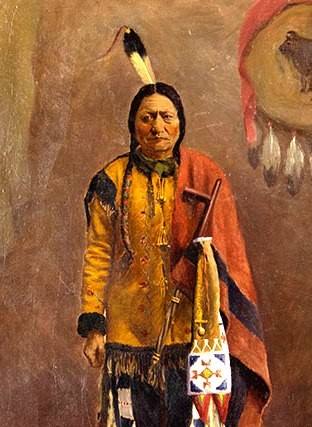 Detail of studio photograph of Sitting Bull with hand-painted accents by H.A. Plante, circa 1885.
SHSND 5356
The Interpretive Center is a beautiful place—a contemporary facility built at the confluence of two meandering rivers set in a wide valley beside low bluffs. The building faces south with a stunning vista of sky, water, and cottonwood trees. The property has numerous walking paths and is a birder's paradise. It was a stopping point for the Corps of Discovery on both legs of its famous expedition, and it shares proximity with Fort Buford State Historic Site, a landmark in the story of Sitting Bull.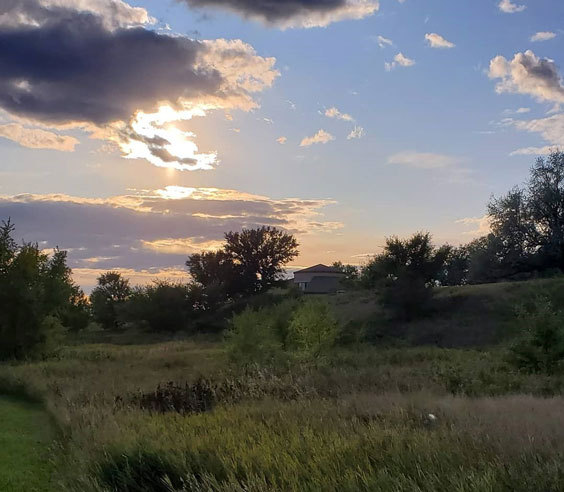 A bucolic view looking toward the Missouri-Yellowstone Confluence Interpretive Center.
For the past year and a half I've been almost exclusively focused on the production of Fashion & Function: North Dakota Style, so the opportunity to explore a new story and space is a welcome change. The Sitting Bull exhibit takes a closer, more nuanced look at a story I thought I knew.
Indeed, the first lesson this project has taught me is that much of what I previously learned about Sitting Bull was incomplete. But then, when dealing with history, that is often a good starting point. Periodically one finds the need to hit refresh.
For instance, I was well aware Sitting Bull was a significant player in the 1876 Battle of the Little Bighorn, and that he later toured with William "Buffalo Bill" Cody in the 1880s. Yet his role in both these events was markedly different than I had thought, and the intervening years were a complete mystery. I knew nothing of his early life or his rise as a respected leader. I was ignorant of the fact he and his people moved to western Canada following the Battle of the Little Bighorn. While conducting background research for Fashion & Function, I had discovered his involvement in the Ghost Dance movement of the late 19th century but was completely unfamiliar with the circumstances surrounding his violent 1890 death. It is a very different story than I expected.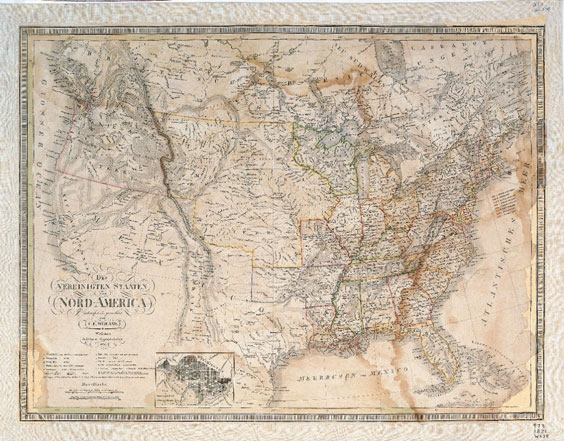 Die Vereinginten Staaten von Nord-America by C.F. Weiland, 1831. SHSND SA OCLC59108748
Curator of Collections Research Mark J. Halvorson is our subject specialist for Sitting Bull. The production team also includes multiple members of the State Historical Society of North Dakota's Audience Engagement and Museum Department, along with Fort Buford and MYCIC Site Supervisor Joseph Garcia and his staff. It's our own version of "it takes a village."
Halvorson has assembled a rich collection of objects and images with which to relay Sitting Bull's story. I am drawn to visual elements, and this exhibition delivers some jewels. We are using an image of a stunningly detailed 1831 map of the United States from the State Archives. It shows the massive, central Missouri Territory and includes information provided by the Corps of Discovery's expedition. The map, which also notes the many regional tribal groups as well as the position of Fort Mandan, represents the United States at the time of Sitting Bull's birth.
We will also exhibit a dramatic poster from the 2000 U.S. census featuring Sitting Bull's quote: "I have spoken. I will continue to be heard." The poster also depicts Sitting Bull's unflinching gaze and that of his great-great-grandson Ron His Horse Is Thunder (Ron McNeil) to make its point.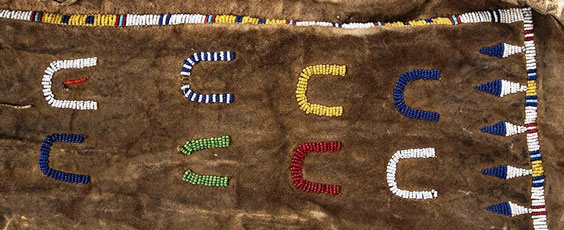 Detail of the beaded buckskin pipe bag chronicling the life and accomplishments of Sitting Bull.
SHSND 3359
Among the other objects that will be on display is a pipe bag given by Sitting Bull to his friend Bullhead in summer 1883. The bag, while subdued in appearance, is rich in history as it chronicles Sitting Bull's many accomplishments. It includes a beaded registry of the many horses Sitting Bull captured from his enemies and also memorializes the horse that was shot from beneath him in battle. We are fortunate that Bullhead documented the imagery on the pipe bag before he was killed along with Sitting Bull in 1890.
The exhibition's future location at the Interpretive Center places it near an important site in the life of Sitting Bull. In 1881, after several years of nomadic existence in western Canada, Sitting Bull and his band returned to the United States, agreeing to settle at the Standing Rock Agency. He surrendered his rifle in the front parlor of the commander's house at Fort Buford. Fort Buford is part of the MYCIC complex, and the commander's house is one of the few full structures that remains.
In early June 2021, we will make our way to MYCIC to install the exhibition. It is scheduled to be featured at the site for the next five years. That means you have plenty of time to make the northwest trek, enjoy the scenery, walk the trails, and test your understanding of Hunkpapa Lakota leader Sitting Bull.
Entrance to the exhibition is included in the MYCIC admission fee, as is access to neighboring Fort Buford.