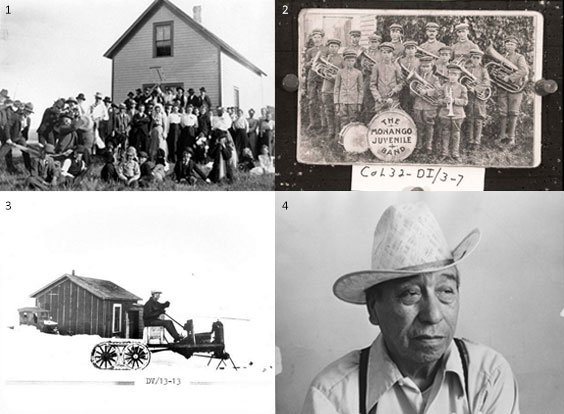 Images from 00032, a photo collection that correlates with oral histories in our manuscript collection 10157. The images in this collection encompass a broad view of North Dakota.
I think it's fair to say that most of us have one (or several) favorite components of our job, or at least have favorite collections or objects that we work with. Patrons and visitors ask us this sort of question frequently, so most of us have probably put some thought into the question. For example, my fellow blogger and coworker Lindsay loves MSS 10190, the Will Family collection.
There are multiple collections and even specific items within them that I truly enjoy and use frequently. But sometimes you work with a collection enough that it becomes part of you. For me, this is MSS 10157, the North Dakota Oral History Project. I often call it "my" collection, though it was created in the 1970s as part of the bicentennial, before I was born. It is a collection that I have been working with for quite some time now, and I am continuously both impressed and proud of it, for all of the history it contains and the use and memories it provides.
You might wonder what makes this collection stand out from any of the growing number of oral history collections we maintain. We do have a few, and I'll be honest with you—I feel a little bit of love for all of them. They are all fantastic collections, and each time I "discover" a new one, I get drawn into the stories I hear within.
However, whereas many of our other collections are more focused, MSS 10157 is to my mind more of an immense snapshot of what North Dakota was at the time of the interviews and earlier. It is our second-largest oral history interview collection, numbering around 1100 cassettes, typically containing interviews with one or two people to a tape. The scope of these interviews covers the lives of the participants—sometimes their genealogy, sometimes stories about particular contemporaries or events, sometimes just their story of settlement. We have an interview with Ole Abelseth, who was a survivor of the Titanic's sinking. We have an interview with Harry Roberts at Dickinson, whose father served as foreman of the HT Ranch in the late 1800s. Judge William L. Gipp at Fort Yates discussed his grandfather William Zahn's service with Custer, as well as his Sioux culture. Nellie Hanson, of Grafton, was a female homesteader and served as a county superintendent of schools for a number of years. We have multitudes of men and women talking about their social activities, their towns, their memories. They cover topics from war to basket socials, and they are fascinating. There are also thousands of photos included, donated by some of the interviewees, or taken of the interview subjects at that time. These images also document a great and vast history.

My main role in working with this collection has been to digitize files, and, as we have begun moving into a new database system, to work with the item-level descriptions of each file. My other role in this, because I work at the reference desk, is to provide copies to the public. This is also one of my favorite parts of oral histories. These files can be easily located in the index on our website by family members who have never heard of these people or their stories. They can also be found by family who remember the interview taking place. Either way, they are able to listen to them for the first time or once again, to hear the stories, and imagine what it was like to live in North Dakota in a far more difficult time.
There are many cool objects in our collections, and we all work with different items, so it's good to ask…you might find that little tidbit you never knew existed.
---
Image 1: J. R. Eide and his bride (name unknown) appear outside the church just after their wedding. While the women in the photo appear fairly solemn, the men are prepared to provide music and fun for the wedding celebration. SHSND 00032-BE-02-00002
Image 2: Members of the Monango Juvenile Band pose for a group portrait while holding their instruments and wearing their band uniforms. SHSND 00032-DI-03-00007
Image 3: Gunder Rust's snowmobile near Alkabo, N.D. SHSND 00032-DV-13-00013
Image 4: Image of interviewee James Driver Sr. SHSND 0032-IR-04-00001