Every day I work with records a hundred years old and older, and I don't think much of it. But once in a while, the vast changes that transformed daily life since those days amaze me.
The Archives maintains the early SHSND Curator's correspondence – he was the lone staff person in the old Capitol building collecting historical artifacts and documents and responding to requests for information. The letters in this collection tell the story of a very small organization, eager to document the history of North Dakota while the history makers were still alive.  Among those letters are some from ethnologist Frances Densmore, who collected wax cylinder recordings of various American Indian songs that have been at the State Historical Society since they were made around 1912-1915. They have been widely used by anthropologists, linguists, and by the Mandans, Hidatsas, and Arikaras to study the languages, music, and social organizations of the times.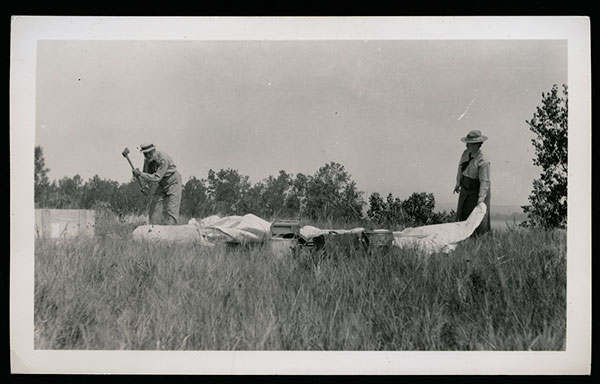 0270-128 Charles Hall helps put up tent
In the summer of 1911, Orin G. Libby, secretary of the State Historical Society of North Dakota, met Frances Densmore in Fort Yates, where she had been employed by the US Bureau of Ethnology to record songs of the Lakota on the Standing Rock Reservation. Libby proposed that she come to the Fort Berthold Reservation the following summer and take down the songs of the Mandans. Letters between Densmore, Libby and Curator H. C. Fish detailed the arrangements for this project. Densmore agreed to work for $150 per month plus living expenses, but she asked for a female companion to share her tent and cook her meals, for, as she said, "I fear that I cannot do my best work and still feel that I must get dinner afterward."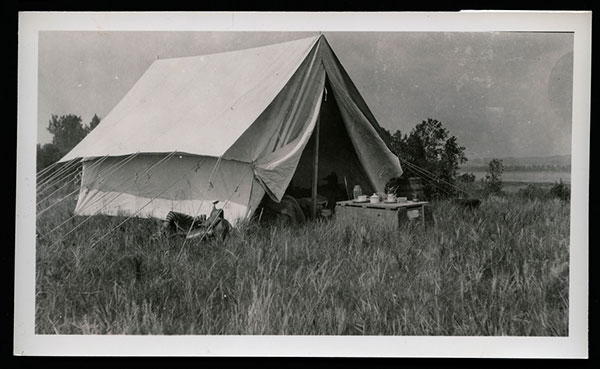 0270-129 Tent set up with cooking equipment
Densmore also took photographs throughout this process. She mentions bringing materials for developing photographic plates, and asked for ten dozen Columbia blanks for the phonograph - the ordinary twenty cent size.  She also mentions getting a gentle horse from Standing Rock.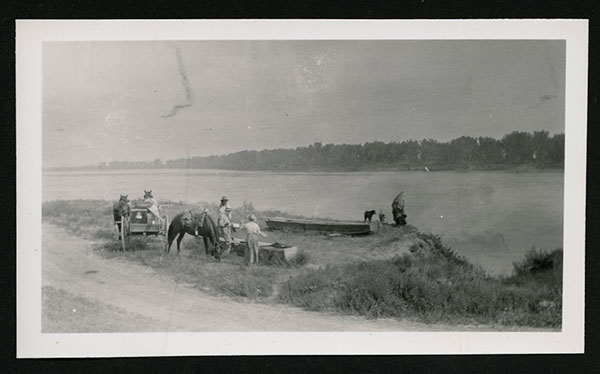 0270-0125 Beginning to unload phonograph box seen in wagon
Densmore wrote, "The translations inserted in the text have been a matter of careful work by Rev. C. L. Hall (Gros Ventre), James Holding Eagle (Mandan), and Alfred Bear followed by Rev. C. L. Hall (Ree)."
At Fort Berthold in 1912, Densmore produced 48 pages of manuscript, 41 transcriptions of songs, 15 photographs, 141 phonographic records of songs, 28 recordings in Mandan and six recordings in English.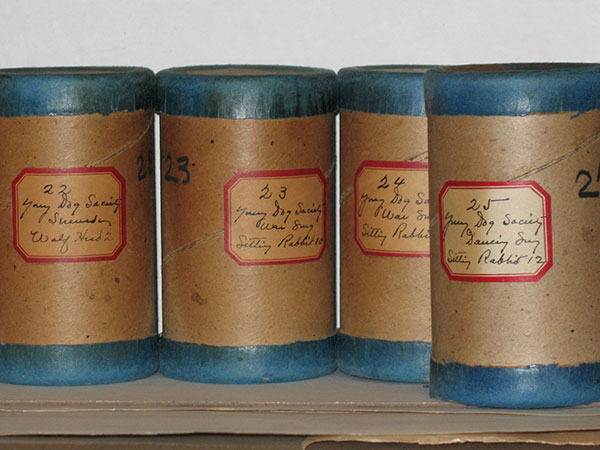 Densmore Wax Cylinders in State Archives
In the summer of 1913, Densmore continued work at Standing Rock and came back to Fort Berthold in 1915 to record songs of the Hidatsas and Arikaras.
I don't know that many of us would have the physical and mental stamina to live and work in a tent for eight weeks in a sometimes very hot North Dakota summer, but I am very grateful that Frances Densmore and others affiliated with the State Historical Society did.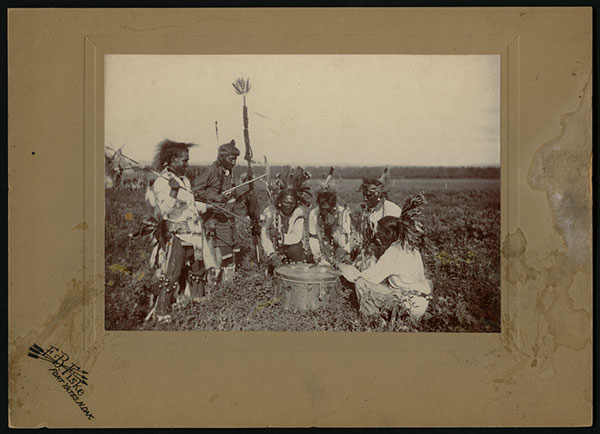 1952-1610-1 Indians singing for Miss Densmore at the site of the last Sun Dance south of Fort Yates
You can find a lot more information on Frances Densmore (like here, or by searching Chronicling America on the Library of Congress website), but here is a personal note through the eyes of one of her contemporaries:
Frank Fiske Diary July-August 1912 - August 21st—Monday
"Saturday was a busy day. Put in 3 or 4 hours reading Frances Densmore's book on Chippeway Music. It was very instructive. She is a very capable woman, for she has done this: Secured a phonographic record of about 500 songs, and after verifying these records by repeated recording she has transcribed them, setting them down in readable music notation with the words in Indian. Accompanying each song is an analysis, describing the key or keys and the idiosyncrasies of the peculiar time and its relation to the drums, which is played with nearly all Indian songs."