Norma Baker-Flying Horse, Casey Paul, and Lauren Good Day
North Dakota has historically been the home of women changemakers—inspiring self-starters who create lasting impacts. Women's History Month is the perfect time to highlight three contemporary fashion designers from the Peace Garden State—Norma Baker-Flying Horse, Casey Paul, and Lauren Good Day—making their mark in the clothing industry. All three incorporate traditional inspiration, hand-crafted designs, and an intent to empower the wearer in their work.
We feature stunning dresses by these style innovators in our newly opened Fashion & Function: North Dakota Style exhibit, which includes more than 400 historical and contemporary garments. Come see these designers' gorgeous creations at the State Museum in Bismarck and learn about the role of clothing in North Dakota life!
Norma Baker-Flying Horse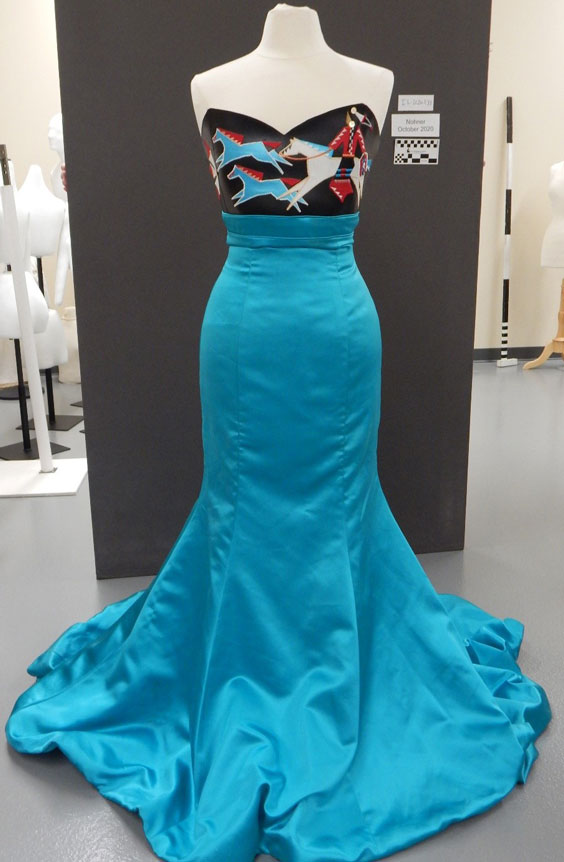 Gown worn by Powwows.com journalist Corinne Oestreich at the 2019 Grammy Awards. This gown was designed and sewn by Norma Baker-Flying Horse, owner of Red Berry Woman.
Norma Baker-Flying Horse's couture apparel brings contemporary Indigenous design to the wider fashion world. Among her growing list of accomplishments, she holds the distinction of being the first contemporary Native American fashion designer to have a gown worn on the Oscar stage and at the Grammy Awards. Her work has even been featured at Paris Fashion Week, attracting global attention to her exquisite Indigenous designs.
Red Berry Woman, Baker-Flying Horse's Dakota Sioux name as well as that of her business brand, creates one-of-a-kind formal wear in New Town. Using a variety of textiles, she sews and embellishes clothing for both female and male clients. Baker-Flying Horse's designs merge her cultural heritage with a modern sense of style. An enrolled member of the Mandan, Hidatsa and Arikara Nation, Baker-Flying Horse is also a member of the Dakota and Assiniboine tribes. She pays homage to family traditions through her nationally recognized appliqué work and beading, skills learned from her grandmother and mother. A few months ago, this rising star was honored with the International Indigenous Designer of the Year award by International Indigenous Fashion Week in Regina, Canada.
Casey Paul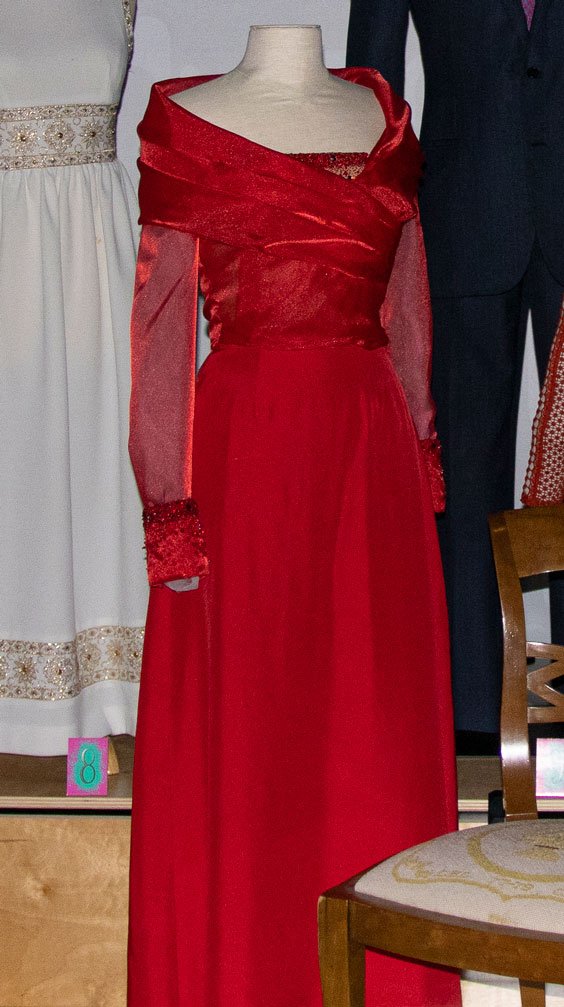 New York designer Casey Paul, who grew up in Grand Forks and Bismarck, created former North Dakota first lady Mikey Hoeven's inaugural ballgown worn in 2001. The ensemble includes three pieces in shantung silk and organza.
An accomplished New York City fashion illustrator and dressmaker, North Dakota native Casey Paul has created evening wear for celebrities and Broadway stars—Liza Minnelli, Mary-Louise Parker, and Madonna among them. Paul grew up in the sewing rooms of her mother and grandmother, where she discovered her love of fabrics, fine beadwork, and couture. As a young girl, she pressed the costumes of entertainers like Johnny Cash at Norsk Høstfest in Minot. (Her family played a role in the annual Scandinavian festival's founding and continues to be involved in its management today.) She studied apparel and textile design at North Dakota State University and couture dressmaking at New York's Fashion Institute of Technology.
"I always feel extremely grateful that I grew up there," the designer says about her state roots. "We, from North Dakota, have a strong compass, good values, and a good work ethic."
Most recently, Paul and her friend the model/actor Stephanie Seymour co-founded Raven & Sparrow, a company creating vintage-inspired sleepwear at their New York City studio. Barneys New York launched their original 2017 line, which was widely featured in fashion magazines.
Lauren Good Day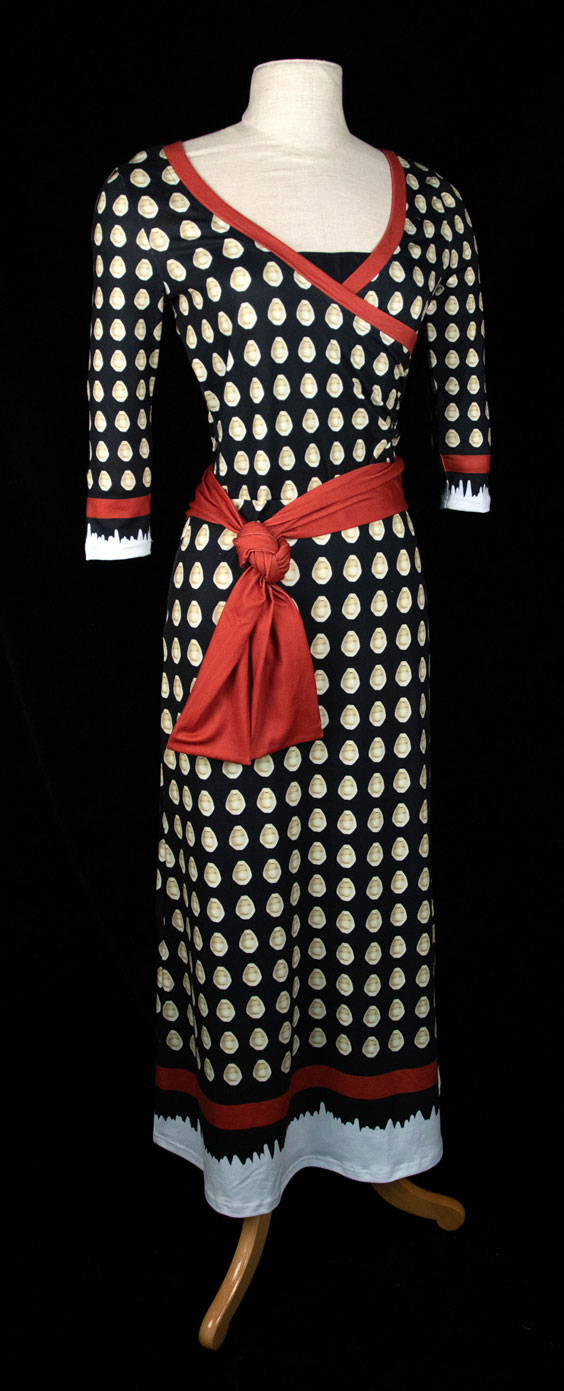 This cowrie wrap dress, featuring a modern interpretation of a traditional cowrie shell, is from Lauren Good Day's 2019 clothing collection. Cowrie shells were long used as a form of currency among various Native American tribes.
Lauren Good Day's skills as an artist and an imaginative fashion designer have landed her works in Vogue and in the permanent collections of the Smithsonian Institution's National Museum of the American Indian. Good Day, "Good Day Woman," is a multiple award-winning Arikara, Hidatsa, Blackfeet, and Plains Cree influencer in the international worlds of art and clothing.
Honoring cultural lifeways is key to Good Day's design inspiration. This Bismarck designer's clothing lines are inspired by traditional culture and attire and include the beadwork, quillwork, and ledger art illustration skills learned from her mother and grandmother. An enrolled member of the Mandan, Hidatsa and Arikara Nation and a registered Treaty Indian with the Sweet Grass Cree First Nation in Saskatchewan, Good Day is passionate about creating authentic, culturally appropriate patterns for her fabrics. She first develops digital graphic designs for a new clothing idea, adding modern twists to traditional inspirations. Those designs are then printed onto fabrics and produced as everyday wear clothing lines.
Good Day includes her signature on each piece, signifying that her fashion designs are works of art. When I talked with Good Day recently, I was curious to know how she felt about non-Native people wearing her clothing collections. She assured me that her designs are meant for all, and she is honored when non-Native people choose to wear her culturally inspired designs.
In addition to her fashion career, Good Day is an accomplished artist, who has garnered top awards at prestigious Native American juried art shows for her tribal arts, beadwork, drawings, and textiles. Her art is featured in museums and private collections across the country.