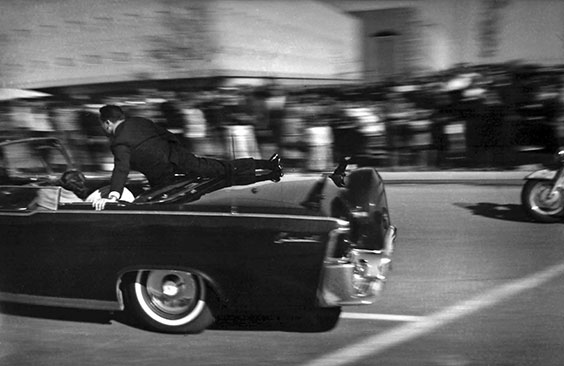 The limousine carrying mortally wounded President John F. Kennedy races toward the hospital moments after he was shot in Dallas, Texas, Nov. 22, 1963. Secret Service Agent Clint Hill climbs onto the back of the car, as First Lady Jacqueline Kennedy leans over the president. Justin Newman, AP Photo
A few critical seconds from Nov. 22, 1963, still replay in Clint Hill's mind—even 60 years later. On that horrific day when President John Fitzgerald Kennedy was assassinated in Dallas, Hill, who grew up in Washburn, was serving as first lady Jacqueline Kennedy's United States Secret Service agent in the presidential motorcade.
Photographs from bystanders and the infamous Zapruder film immortalize images of the events that changed history and Hill's life. Footage shows President Kennedy clutching his throat after being hit by a bullet about 40 minutes into a city parade. Seconds later, Hill, from a position on the running board of the follow-up car, sprints toward the presidential convertible, scrambles onto the trunk, then pushes the first lady—crawling on her hands and knees on the trunk—back into her seat before throwing himself across Mrs. Kennedy and the slain president.
According to accounts by Secret Service agents, President Kennedy had wanted the limousine top off during the motorcade so he could be closer to the people. When the fatal bullet shattered the president's skull, Hill selflessly turned his body into a living convertible canopy. He clung to the car with his left hand, his feet positioned to protectively cover the first lady and the president lying in her lap as the limousine sped four miles to Parkland Memorial Hospital.
Eleven years ago, I interviewed Clint Hill about his courageous actions that fateful day and his lingering sense of guilt. The retired agent was still struggling with the death, his voice cracking at times with emotion.
"I've always felt that sense of responsibility and guilt that I was unable to get there quick enough to intercede and really make a difference," he said then. Hill believed it was his bullet to take. "Every day I think back to November 22. It never leaves me."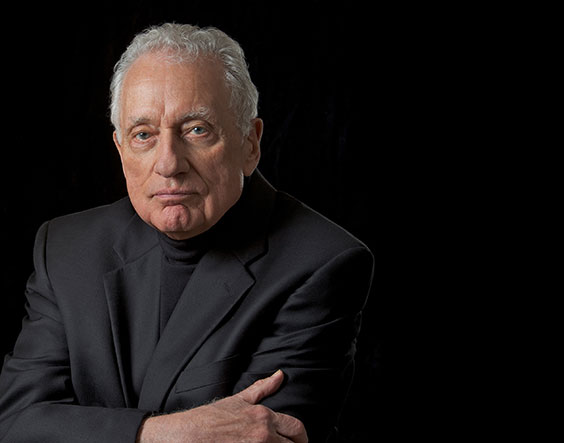 "I've never emotionally left North Dakota," former Secret Service Agent Clint Hill told me in 2012. "North Dakota has a very special place in my heart that will never go away." Photo by Michael Collopy
Read my article based on a 2012 interview with Clint Hill in North Dakota History, which includes his telling of the story and details he shared for the first time. For more on Kennedy, read another article in this journal issue by humanities scholar Clay Jenkinson, "John F. Kennedy and Theodore Roosevelt: Parallels and Common Ground, Including North Dakota."
Since our conversation, the 91-year-old Hill and his wife, Lisa McCubbin, have co-authored books about his time in the Secret Service serving multiple presidents. Until recently they've traveled the world representing the United States and our state. Hill has never forgotten his North Dakota roots. He continues to provide interviews about his Kennedy experiences. In 2018, Gov. Doug Burgum presented him with North Dakota's Theodore Roosevelt Rough Rider Award, the state's highest honor.
As Hill continues to share his personal memories about Nov. 22, new theories have surfaced about the killing of JFK. Just a few weeks ago Hill's Secret Service colleague Paul Landis released a new and differing firsthand account of the "magic bullet." Nevertheless, Hill remains true to his version of the tragic events he witnessed in Dallas.
While Hill's actions that day can be viewed as part of his professional duty, no other Secret Service agent took the risk to their own life. President Kennedy could have been describing Hill when he once remarked, "The courage of life is often a less dramatic spectacle than the courage of a final moment; but it is no less a magnificent mixture of triumph and tragedy."
Thank you, Mr. Hill, for serving as a magnificent ambassador for North Dakota and your courageous service in various Secret Service positions, protecting Presidents Dwight Eisenhower, Lyndon Johnson, Richard Nixon, and Gerald Ford, as well as first lady Jacqueline Kennedy. We are grateful.
On June 19, 1960, John F. Kennedy flew into Fargo to attend then-Rep. Quentin Burdick's 52nd birthday party. JFK is pictured at the bash along with William Guy (center), who was making his first run on the Democratic ticket for governor, and Burdick, who was facing off against popular Republican Gov. John Davis for an open U.S. Senate seat. In a perfect trifecta, all three men won their elections, changing the political landscape of the state and the country. SHSND SA 1960-00021