As I settled into my role as the site supervisor for the Ronald Reagan Minuteman Missile State Historic Site in fall 2017, my site manager provided an orientation and demonstrated the necessities of maintaining our "Little Missile House on the Prairie," the former Oscar-Zero Missile Alert Facility.
"Oh, and try to get a helicopter," she added almost offhandedly.
I nodded, wondering how that would even be possible. A month prior to starting the job I'd been a groundskeeper in Nebraska.
The helicopter mission was an important part of a missile field's operations during the Cold War. While a lot—and I mean a lot—of driving was performed to and from the 15 Launch Control Facility sites in the Grand Forks missile field (a geographical area equivalent in size to New Jersey), a helicopter offered critical benefits. It could fly over snowed-in roads. It could perform search and rescue operations. And it could also bring a contingent of armed security forces quickly to any missile site. Indeed, helicopters remain a key component for security in the active Minuteman missile fields around Minot.

Two views of the Oscar-Zero helipad, with the Missile Alert Facility in the distance, left. Helicopters were used sparingly in the missile field as road transport was much cheaper.
During my search for a chopper, I quickly narrowed it down to the Huey helicopter type made famous during the Vietnam War. The Huey type also served the Grand Forks missile field in two variants, the smaller Bell UH-1F Iroquois from the 1960s and the bigger Bell HH-1H Iroquois that arrived in the early 1980s.
Although these were the same helicopter in name, they looked different, and the -H model was much more prevalent. It didn't seem to me like they were that rare. After all, just up the road in a park in McVille, North Dakota, there's a former Army National Guard Huey. Thanks to our first Site Supervisor Mark Sundlov, we had been cleared to take artifact loans from the National Museum of the United States Air Force in Dayton, Ohio. Certain standards had to be met to ensure we could properly display and maintain a piece of Air Force history. (For instance, painting an aircraft in polka dots would be frowned upon.) After receiving this certification, we had to wait.
Once I took over as site supervisor in 2017, I reconnected with the Air Force museum and submitted a little wish list for our collection—a helicopter, a missile, and/or a missile warhead—you know, nothing too outlandish. None were available, so once more we waited.
We considered other options like contacting the U.S. Army, which had operated many UH-1 helicopters over the years and probably had some on a storage lot somewhere waiting either for a museum or the scrapyard. Another option was to bide our time until Minot's Bell UH-1N Twin Huey force retired in the mid-2020s. Then again, purists would note that the UH-1N did not serve in the Grand Forks field. Like the UH-1F, it looks a little different from the -H model. But hey, maybe the Air Force would give us a flying one!
Out of the blue (no pun intended), I received a phone call in September 2021 from the museum offering us not only an HH-1H Huey helicopter, but one that was used in the Grand Forks field. Luckily, no one else was on site that day to see me running up and down the hallway cheering—except maybe the security officers monitoring the cameras back at the ND Heritage Center & State Museum in Bismarck, but they're cool.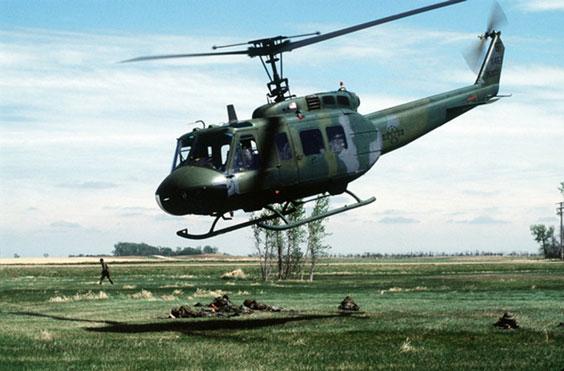 An HH-1H helicopter participates in a security exercise at Grand Forks in the early 1990s. U.S. National Archives
This brings us to the present moment. We recently finished work with the State Historical Society's Museum Collections Committee in Bismarck to consider and okay this long-term loan from the U.S. Air Force. Then there was the search for funding, which is ongoing, along with a scramble for quotes from shipping companies capable of moving the helicopter from its desert home in Arizona to North Dakota. We also had to get quotes to have it repainted—over 20 years in the desert tends to fade paint. After this came another search for funding, and so on and so forth.
Setting up an aircraft for static display is a delicate matter. Gone are the days that a city park could get a fighter jet that kids could play on or climb in. Understandably, the U.S. Air Force wants its artifacts to reflect positively on it and be well cared for, an expectation which requires maintenance schedules and security protocols. Rotor blades must be secured—after all, it's windy in North Dakota—and inspections will be required to remediate any rust issues or damage. While the public will be able to view the chopper at a distance, as is often the case with such exhibits, they will not be able to enter the aircraft.
Because of this type of helicopter's ties to the conflict in Vietnam, it's hard not to reflect on my father who served there between 1969 and 1970. January 2022 marks 15 years since he passed away from cancer, potentially caused by the chemical Agent Orange. All these years later, the irony is not lost on me that I'm seeking perhaps the most iconic symbol of that war as a museum display. The venerable Huey has served in a variety of military roles, but it has also saved countless lives over its career. From the Ia Drang Valley in Vietnam to stranded skiers in Wyoming, the rumble of a Huey has meant a lot of different things to a lot of people.
Back in North Dakota, the Huey will enhance the interpretive mission of our state historic site in multiple ways. It will serve as a tangible example of history from the missile field, an aircraft that was flown during the waning days of the Cold War when the nation's Minuteman missiles were considered paramount to the goals of nuclear deterrence and preventing war.
When you grew up playing with Micro Machines, raced outside whenever you heard the familiar "whoomp-whoomp" of a Huey helicopter's rotor blades from the nearby airport and watched as many Vietnam documentaries as I did, you can't help but feel a little giddy that your site may soon be getting its own helicopter. Well, technically, this will be a long-term U.S. Air Force loan to the state of North Dakota. But it will still be cool to peer out from the Security Control Center at Oscar-Zero and gaze on a real-life Huey, a unique piece of history sure to inspire further interest in the story of the Cold War in North Dakota. While we still need to secure funding for the move and painting, I'm optimistic that 2022 will at last bring the fulfillment of my Christmas wish.