The year 2015 was career changing for me. My wife spotted a want ad for a person needed to work weekends at the visitor information desk of the North Dakota Heritage Center & State Museum. As a native North Dakotan, I thought a job at the state's primary museum sounded appealing and applied. It wasn't long before I was invited for an interview and met with Beth Campbell, visitor services coordinator, and then-Event Coordinator Toni Reinbold. After the required interview questions, we had a nice get-to-know-you chat. I liked them and the place right away.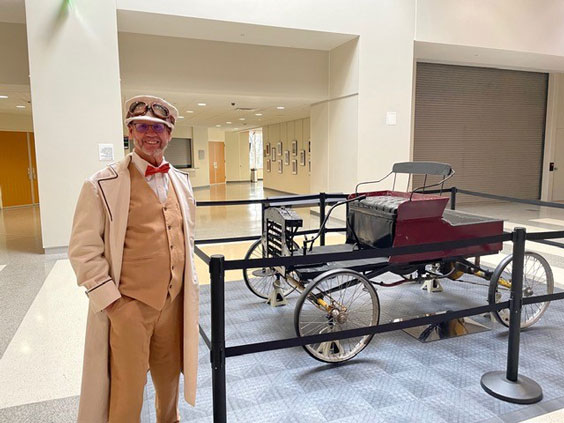 Who wouldn't love a job where you get to wear snazzy threads like these to work?
A couple weeks later I started the new job. Any free time at work I spent going through the galleries, trying to learn as much as I could to help our guests. One of the things I was excited about was meeting people from all walks of life as well as from different parts of the country and world. One minute I would be talking with a family from Washburn, then a couple of minutes later I'd be chatting with a family from China. I realized I was learning just as much as I was sharing. Right when you think you know a subject, you meet a visitor with a whole different perspective that you hadn't considered.
At first, Saturdays and Sundays I was behind the information desk from 10 a.m. to 5 p.m. This was a nice change from my weekday work. I did this for about two years, getting to know my fellow agency employees, including the security officers who one day told me they were looking for someone to work in the control room during the weekend overnight shift. I'm motivated by "fun," and this sounded like it fit the bill!
Only a short time later I was in the "cage," one of the affectionate terms used to refer to the control room. Besides watching the ND Heritage Center & State Museum, I also kept an eye on historic sites around the state.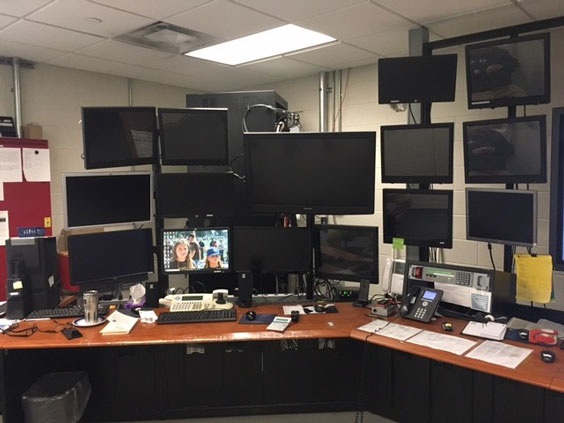 One of the places I've worked in the agency is the security control room or "cage," as it is affectionately known.
Soon I was working both behind the desk and in the control room. I would come in Friday at 10:30 p.m. and work until 6:30 a.m. on Saturday. After a quick nap at home, I'd be back a few hours later at the desk from 10 a.m. until 5 p.m. Then it was hi-ho and off to the control room from 10:30 p.m. Saturday evening to 6:30 a.m. Sunday, followed by more desk time from 10 a.m. to 5 p.m. Now those were whirlwind weekends!
I enjoyed the work, and I was learning about the agency from the inside out. When an alarm would ring at one of our statewide historic sites, I would call the site manager to check out the issue and found it exciting to be helping protect all of our museums and historic sites from my chair in a Bismarck control room. You might even say (tongue firmly in cheek) that I was the North Dakota version of Agatha Christie's famous Belgian detective Hercule Poirot! Ha. But I digress.
Though I loved the work, my old man body could not maintain that pace more than a year. As chance would have it, around that time, Erik Holland, our curator of education, was looking for a State Museum gallery guide. I inquired about the position and was hired.
The gallery guide position is my main job at the moment, but I still help at the visitor information desk during the week as needed. For the past two years as part of my work I've been delivering pop-up history programs to visitors—researching and delivering short talks on topics related to the exhibits at the ND Heritage Center & State Museum. My programs aim to give visitors a peek into different eras or historical events.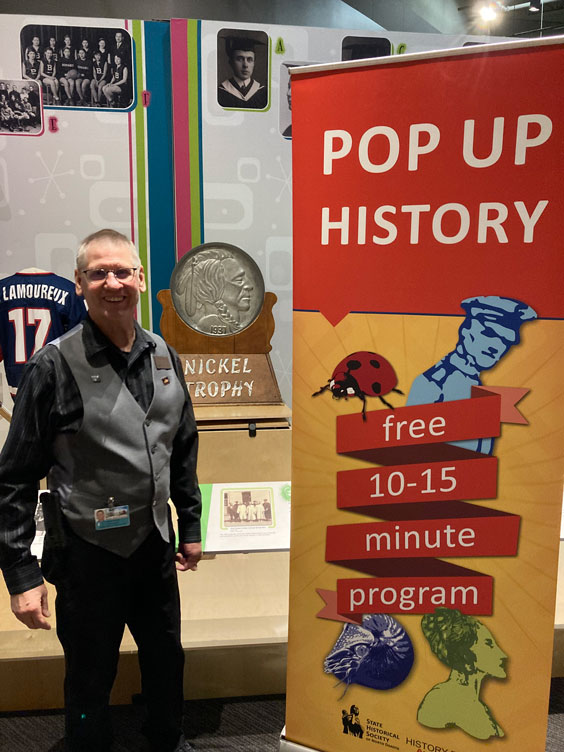 As a Grand Forks native, I enjoy talking about the Nickel Trophy and its relationship to the historical rivalry between the University of North Dakota and North Dakota State University football teams.
Recently I've added yet another aspect to my job. Last year we opened our newest exhibition in the Governors Gallery, Fashion & Function: North Dakota Style. After seeing the wonderful displays, I thought to myself, "Wouldn't it be fun to have a live model walking the galleries in different period costumes?" I mentioned this to Erik, and he looked at me and said, "Hmm, who can we get to do that?" Turns out it was me. Soon after, we got in contact with local costumer Michele Renner to dress me in historically correct outfits.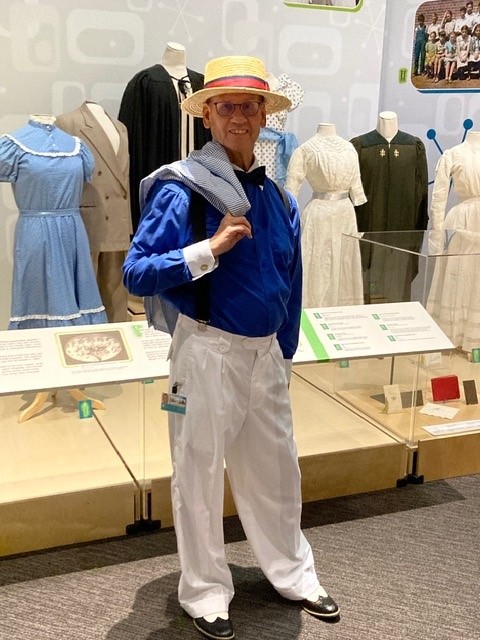 Looking like I just stepped out of a bandbox in the Fashion & Function: North Dakota Style exhibition at the State Museum.
Within a couple months, some pretty impressive attire began to arrive. One of the first outfits depicted a gentleman from around 1804, about the time Lewis and Clark were headed this way on their famous expedition.
Other period clothing pieces I've had the pleasure of "modeling" have included a Hudson's Bay capote coat—something a hunter/trapper would have worn in the 1800s, an early 1900s motoring outfit, and a 1950s suit. But hands down my favorites are from the 1970s. You haven't lived until you've seen me in a baby blue leisure suit!
I invite you to come check out my different outfits. Swing by the State Museum on Tuesdays and Thursdays from about 10 a.m. to 2 p.m. when I appear in costume. I get a kick out of visitors' reactions. Their responses sometimes include a double take but always feature a lot of really good questions.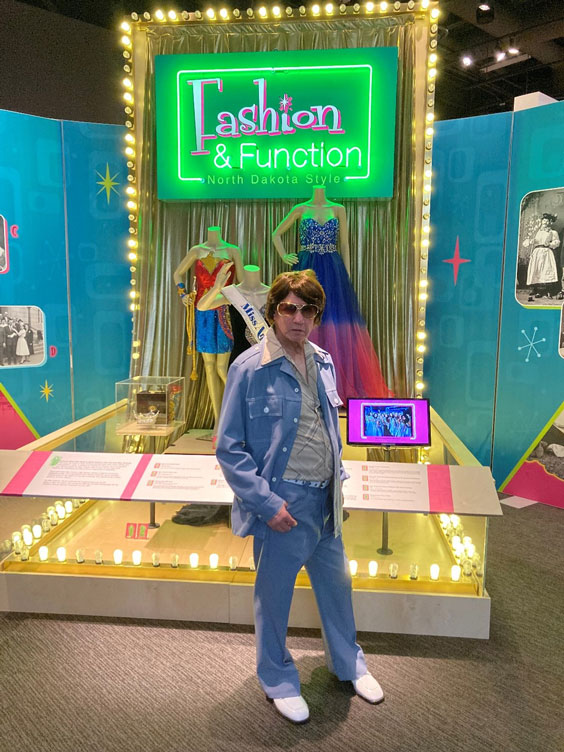 For a groovy time, come on over to the State Museum and say hello.
In the 1970s, the rock band Emerson, Lake & Palmer had a super hit called "Lucky Man." The song resonates since I feel it could have been written about me. I'm that lucky man to be able to do this work.
Next time you are at the ND Heritage Center, stop and say "hi." I won't sing, but we can take a look at some fascinating exhibits that tell the story of our great state.