When you visit the North Dakota Heritage Center & State Museum you might see a few plaques. These plaques recognize a range of individuals from history award winners to outstanding staff to legislators. But none of them recognize our volunteers.
Over the years, I've put a lot of thought into what we might do to honor our volunteers. Plaques are nice, but they don't capture the diversity we have in our volunteer corps.
After the ND Heritage Center & State Museum expansion opened in 2014, I identified a small wall outside of the volunteer area near the front desk that was the perfect spot to honor our volunteers. Of course, I kept dreaming about what that tribute might look like. In fall 2020, I invited my co-worker and friend Amy Munson to help me dream about what might be done.
Amy is the agency's grants and contract officer and an amazing artist. She quilts, knits, crochets, paints, and is always open to trying something new. As we stood in front of the wall, Amy suggested a quilt be made to honor the volunteers. Specifically, a signature quilt. I was gobsmacked! I thought she was going to suggest something more exotic, but after we talked a bit more, I knew we were on the right track. A few days later, volunteer Val Otto told me she had just finished a quilt and was looking for something to do. I took that as a clear sign we needed to move forward with this idea.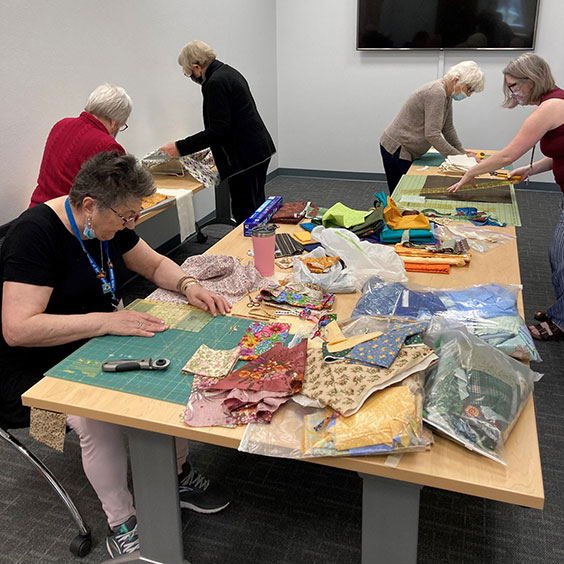 Production on the volunteer quilt begins!
Within a couple of weeks, we had four volunteers gathered to discuss how they wanted to proceed. Otto, Erlys Fardal, Char Blaskowski, and Olive Fricke quickly got to work making quilt squares. If you know a quilter, you know they have a stash of fabric. We were fortunate these women had enough fabric to produce almost 200 squares. Meeting weekly, they quickly reached their goal. Then came the hard part.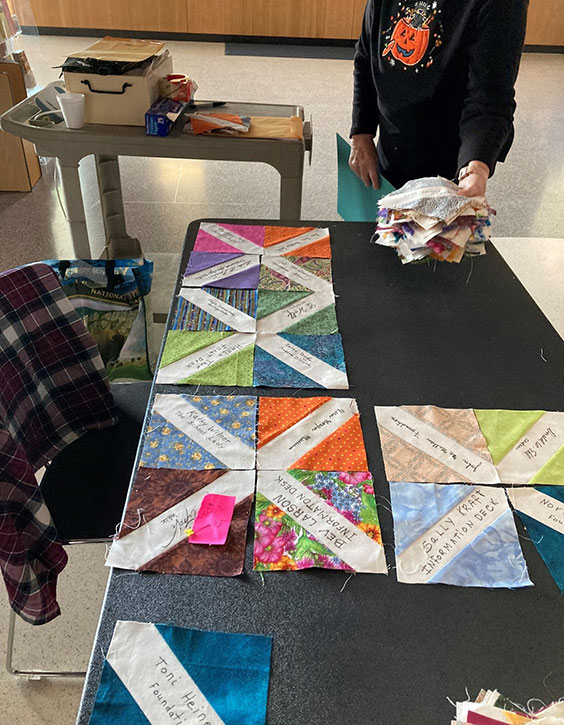 "Piecing" it all together. Each quilt square featured a volunteer's name and area of service.
Our goal was to have all 196 volunteers sign a square. The first step was to inform volunteers and invite them to stop at the Heritage Center to sign a square with a special pen. In summer 2021, we also sent quilt squares to volunteers at our state historic sites. Our board members even got in on the project. We kept a few blank squares just in case we missed someone. The squares were sewn together and the quilting completed. It was ready for its big reveal.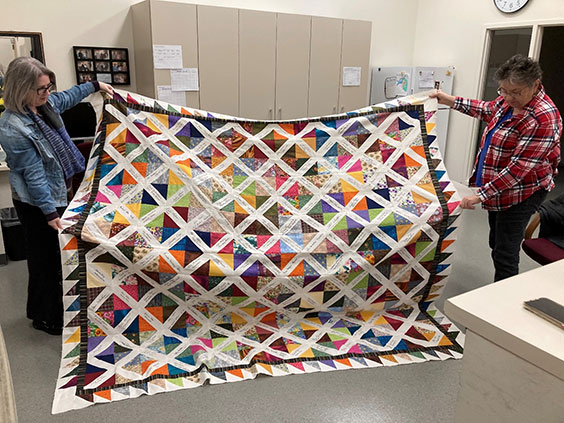 Grants & Contract Officer Amy Munson and volunteer Char Blaskowski admire the finished quilt top.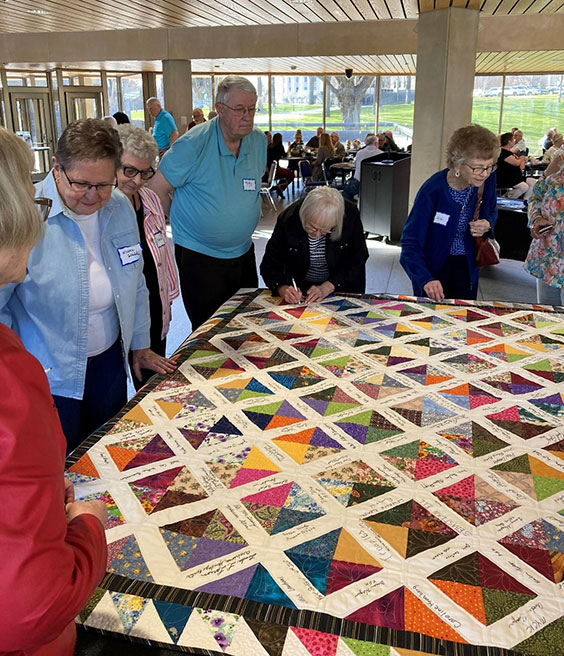 Our wonderful volunteers sign the quilt at the ND Heritage Center & State Museum in Bismarck.
On Thursday, May 5, 2022, after more than two years of not bringing our volunteers together due to the COVID-19 pandemic, we gathered to celebrate the 40th anniversary of the Heritage Volunteer Program (more on that another time). We were fortunate one of the original volunteers from 1981, Shirley Lacher, was able to join us and proudly sign a square. The quilt will be hung this fall, just in time for our next volunteer recognition event.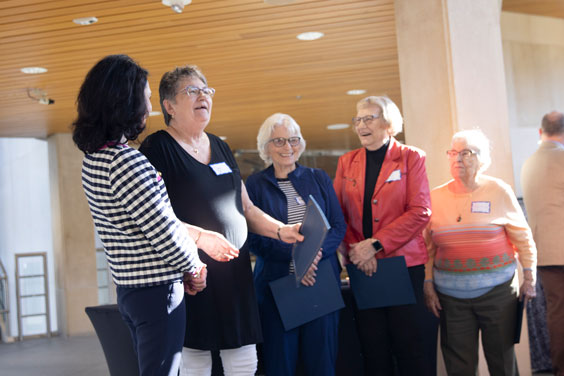 North Dakota Chief Operating Officer Tammy Miller, far left, shares a laugh with our lead quilters, Char Blaskowski, Val Otto, Erlys Fardal, and Olive Fricke at the 40th anniversary celebration of the Heritage Volunteer Program in May.