Working for the State Historical Society of North Dakota unlocked a childhood dream of mine. Growing up in rural Benson County, I was always fascinated by the history of the North Dakota landscape and the people that called it home. In the eighth grade, I took my inaugural field trip to the ND Heritage Center with my North Dakota Studies class. This maiden voyage was my chance to see in person all the things I had only heard or read about. I was in heaven! Fast forward about 10 years, and I found myself interning for the agency's Archaeology and Historic Preservation Department—go figure! The internship began in September and finished at the end of November.
My job as an archaeology collections intern included processing, organizing, and cataloging archaeological records pertaining to excavations conducted by the U.S. Forest Service in North Dakota. Uncatalogued records are sometimes temporarily stored in non-acid-free containers and folders and may be riddled with paper clips, staples, and sticky notes. These materials are detrimental to the physical integrity of the records because they cause premature degradation and aging of the files. So the first part of my job was to make sure all records were rehoused in appropriate acid-free archival folders and boxes, which help preserve the records. The next step was to organize the files and catalog them within our database. Depending on the project, I usually organized the files by site, then by type of document—field notes, artifact catalogs, excavation unit forms, etc. Then I cataloged them within the Re:discovery database using an assigned collection number. This allows for greater ease of identification and access to these files if they are ever needed.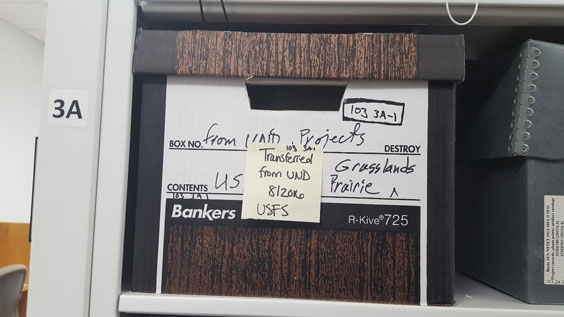 Uncatalogued records are temporarily stored in non-acid-free boxes such as these.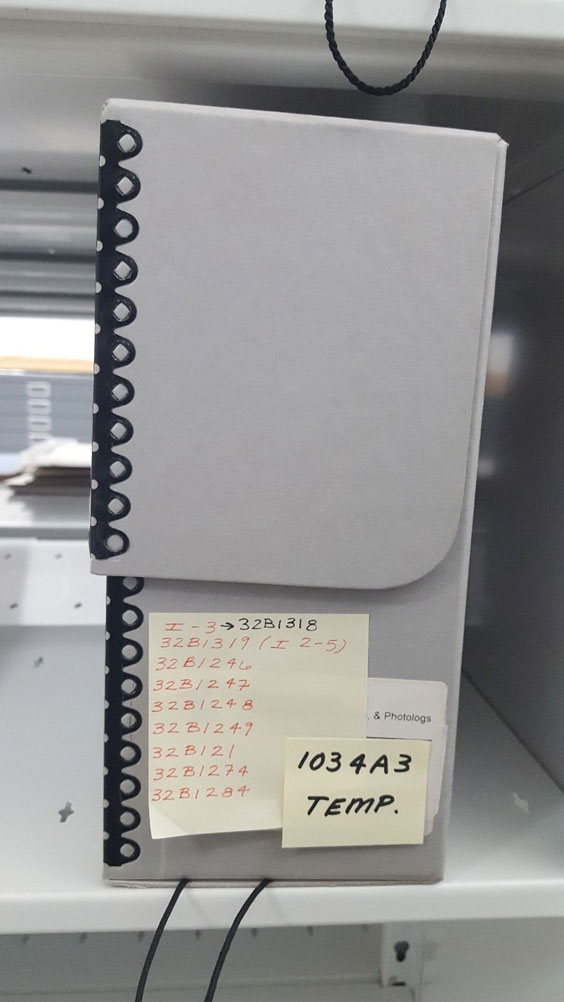 Temporary storage for archaeological records such as excavation forms before cataloging.
One of my favorite parts of the job was being able to slap on the blaze orange "All Entered in ReD" sticker on cataloged boxes. This sticker indicates that all the files within the box are correctly cataloged and entered within our database. This may seem like a child receiving a "Well Done!" sticker on an assignment, but to me it means that there are more resources and information available to employees and researchers regarding North Dakota's rich archaeological history.
To say I learned a lot would be an understatement. I had no previous experience with archival cataloging, so I gained an understanding of how and why archaeological records are kept, and why it is so important to keep them well-organized. Although archival records may not look as interesting as the actual artifacts, they hold the information needed to understand and interpret those artifacts and their surrounding environment. Without records and notes detailing where an artifact was found, how it was situated in relation to other objects, and the features of the overall site, archaeological endeavors would be less relevant to other scholars and the public. As my archaeology professor at the University of North Dakota would say, "Provenience, provenience, provenience."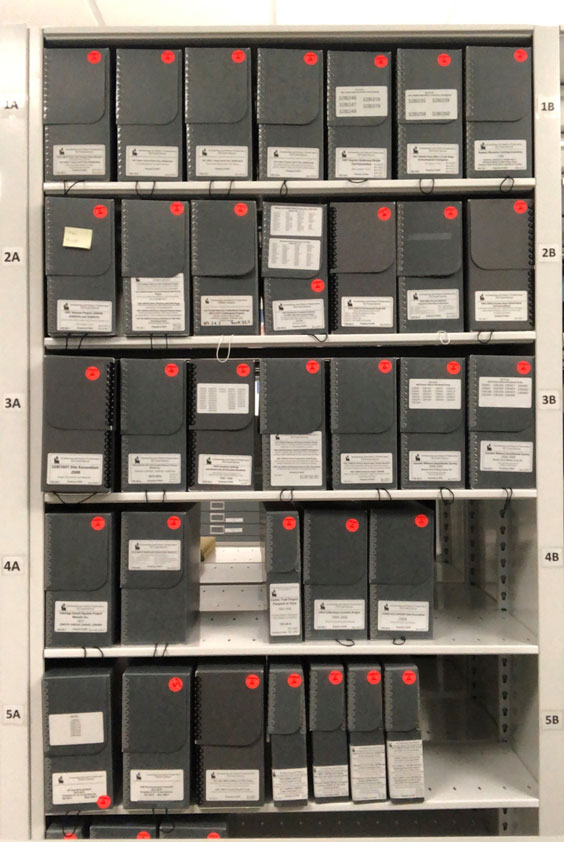 The "after" picture: All files organized, catalogued, and entered into Re:discovery, with the orange sticker in the right-hand corner.
Now that I have waded through the weeds of archaeology records, I completely understand why all the seemingly boring data archaeologists collect is so important to keep organized and available. It not only helps us understand a site and the people who interacted with it, but it also enables us to look back on the records to see how or why a site excavation occurred and how we can better help protect North Dakota's immense cultural resources in the future.