History isn't just in the past—it's being made every day. Our mission includes collecting from the contemporary world because we want to preserve what it's like to be a North Dakotan right now. We have a duty to document and preserve our current time for the historical record so future generations can study it and come to understand it.
The Dakota Access Pipeline (DAPL) project has many people expressing strong feelings on all sides of the issue. The scale and intensity of the pipeline protests are unprecedented in the state's history. No matter what your stance, the controversy has become a significant part of North Dakota's story and is worthy of preservation in the historical record.
We decided to start collecting objects related to this movement in November. We feared that if we waited too much longer, some of the objects that tell the story would be discarded by their owners.
Our public efforts started with a Dec. 23 article in the Bismarck Tribune, which outlined the objects we wanted to collect. We want to collect items to tell varying viewpoints of this ongoing story. Every perspective is equally important to help understand an event. We have reached out to private companies, law enforcement, state, tribal, and federal government agencies, counter protest groups, and people living at the camps to request donations. Our finalized list contained 28 groups or individuals to contact.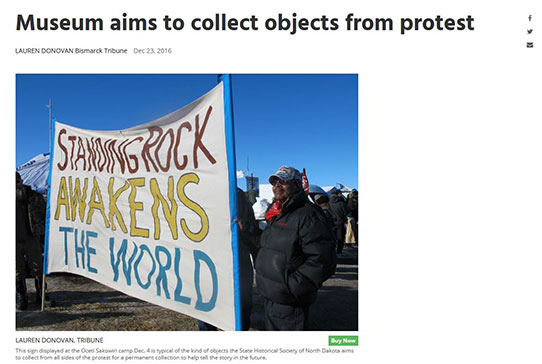 We first announced our collecting efforts with a December 23 article in the Bismarck Tribune, which gave a basic outline of what we wanted to collect and why we were gathering objects.
Donovan, Lauren. "Museum aims to collect objects from protest." Bismarck Tribune, Dec. 23, 2016. Accessed Feb. 28, 2017. http://bismarcktribune.com/news/state-and-regional/museum-aims-to-collect-objects-from-protest/article_a1b1fa2b-73cb-5c97-81ed-f3097b63ea99.html
Our first influx of artifacts came from a Feb. 3 staff visit to the Oceti Sakowin camp, which was being dismantled at the time. Someone at the camp directed us to a pile of items being discarded as residents left. We selected 37 objects that we felt encapsulated daily life at the camps, including sleeping bags, camp chairs, signs, and canned goods. We also took the opportunity to talk with people we encountered about what we were doing and encouraged them to donate.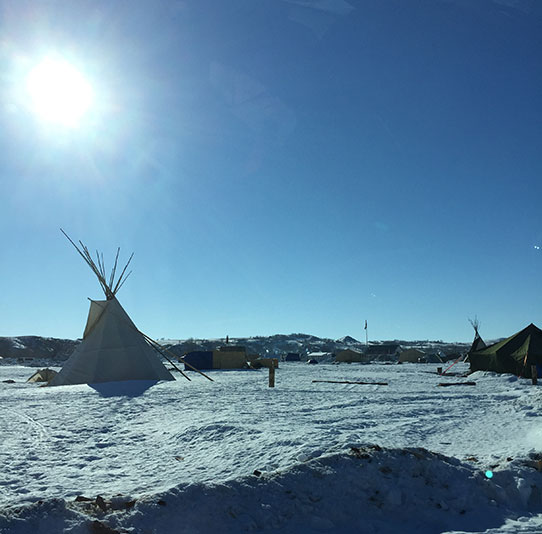 Museum Division staff visited the Oceti Sakowin protest camp on February 3. It was very quiet (not to mention cold), as most people had left, and the camp was being dismantled. We collected 37 artifacts and spoke with residents of the camp about what we were doing.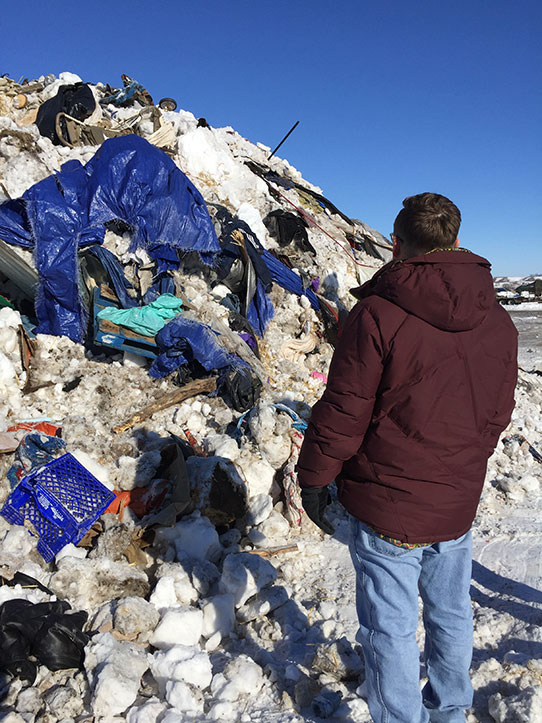 We primarily collected from a large pile of items that had been discarded as people left the camp. We tried to select items that would encapsulate camp life like a sleeping bag, camp chair, canned food, and hiking boots. Pictured is Registrar Len Thorson examining the pile.
In addition to artifacts, we are interested in recording interviews with people from all sides of the story so we can have firsthand accounts of their experiences, which will add another layer to the three dimensional artifacts we are collecting.
Our goal is to assemble a comprehensive index of an important event in North Dakota history. Do you have something to add to the narrative?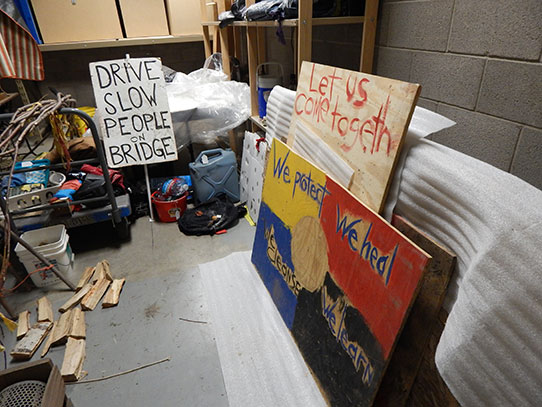 We have received items from a variety of sources.