What are some ways to make the best of a bad situation? How do we use the closing of the North Dakota Heritage Center & State Museum to the advantage of everyone: the public; staff; and exhibit specimens and artifacts? We clean, of course! Not just everyday cleaning that happens whether the museum is open or closed, but "deep" cleaning that requires portions of the building to be closed off. Think of it as spring cleaning the dinosaurs!
The Adaptation Gallery: Geologic Time was opened to the public in November of 2014. Since that time, thousands of visitors from around the globe have enjoyed and learned about these prehistoric beasts that once roamed the place we now call North Dakota. In March of 2020, the Heritage Center was closed to the public due to the COVID-19 pandemic. It was decided that staff should take advantage of this situation and do something we wouldn't normally be able to do, or at least not do as easily. Large-scale cleaning of the exhibits is not a quick or easy task–not without disrupting the experience for visitors to a museum.
Deep cleaning can involve large equipment, loud noises, and lots of dirt and dust. Nevertheless, exhibits do need to get deep cleaned periodically, and after five years it was time to break out something a bit more powerful than the feather dusters.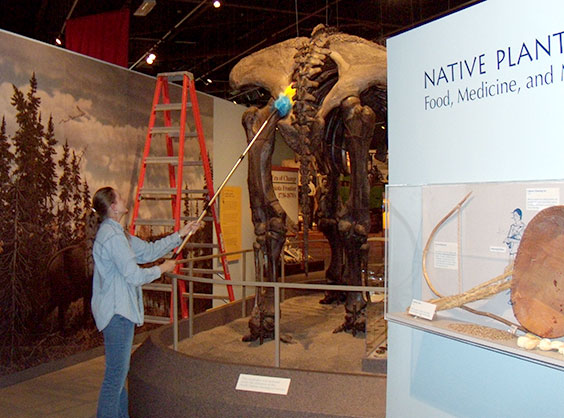 Paleontologist Becky Barnes cleaning the Highgate Mastodon with a feather duster.
We gathered together all the equipment we thought we might need in the Geologic Time Gallery and got to work. With the help of a multi-speed leaf blower, an electric lift, and a HEPA (high efficiency particulate air) filter vacuum, we were able to remove accumulated dust from very hard to reach places.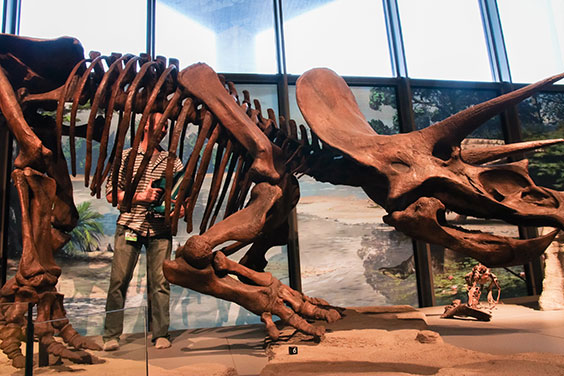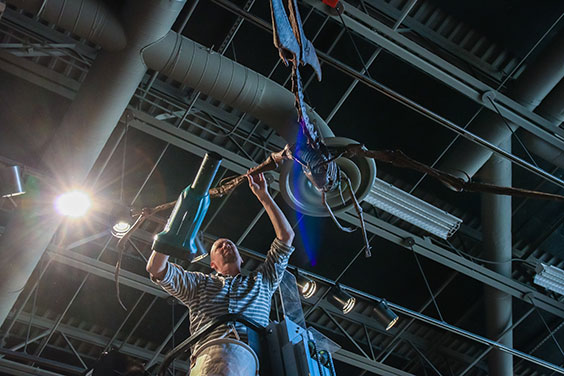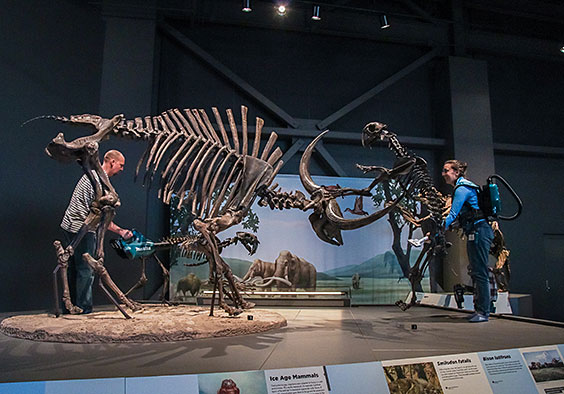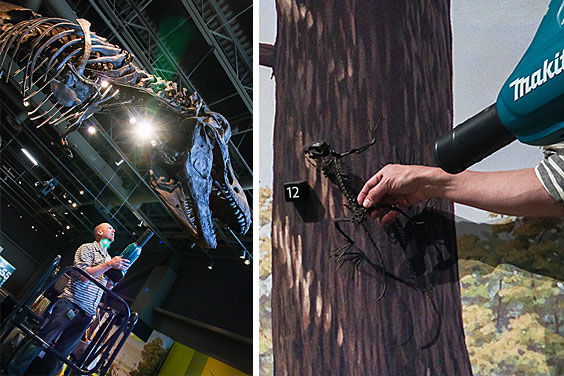 Getting into hard-to-reach places inside the Geologic Time Gallery exhibits to dust the skeletons. A multi-speed leaf blower on the lowest setting was used to remove most of the accumulated dust. HEPA vacuums were then used to suck up the material that rained down onto the exhibit bases and carpet of the gallery.
The amount of dust we removed was surprising, and everyone involved was happy the removed dust bunnies were not "raining" down on visitors.
All of the creatures on exhibit were treated to a dusting, with the taller and harder to reach areas benefiting more than the lower ones. From the large T. rex to the small, tree-climbing Plesiadapis, everything in the Geologic Time Gallery is now clean and ready for another five years of silently watching the parade of visitors stroll by below.
From the tip of the Pteranodon's nose
To the end of the T. rex's toes,
No one knows
How the dust bunny grows.