Faithful readers of this blog have known about the upcoming Fashion & Function: North Dakota Style exhibit since this past February. By now, they might be thinking, "Gee, this exhibit is taking a long time." Likewise, my friends and family who read my blogs out of obligation might be thinking, "Gee, I wonder when Lori is going to stop talking about mannequins?" So, I decided to write about the time it takes to complete just one aspect of the exhibit production process: mannequin dressing. Hopefully, this will shed light on why it takes so long to put together an exhibit.
Wouldn't it be nice if we could just slip an outfit on a dress form and call it good? That would make exhibit preparation so much quicker. But out of 140 outfits used in this exhibit, I can count on one hand the number of forms that didn't need some sort of modification. (Former North Dakota first lady Grace Link, I love you and your dress.) A good mannequin dresser never makes the garment fit the form. It's always the other way around. The form must fit the garment. Modifications may include building out the forms by padding out waistlines and hips, or even adding arms and legs. Alternately some forms need to be reduced, which requires chopping off specific body parts. The desired result of all this work is to make historical garments appear their best, while protecting and supporting them throughout the exhibit.
Let's take a look at one example. Catherine Tschida Patterson of Sims, North Dakota, wore this cotton and lace dress to her graduation in 1912. (Learn more about this cool dress.)
Step 1: First, we try the garment on the form to get a sense of what needs to be done. In this case, Catherine's dress looked pretty empty and needed padding at the bust and hips, as well as arms.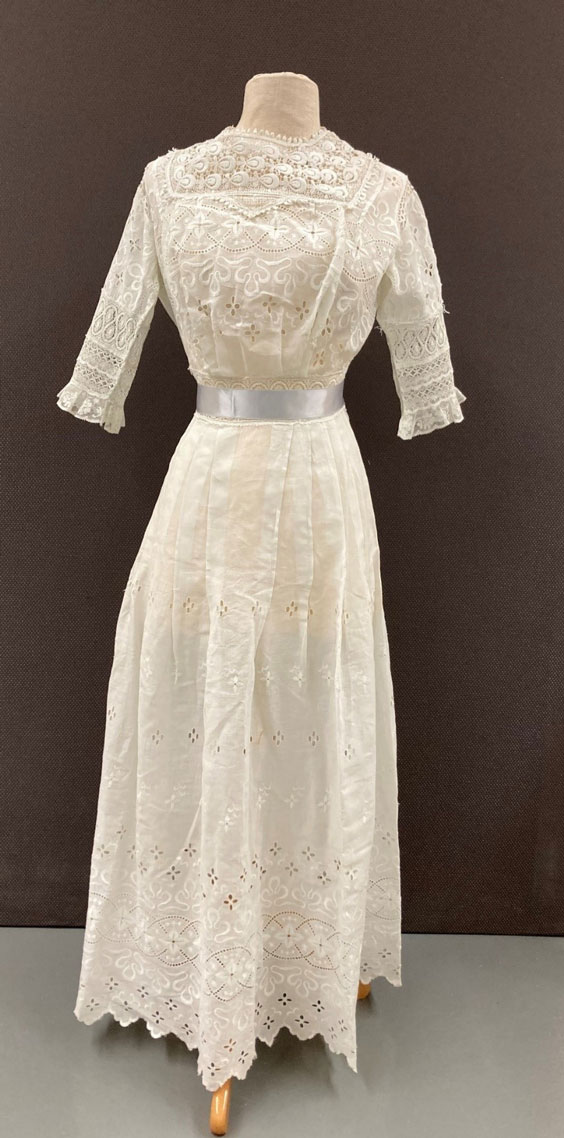 Just an "empty" graduation dress. SHSND 1988.230.2
Step 2: I layered on polyester quilt batting to those areas that needed padding. Polyester batting is scratchy, so we added a layer of cotton stockinette tubing to protect the garment. This also helps hold the batting in place. Then the dress goes back on to see if it looks right. Sometimes I need to repeat this step two or three times before I get the padding situated correctly.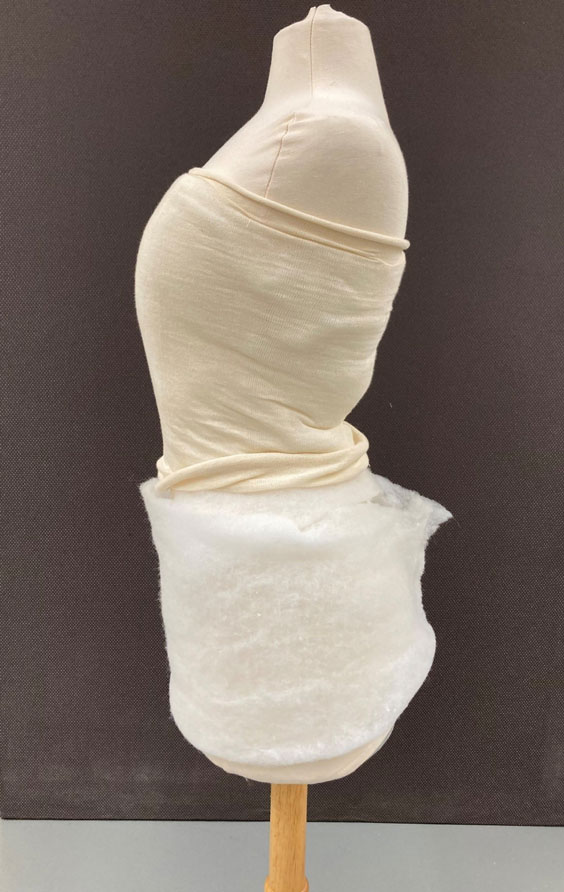 Here, polyester batting has been used to fill out the bust and hips. The top half of the form has also been covered with stockinette.
Step 3: The next step is usually to add arms and a linen neckline cover. Because Catherine's dress is a light, cotton lingerie-style dress typical of the early 1900s, it also needed a slip. Our curator of collections management, Jenny Yearous, sewed a white cotton slip to protect Catherine's modesty.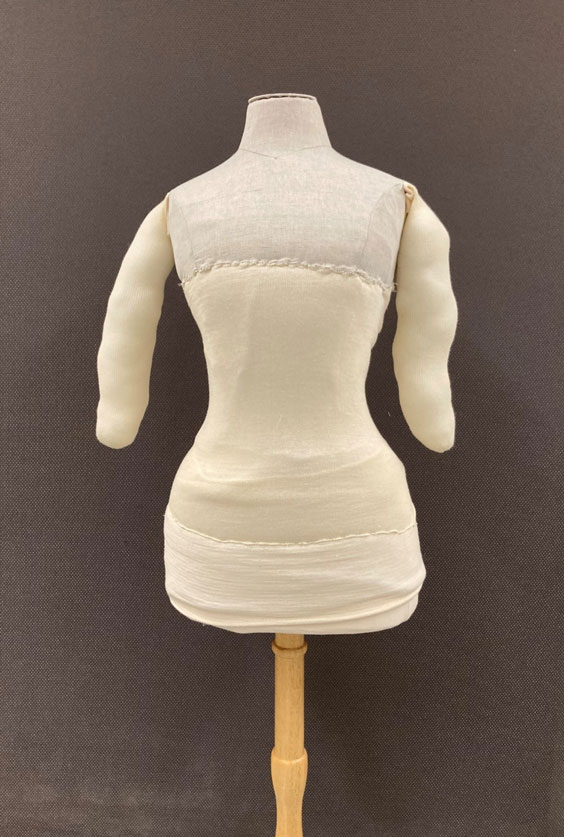 "Armed" and ready for dressing.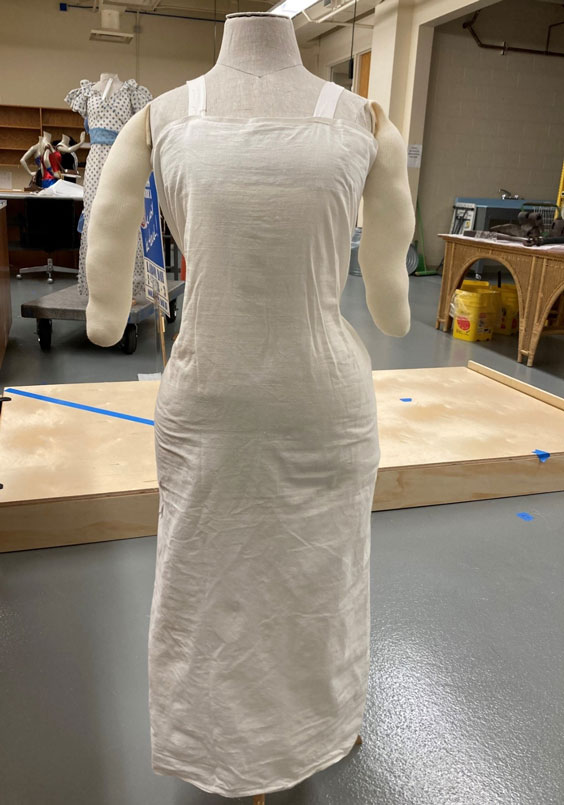 Underwear is important.
Step 4: The final dressing. The finished product is a more lifelike shape consistent with typical women's fashion during the 1910s. Most people won't notice the form underneath the garments. But the work that goes into the form helps each item of clothing look its best.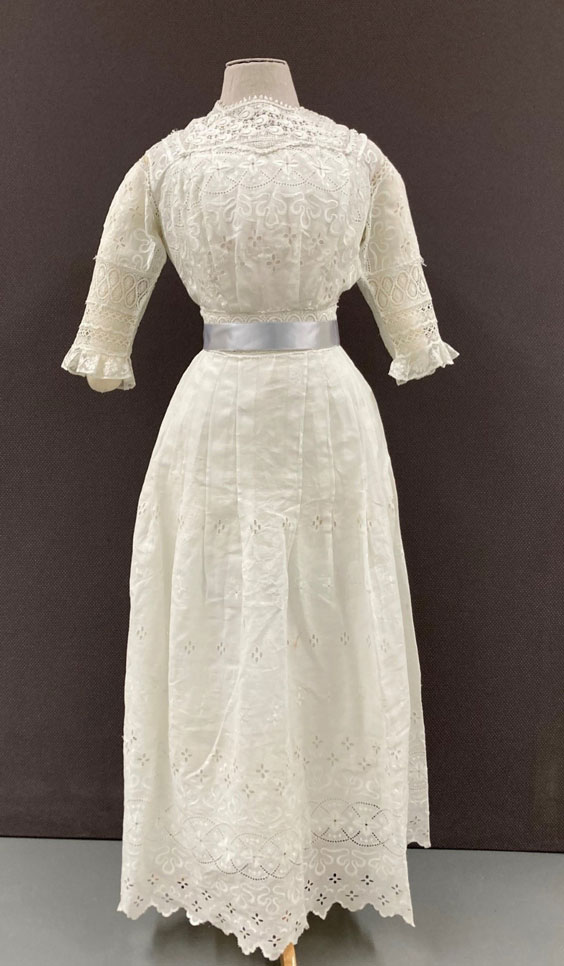 Catherine Tschida Patterson's dress is now ready for exhibit. SHSND 1988.230.2
Other types of modifications used during exhibit preparation include carving down forms or removing body parts altogether.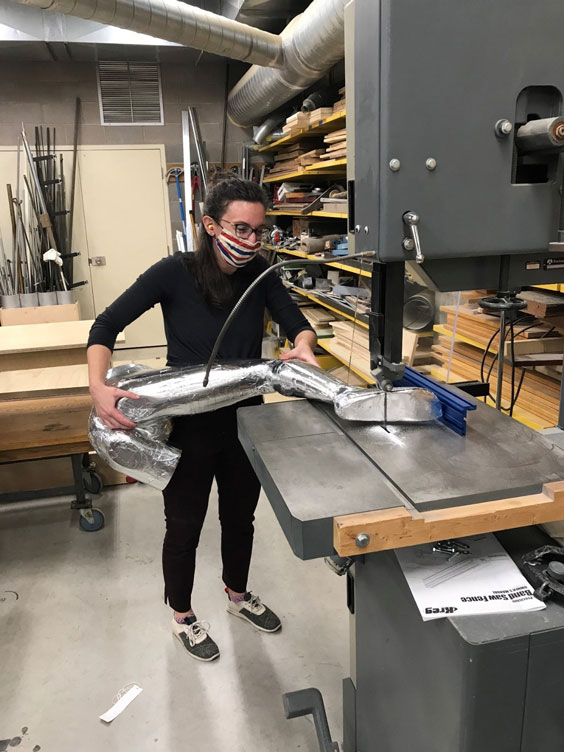 Here I am chopping off feet so boots can fit, a little something I call "Cinderella," the twisted, non-Disney version.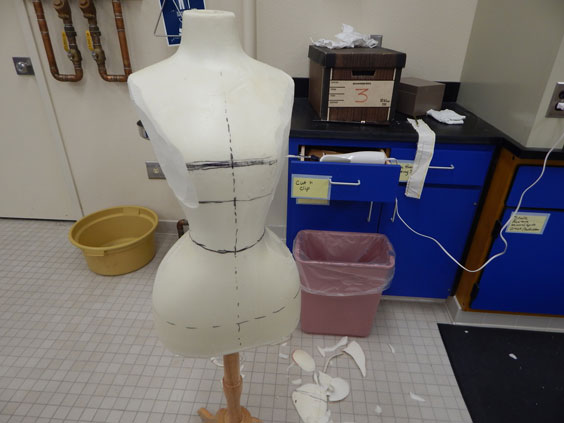 A curator's work can be brutal.
Meanwhile, other staff are working hard on the many additional pieces of the exhibit puzzle. I'll leave you with a list of some other parts of the exhibit-making process you may not have thought about:
Researching and writing exhibit text
Writing object labels
Editing exhibit text and object labels
Graphic design of approved exhibit text and object labels to make them visually appealing and easy to read
Graphic design of all photographic images in the exhibit
Video production and editing
Working with lenders for items loaned specifically for this exhibit
Design of exhibit floor plan and layout
Fabrication of the exhibit floor plan and layout
Fabrication of exhibit furniture (risers, boxes, etc.) and special object mounts