A Pendleton wool cape featured in the State Museum's new Fashion & Function: North Dakota Style exhibit will no doubt catch your eye. Its clean, classic lines and matched plaids certainly drew my attention, as did the exhibit label, which informed me that the cape had been made in the late 1960s by one Linda Harmsen of LaMoure.
Since my dad grew up in that quintessential small town in southeastern North Dakota during the same time period, I suspected he could tell me more about the garment's maker. A quick text confirmed that he had indeed known Harmsen, who was a year behind him in school. And by the way, he added, she was also the first female firefighter hired in Bismarck.
March being Women's History Month, I was keen to learn more. Well, I would have wanted to learn more anyway, but you have to admit the timing was propitious.
"Yes, I was the first," Harmsen confirmed, when I reached her by phone a few days later.
In fact, as I would soon discover, Harmsen, now 70, was not only the first female firefighter hired in Bismarck, she was also the first paid female firefighter in North Dakota. One of her Bismarck Fire Department uniforms has long been on exhibit in the State Museum's Inspiration Gallery: Yesterday and Today, she told me.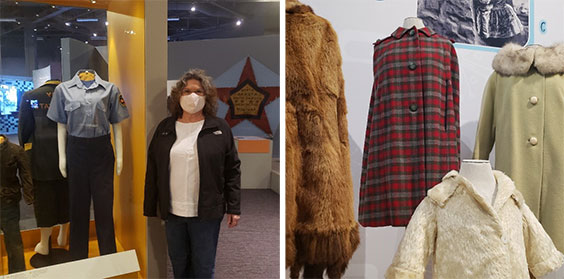 Linda Harmsen, pictured next to her firefighter's uniform, is the rare woman who can boast garments currently on view in two different exhibits at the State Museum. At right, her plaid cape, which she sewed with Pendleton fabric won in the Make It Yourself With Wool competition. SHSND 2006.328.1-3, SHSND 1991.121.12
So how had the former teenage seamstress from rural North Dakota come to crack this particular glass ceiling?
In a word: necessity. After budget cuts forced the closure of the North Dakota State University Land Reclamation Research Center where she worked, Harmsen needed a job, and the Bismarck Fire Department was hiring.
"Well, I'll give it a shot," she remembers thinking. She passed the agility test, the same one used by the National Guard, and joined the department in May 1994 along with six men, all in their 20s. Harmsen was 43.
"One guy said, 'Wow, you are older than my mother,'" she recalls.
She adds with a laugh: "To be truthful, they were afraid of me. Just having a woman around was a whole new ballgame for them; they had to modify their behavior."
They also had to modify the city's fire stations, reconfiguring the dorms for increased privacy and installing separate bathrooms for women in all the stations.
In her 12 years at the Bismarck Fire Department, Harmsen remained the only woman firefighter. After leaving the department in 2006, she went to work as a trauma registrar at St. Alexius Medical Center. Her background responding to trauma situations was "pretty useful there," says Harmsen, who is now retired.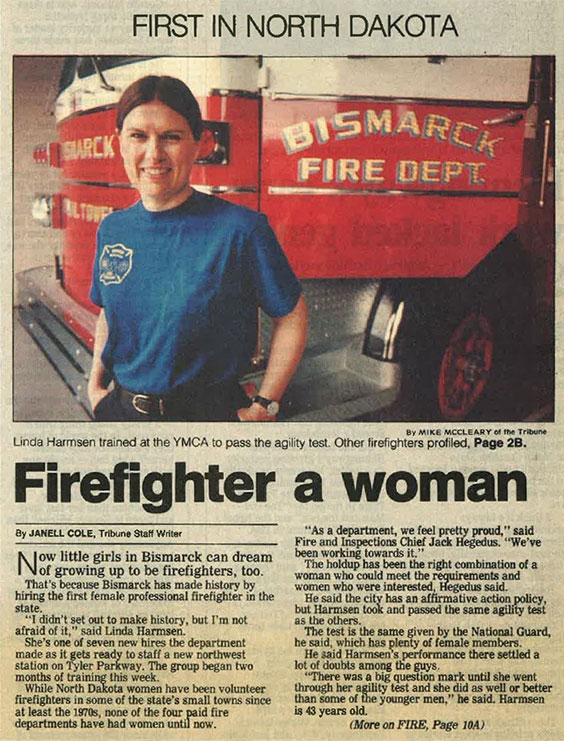 Harmsen made headlines when she became North Dakota's first paid female firefighter in May 1994. Bismarck Tribune, May 6, 1994, p. 1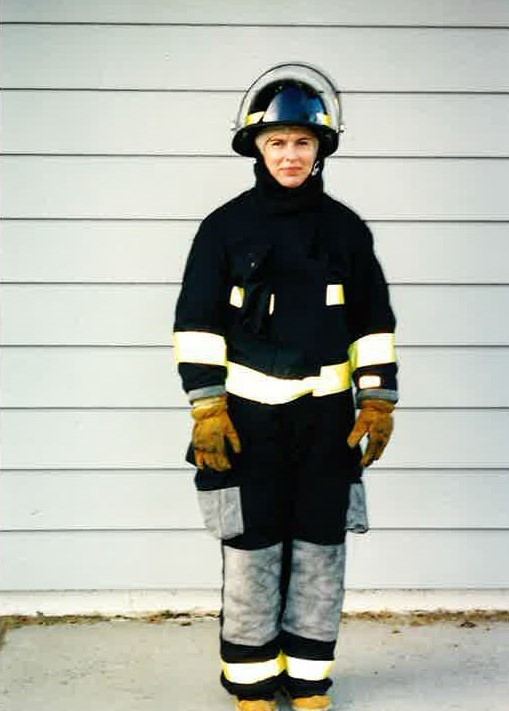 Harmsen in full turnout gear, 1994. Courtesy Linda Harmsen
But back to that cape. Before she was a trailblazing female first responder, Harmsen was a teenage girl growing up in LaMoure who "liked having a lot of clothes to wear." And in an era before fast fashion and cheap overseas-produced apparel, sewing was "how you got clothes to wear," she says.
At "15 or 16," Harmsen made an orange wool, double knit, drop-waist dress, with a short, pleated skirt and brass buttons, and subsequently entered the mod-style frock in the 1967-1968 Make It Yourself With Wool competition. She won the junior division in the district contest and went on to place second at the state competition in Devils Lake. Her prize: several yards of Pendleton wool fabric, which she turned into the cape currently on view in the Fashion & Function exhibit. (The orange wool dress is also in our museum collection although not on display as part of this exhibit.)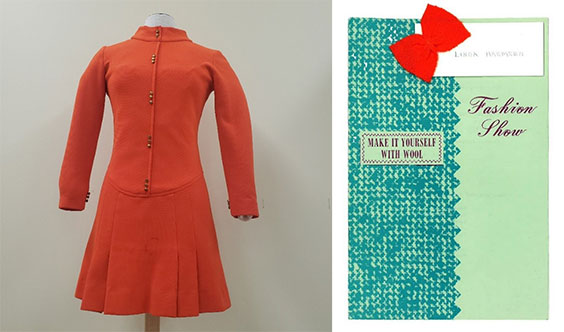 The orange dress, which won Harmsen second place in the state Make It Yourself With Wool competition. Among the feedback provided contestants: "Be sure to try for inconspicuous hems." SHSND 1991.121.11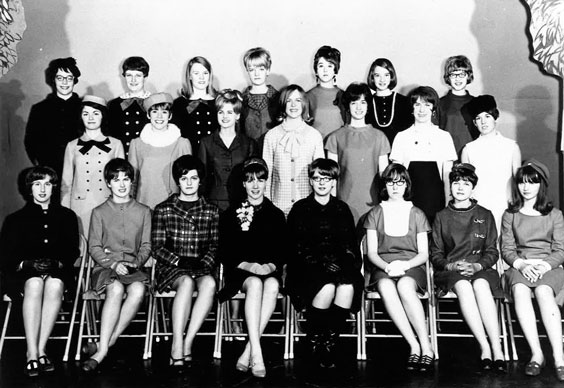 Harmsen, second from left in the front row, is pictured with fellow contestants in the 1967-1968 North Dakota Make It Yourself With Wool contest. SHSND 1991.121
Harmsen is still immensely proud of how she "perfectly matched" the cape's plaid stripes, though she concedes the garment wasn't as practical as she would have liked.
"You couldn't drive in it, [your arms] were tied down," she says ruefully, when she and her sister Candy, a former Miss North Dakota, dropped by the museum earlier this month.
These days, Harmsen doesn't get her Singer sewing machine out that often, though she occasionally applies her seamstress skills to making costumes for her a cappella singing group Sweet Adelines. And once, when she was still on the line, Harmsen brought her sewing machine into the fire station to add buttonholes to hoods so that they could be attached to the inside of the firefighters' helmets.
The hoods "weren't designed to go in that style of helmet. … They were just going to slice holes in them with a knife," she says of her male colleagues.
So which was more demanding–firefighting or sewing?
"Firefighting is certainly harder," Harmsen asserts, "and I guess it's more rewarding because you are actually helping people."
Not that the domestic arts don't have their own unique appeal.
"I was probably more comfortable sewing," she says.