The staff at Fort Abercrombie State Historic Site has great appreciation for history and a strong passion to teach others about the history and heritage surrounding the site. Visitors often mention that they studied history in school, but after coming to Fort Abercrombie and taking the guided tour with our staff, they can make a connection and understand what it was like to live here during the mid-19th century. As quoted by many visitors, "I feel like I am a part of history after that tour."
That said, we do not want to be just a one-time stop. We have learned that programming needs to focus on getting people to return to the site for continuous learning and enjoyment. Our team is constantly working to provide effective programming, and those efforts have sparked a renewed interest among locals and tourists in the history of southeastern North Dakota. We are enjoying an increasing number of people who return each summer to attend events.
For example, each summer Fort Abercrombie hosts a Sunday history program, which focuses on many aspects of North Dakota history. This summer we'll focus on the challenges of homesteading, local family history, environmental history of the Red River, and the Norwegian heritage of this area. Staff members Carole Butcher and Paul Nelson will spend countless hours researching in preparation for presentations that will allow people to make a connection to this history. Many local musicians will volunteer their talents in providing special music, and historical authors and storytellers will provide guests with entertaining and educational experiences during these programs.
We recognize that, for some people, seeing something with your own eyes can enhance your understanding of written history and create memorable learning experiences. For this reason, Fort Abercrombie hosts a Living History Weekend, as well as a Historical Authors and Crafters Weekend every summer. At this event, Michael Quade demonstrates the craft of blacksmithing in the 1860s at the fort, while Karl Schmidt demonstrates the craft of tinsmithing. These demonstrations give our visitors a way to visualize and engage with historical craftsmanship in the modern day. Visitors can also meet award- winning author Candace Simar, who has written about her family connection to Fort Abercrombie, as her great grandfather was one of the stagecoach drivers on the "Abercrombie Trail." Historical author and storyteller Jan Smith will provide an entertaining history of real -life experiences at Fort Abercrombie and on the trail. Minnesota history educator and historical author Carrie Newman will help audiences understand different perspectives on the Dakota War. She was inspired to write the book War on the Prairie after taking a tour at Fort Abercrombie and becoming fascinated with Dakota War history. Carrie also demonstrates the craft of Civil War sewing while visiting Fort Abercrombie each summer.
The 5th Minnesota Infantry Company D Civil War re-enactment unit also plays an important role at Fort Abercrombie. The unit provides visitors with a real-life experience of what it was like to be a soldier at Fort Abercrombie and in the Civil War. History is truly alive at Fort Abercrombie. Come see for yourself at this year's events!
May 13 Preservation North Dakota tour, 2–4 p.m.
May 27th 5th Minnesota Infantry Co. D. Training Day
May 27th Fort Abercrombie Opening Day, 8 a.m.–5 p.m.
June 4–August 13 Fort Abercrombie Sunday History Program, 2 p.m.
June 10-11 Fort Abercrombie Living History Weekend, 9 a.m.–4 p.m.
July 29-30 Fort Abercrombie Historical Authors and Crafters Expo, 9 a.m.–4 p.m.
September 8 Richland School District 9-11 Program, 9:30 a.m.
September 10 North Dakota Archaeology Association Event TBA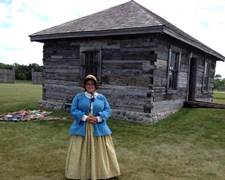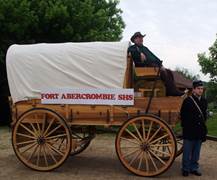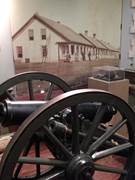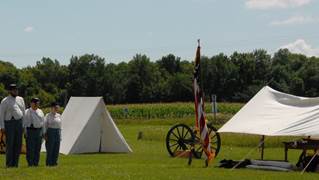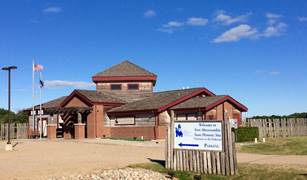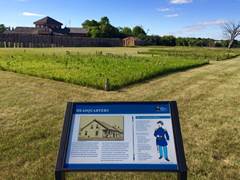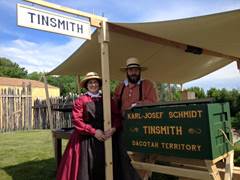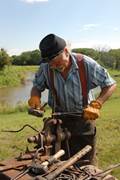 Photo 1: 5th Minnesota Infantry Co. D Officer's Wife - reenactor - Jessica Dickson near original 1862 Guardhouse on fort grounds
Photo 2: Fort Abercrombie State Historic Site Aber Days - Paul Nelson & Mick Owen 2011
Photo 3: Fort Abercrombie State Historic Site Interpretive Center Gallery - 1862 Mountain Howitzer Cannon
Photo 4: 5th Minnesota Infantry Company D. Aber Days 2016
Photo 5: Fort Abercrombie State Historic Site Interpretive Center
Photo 6: Ghosted sites of buildings on grounds of Fort Abercrombie
Photo 7: Fort Abercrombie Living History Weekend June 2016 - Tinsmith Karl Schmidt and his wife Nadine
Photo 8: 1862 - Blacksmith Michael Quade - Living History Weekend 2016