If you had visited the Heritage Center museum prior to October 2012 you might remember a mastodon skeleton – 12' high at the shoulder, 16' from tusk to tail, and 13,000 years old. Fast-forward 18 months and the same mastodon now has a place of honor in the expanded ND Heritage Center & State Museum. Unlike in the movies, he didn't come alive at night and take a walk, so how did he get there? Well, let's start on how he came to be here.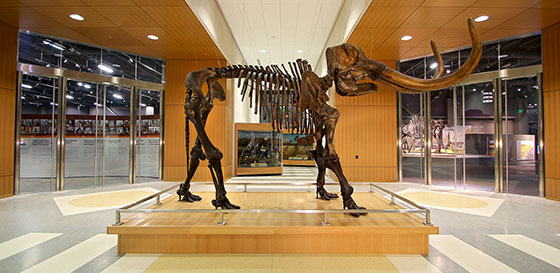 On a spring day in 1890, while digging a ditch on his uncle's farm near Highgate, Ontario, William Reycraft unearths the massive bones of a mastodon. The Regcrafts sell the bones and rights to excavate to partners William Hillhouse and John Jelly. The amazing moment is captured by a local photographer.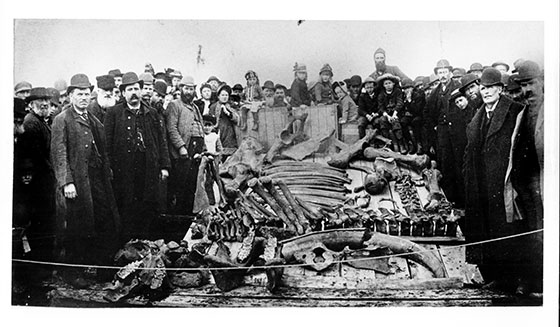 State Archives 0899-01
Hillhouse and Jelly display the bones around Ontario, charging a nickel or dime for a viewing. Hoping to further cash in on the public's interest, they contract with R.A. Essury to travel the bones across the West. Unfortunately, Essury dies while on tour and Hillhouse and Jelly lose track of the bones!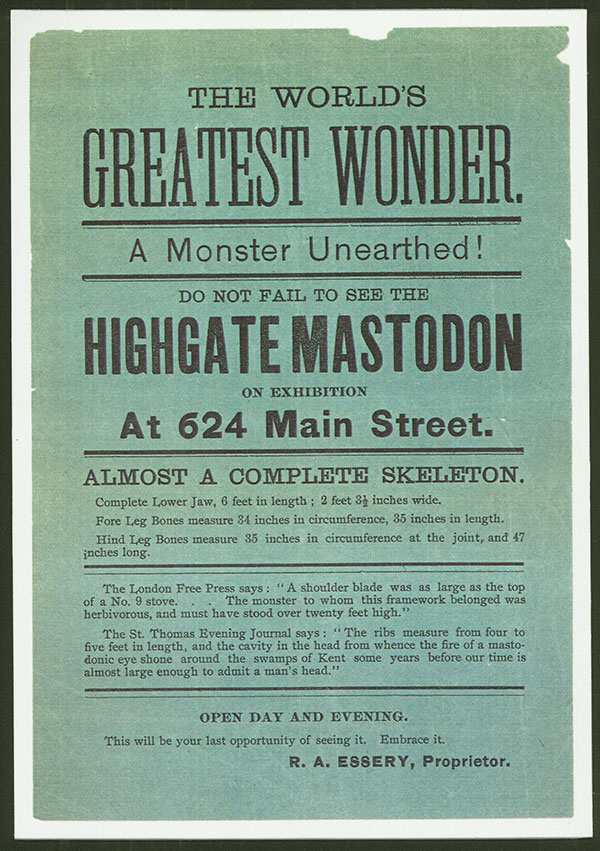 State Archives 10117
Three years later the bones surface in Minneapolis, Minn., when they are sold to re-coup unpaid storage bills. For the next few years the new owners again tour the bones, this time around Minnesota, South Dakota, and North Dakota. In 1902 the bones are sold to the University of North Dakota, who in turn give the bones to the State Historical Society of North Dakota in 1947.
In 1991-1992 the bones are assessed by museum curators and the state paleontologist.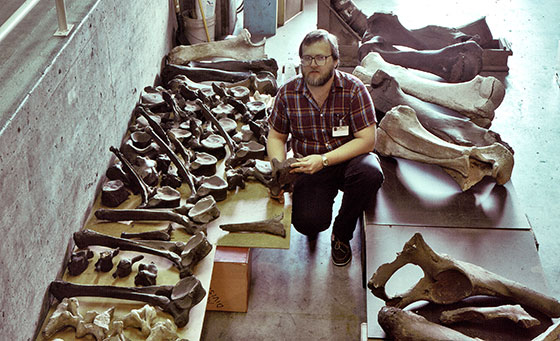 The skeleton is found to be 95 percent complete and remarkably well-preserved. A modern reconstruction is undertaken with the goals of minimum damage to the bones and scientifically accurate posture. The majority of the skeleton is supported by a flexible rod suspended from the ceiling that runs the length of the spinal column. The feet and legs are mounted individually and don't support any of the body's weight.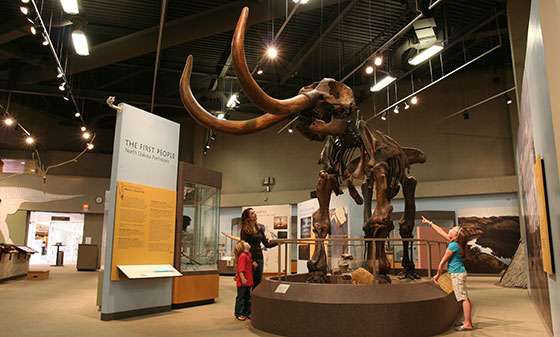 Now it's 20 years later and the ND Heritage Center is in the midst of a major expansion. The mastodon occupies a new central space in the new building. There was a very small window in which to move the enormous and delicate skeleton. There was not time to take it apart bone by bone. Exhibits staff and paleontologists had to figure out a way to efficiently but safely move the mastodon. The eventual solution was to suspend the majority of the skeleton from a moveable gantry that could be wheeled into place. This left only the legs, tail, shoulder blades, and lower jaw to be moved individually. Instead of weeks, it only took days to move.
We hope you'll come and visit the mastodon in its new home!