Five 53- foot semitrailers. That's what started arriving at 7a.m. on a recent Monday morning; five semis packed full of crates and carts and tools and equipment that, over the next week, our install team would assemble in the Governors Gallery of the State Museum into an impressive 5,000-square-foot exhibit on the history of chocolate. And despite the years of planning, the diagrams, the scribbled notes, the emails and conference calls, those semis were a daunting sight.
This project began over two years ago. Before the newly built Governors Gallery opened in fall 2014, we had begun looking for a large traveling exhibit to feature in this space, which had been designed for temporary exhibits. We considered a number of factors in our search. The exhibit had to fit the 5,000-square-foot space of our gallery. The exhibit topic and components had to be suitable– supporting our mission, following our code of ethics, and engaging our audience. We also looked at budget, optimal scheduling, and necessary staff.
After many meetings, our exhibits committee decided on Chocolate, an exhibit produced by the Field Museum of Chicago. It's a topic that we believed could reach a wide audience (Who doesn't like chocolate?), with a proven track record of success (It's been constantly traveling for 10 years and multiple venues have hosted it twice), and developed by a respected museum.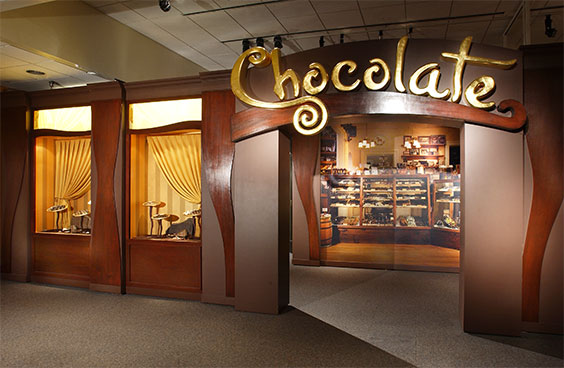 Entrance to the new Chocolate exhibit.
Next came negotiating the contract, developing a unique floor plan, adding insurance, developing new public programming and marketing plans, bringing in new store inventory, and hiring temporary staff. And then, there we were, staring at a line of semis. We had seven days and 10 staff.
Installing a traveling exhibit is akin to putting together a really big Ikea product. Everything on the trucks had to be unloaded, moved to the Governors Gallery, staged, unpacked, and then assembled in a particular sequence.  The Field Museum provided a detailed instruction manual to guide us through the process. Every component was assigned a unique letter and number designation that corresponded to their order on the semis and their final placement in the galleries.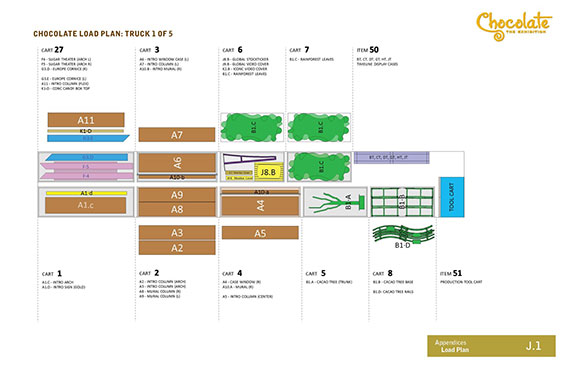 Semi load plan.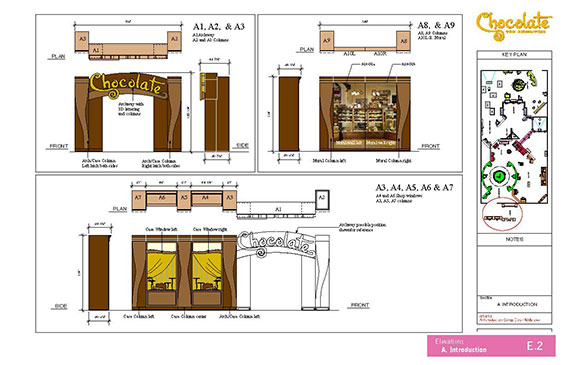 Install schematic.
We learned that installing exhibits of this size is physically demanding. The 54 carts that we pushed and pulled into place were 7 feet high and varied in length from 8 to 12 feet.  It took two to three people to move each fully loaded cart. A number of components took six people to unload and move into place.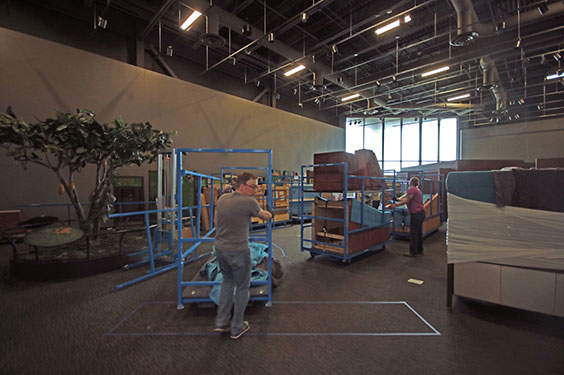 Mark Sundlov and Geoff Woodcox of the Museum Division maneuver an empty cart on its ways to storage, while Genia Hesser contemplates unloading the next in line.
Over the next seven days it came together. More carts were in storage than were in the gallery. Twelve foot walls went up, dividing the gallery into intimate spaces. Media was installed, bringing the rainforest sounds of South America to our northern museum. Soon, we were down to the small final details, a little-touch up paint, wiping down the cases, focusing lights, and vacuuming.
Chocolate the exhibit will be open to the public through September 6, 2017. And then we start the whole process in reverse. I'm going to start my calisthenics program tomorrow.